David Oyelowo, Charlize Theron and Joel Edgerton star in this dark Mexican kidnap comedy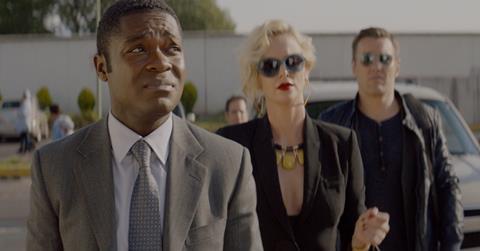 Dir: Nash Edgerton. US. 2018. 110mins
David Oyelowo has fun playing against type as a hapless patsy trapped in an elaborate drug scheme in Gringo, a snide crime comedy with a few mildly clever genre riffs surrounded by a lot of strained irreverence and posturing. Director Nash Edgerton never really sinks his teeth into the delectable darkness of his hero's nemeses, struggling to maintain the right acidic tone.
Gringo is at its best when we watch Charlize Theron's character hurl insults or slay the men around her with little more than a withering glare
Opening March 9 in the US and UK, this film will benefit from the presence of Charlize Theron and Joel Edgerton (Nash's brother) in the supporting cast. But it's ironic that Gringo's thoroughly unremarkable villain is actually called The Black Panther, as if audiences needed to be reminded of the more exciting options out there at the multiplex.
Oyelowo plays Harold, a passive, kindly executive at a pharmaceutical company run by the ruthless Richard (Edgerton) and Elaine (Theron). During a trip to the company's Mexican drug lab, he discovers that an in-the-works merger will make his job redundant — and, perhaps even worse, that his wife (Thandie Newton) has been having an affair. Tired of being the good guy who always tries to do the right thing, Harold snaps, hatching a plan to trick his bosses into thinking he's been kidnapped so he can secure a massive ransom.
Not surprisingly, Harold's scheme will go haywire, as screenwriters Anthony Tambakis and Matthew Stone cook up plenty of crazy twists involving bloodthirsty cartels and corporate intrigue, all of which will consistently upend the characters' belief that they have the upper hand in the unfolding events.
Ideally, Gringo's black heart would inspire copious laughs as we savour these people's monstrous, greedy behaviour — especially when it blows up in their faces. But Nash Edgerton, a former stuntman and stunt coordinator, shows little feel for the film's nastier elements. Much of the blame can be put on the thinly-drawn characters. Theron nails Elaine's cutthroat approach to business and relationships — she's been having an on-again/off-again fling with the emotionally unavailable Richard — and Gringo is at its best when we watch her hurl insults or slay the men around her with little more than a withering glare. But even Elaine's one-note iciness is more complex than the rest of the supporting players, including Joel Edgerton's blandly egotistical alpha-male and Sharlto Copley's mercenary who is hired to extract Harold.
Viewers know Oyelowo from dramas such as Selma and A United Kingdom, so there's a novelty to his comic turn as a sweet Nigerian immigrant who fervently believes in the American dream of working hard to get ahead — only to learn that nobody around him operates with such scruples. Harold doesn't have much of an arc — he starts out as a wimp and becomes slightly less of a wimp — but Oyelowo brings a little depth and empathy to the role so that we can appreciate how disappointed he is to realise that being a nice guy isn't always the smartest strategy.
In a desperate stab at provocation, Gringo lets fly with a few un-P.C. jokes at the expense of the overweight and the deaf, and likewise Nash Edgerton orchestrates a few shocking moments of violence in the hopes that it will disorient the audience. But it all feels rather calculated, as are the film's forced attempts to layer in colourful peripheral characters who will intersect with Harold's growing predicament. (Amanda Seyfried is largely wasted playing a mild-mannered American tricked into visiting Mexico with her drug-mule boyfriend.)
Nash Edgerton has more luck with a series of B-movie action sequences near Gringo's end, which boast a crisp, grimy efficiency that's far more confident than everything which came before. About 10 years ago, Edgerton directed The Square, a taut little thriller about infidelity, greed and murder. Thematically, Gringo doesn't feel that far removed from The Square's jaundiced study of human fallibility, but this curdled crime film lacks a sharp perspective on its deeply flawed characters and their morally murky milieu.
Production companies: Amazon Studios, STX Entertainment, Denver & Delilah Films, Blue-Tongue Films
US/UK distribution: STX Entertainment, www.stxentertainment.com
Producers: Rebecca Yeldham, Nash Edgerton, Charlize Theron, Beth Kono, A.J. Dix, Anthony Tambakis
Executive producers: Trish Hofmann, Matthew Stone
Screenplay: Anthony Tambakis, Matthew Stone, from a story by Stone
Cinematography: Eduard Grau
Production design: Patrice Vermette
Editors: David Rennie, Luke Doolan, Tatiana S. Riegel
Music: Christophe Beck
Website: www.gringo-movie.com
Main cast: David Oyelowo, Charlize Theron, Joel Edgerton, Amanda Seyfried, Sharlto Copley