A performance artist runs out of options in this defiant Norwegian debut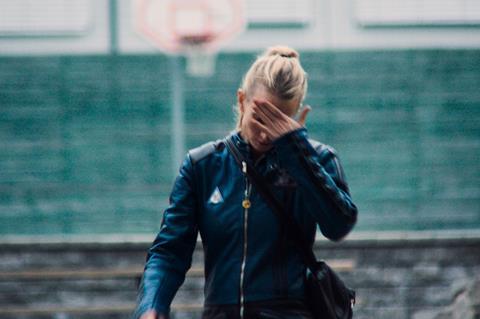 Dir/scr: Itonje Søimer Guttormsen. Norway 2021. 119 minutes
Sustained irritation duly yields a pearl in Gritt, Norwegian writer-director Itonje Søimer Guttormsen's audaciously jagged feature debut. A triggering, intense character study of the eponymous struggling performance artist — played to the hilt by stage actor Birgitte Larsen — this follow-up to Søimer Guttormsen and Larsen's 30-minute 2016 collaboration Retract bowed at Tromsø before vying for prizes at Rotterdam and Gothenburg. Plentiful further festival play is indicated, along with theatrical distribution across Scandinavia.
Gritt's unremitting, uncompromising qualities work to the picture's considerable advantage
Divided into a prologue and five chapters, the picture's frenetic editing style means that a lot of material is packed into its 119 minutes. Indeed, the early stretches, cut rather like a trailer, set the scene in an abrasive manner that often deliberately verges on the off-putting. Guttormsen's screenplay — essentially an expanded reimagining of material first tackled in Retract — seems also seems to be an unsubtle take-down of hipster creatives in a vaguely Charlie Kaufman vein, as Gritt haltingly navigates the wilder theatrical fringes of New York and Oslo.
A driven, humourless woman in her mid-thirties, Gritt (short for Gry-Jeannette) describes herself as an artist concerned with "developing rituals." But her plans to stage a colossal outdoor 'happening' entitled The White Inflammation, critiquing the numbness of complacently affluent Scandinavia — and perhaps also even "burying capitalism and patriarchy" — come to naught. Various further mishaps, not all of them of her own making, effectively leave Gritt homeless; she's reduced to snaffling free canapés served up at artistic functions as she plots her next steps with increasing desperation.
Guttormsen plunges us into the creative maelstrom that is Gritt's daily existence via a sensory bombardment of mainly hand-held images (cinematographer Patrik Säfström leads a crew of five), augmented by Erik Ljunggren's music and sound-design. A veteran keyboardist in metal bands like Zeromancer, Seigmen and Vampire State Building — and whose only previous screen credit is Retract — Ljunggren combines score with sound-effects in experimental, distinctive ways that help progressively ratchet anxiety levels. Just as Larsen is central to every scene, Ljunggren's audio is seldom long absent. And, as was the case with another up-close study of a lifeworn woman's urban freefall, the Safdies' Heaven Knows What (2014), such unremitting, uncompromising qualities work to the picture's considerable advantage.
While a multiplicity of editing credits is usually a negative harbinger, the trio of cutters here — including Guttormsen alongside septuagenarian Michał Leszczylowski, whose myriad previous engagements include Tarkovsky's The Sacrifice — productively combine to deliver a pulsating kaleidoscope of vivid fragments, all the way up to the highly satisfying cut-to-black conclusion.
The picture's initial air of larkishness mercifully morphs into a strain of welcome dark humour. As Gritt goes on, its chapter-divisions provide crucial breathing-space, while hard-won and genuine sympathy for this prickly, self-defeating protagonist is steadily accumulated. Gritt is Larsen's first proper leading role in a feature film, and she rises to its tough challenges with unalloyed commitment: the character is an eccentric who could just as likely be talentless as gifted.
Bereft of the support network she needs, the self-deluding artist finds herself careering towards mental illness and, perhaps too late, seeks professional help. Norwegian society as presented here may indeed be riddled with complacency and pretentiousness, but it does have strong social assistance programmes — and, no less beneficially, abundant natural wonders, which come into play towards the film's conclusion.
Production company: Mer Film
International sales: Mer Film, frances@merfilm.no
Producer: Maria Ekerhovd
Screenplay: Itonje Søimer Guttormsen
Production design: Marianne Stranger, Nina Buer Brun, Ann Kristin Talleraas
Editing: Itonje Søimer Guttormsen, Michał Leszczylowski, Geir Ørnholt
Cinematography: Patrik Säfström
Music: Erik Ljunggren
Main cast: Birgitte Larsen, Marte Wexelsen Goksøyr, Lars Øyno, Andrine Sæther, Maria Grazia de Meo