Dir/scr John Butler. Ireland, 2016, 95 mins.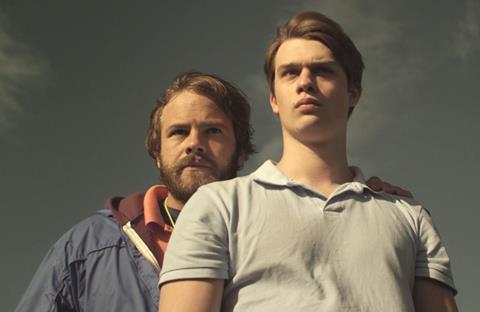 The eternal quest to be true to yourself sings out loud and proud in Handsome Devil, an immensely likeable, coming of age/coming out charmer from writer/director John Butler. The film retains the brash energy of Butler's debut The Stag (2013) but is a less cartoonish, more polished affair that should warm the hearts of an even bigger audience and shine a light on talented young stars Fionn O'Shea and Nicholas Galitzine, a Screen Star of Tomorrow in 2015.
Handsome Devil boasts bright dialogue and a lively directorial hand
O'Shea is a particular delight as gawky, sixteen year-old Ned, a bright, artistic lad who discovers his own hell on earth at an all-boys Irish boarding school where the manly pursuit of rugby is a religion. Any non-believer is condemned to suffer relentless ridicule.
Lonely Ned is resigned to his status as the school outsider and the constant insinuations about his sexuality. Everything changes with the arrival of his new roommate Conor (Galitzine), a star player in the rugby team, and English teacher Dan Sherry (Andrew Scott) whose presence evokes The Dead Poets Society as he asks the boys: " If you spend your whole life being someone else, who is going to be you ?"
Handsolme Devil boasts bright dialogue and a lively directorial hand that uses split screen and an often eye-popping colour scheme to ensure that the attention never wavers. What gives it substance and some poignancy is the unlikely friendship between Ned and Conor when the school ethos suggests they should be sworn enemies. They bond over a shared love of music, but the friendship comes at a price to Conor as the rugby coach questions his commitment to the game and teammates suggest he chooses his friends more carefully.
Conor's own struggle to accept his sexuality only adds to the pressure. After all, isn't it unthinkable that a muscly rugby playing lad could possibly be gay as well?
Handsome Devil bounces confidently from the nonchalant cool of an American indie like Rushmore to the feel good factor of a Bend It Like Beckham. There may be something very traditional in the structure of a countdown to a big decisive game but the emotional upheavals facing the teenagers and the constant questioning of narrow macho values keeps it thoroughly engaging.
Andrew Scott, who was also in The Stag, has a cracking supporting role as a sarcastic, abrasive teacher who comforts Conor by telling him that things will get better. The film trumps that old-fashioned platitude with a bolder, irresistible message that it lies within the power of each individual, gay or straight, to make things better right now, rather than at some point in the future. It is a jaunty, joyous tale that builds to a crowdpleaser of a climax.
Galitzine fulfils the physical requirements of a handsome devil but he also handles the emotional demands of the role. O'Shea is a star in the making, showing immense poise and presence as he really gets under the skin of his character, catching the wry tone of the voice-over narration and those sandpaper throat, scarlet faced moments when Ned suffers cruelly dashed hopes or toe-curling humiliations. The viewer is with him through triumph and disaster as he grows in self-awareness and self assurance.
Production company: Treasure Entertainment
International sales: Radiant Films International john@radiant-films.com
Producers: Rebecca O'Flanagan, Robert Walpole
Cinematography: Cathal Watters
Editor: John O'Connor
Production design: Ferdia Murphy
Music: John McPhillips
Main cast: Fionn O'Shea, Nicholas Galitzine, Moe Dunford, Andrew Scott