Three boys leave school on a high which soon turns sour in Eoin C Macken's starry Dublin-set drama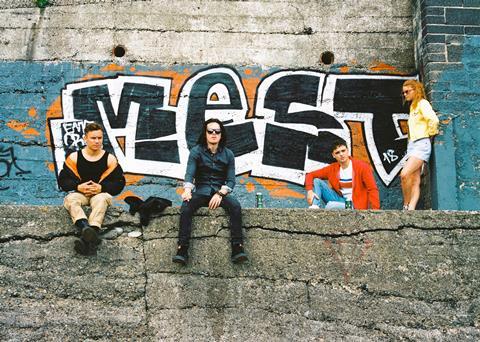 Dir/scr: Eoin C. Macken. Ireland. 2020. 96mins
Growing up is hard to do, especially when you are an impressionable teenager with conflicting notions of what it means to be a man. Eoin C. Macken's ambitious adaptation of the Rob Doyle novel 'Here Are The Young Men' shines a harsh light on toxic masculinity at its most immature. Uneven handling of provocative material might limit its commercial value but the admired novel and a hot young cast should guarantee attention, especially on home territory in Ireland.
Macken keeps a clear eye on the film's recurring themes
Doyle's 2014 novel plucks its title from the lyrics of Joy Division song 'Decades'. Set in Dublin of 2003, the film version follows three best friends as they leave school, eager to embrace a summer of sex, drugs and irresponsibility. Alpha male Kearney (Finn Cole) is a big influence on a trio that includes the sensitive Matthew (Dean-Charles Chapman) and withdrawn, depressed-seeming Rez (Ferdia Walsh-Peelo). It is Matthew who provides the intermittent voice-over narration as he anticipates "a final summer of freedom when you become a man". Anya Taylor-Joy makes an appearance as Matthew's girlfriend Jen.
We already know that this does not end well as the film begins with Matthew attending a funeral. It then retreats into flashback, covering the events of the previous two months.
There is an inevitable Trainspotting vibe to the early scenes as the trio indulges a lust for life. These are rebels ready to spit in the eye of the world. A classroom is smashed up and a teacher's car is enthusiastically trashed. Both acts seem to carry no consequences. There is attitude and energy in the nightclub brawls and drugged-up mayhem.
What eventually emerges feels more like the flipside of the warmth and humour in Beats (2019), another recent ode to male friendship. Witnessing the death of a child in a road accident forces all of them to take stock and ponder the meaning of life. Reckless abandon crumbles into existential dread.
Macken keeps a clear eye on the film's recurring themes. Adults are mostly inadequate or neglectful. Ideas of masculinity always seem to revolve around aggression, control and misogyny. All three of these lost boys seem to hunger for something that feels real rather than learned from internet porn and violent video games.
What is less convincing are the repeated interjections from 'Big Show', a brashly exaggerated version of a rabble-rousing television programme featuring a smary host (Travis Fimmel) who encourages the worst male behaviour. Highly theatrical and lacking in subtlety, these scenes break the flow and muddle the tone of a cluttered film.There is a little too much going on as the cynical Kearney's decision to video the more reprehensible aspects of his thrill-seeking life pushes the film into Man Bites Dog territory. Rez fades from view, relegated to the sidelines.
The focus eventually settles on the relationship between Matthew and Kearney as the former starts to question the latter's bad influence. The only significant female character is Matthew's girlfriend Jen. Seemingly designed as an object of desire and a voice of mature reason, she becomes a much more substantial figure thanks to the fire and weight that Anya Taylor-Joy brings to the part.
Macken approaches the film with gusto, employing fast-editing, red filters and blurry focus to convey the drug-addled parties and smoky nightclub confrontations. Despite the stylistic trappings, what ultimately emerges is an old-fashioned morality tale in which individuals are encouraged to take responsibility for their choices and reach their own sense of right and wrong.
Production companies: Funny Leopard Films, Foton. Pictures, Glanzrock Productions, Egg Studios, Union Entertainment Group, Hail Mary Pictures.
US sales, CAA/ICM (nick.ogiony@caa.com/owheeler@icmpartners.com). International sales: Arclight ryan@arclightfilms.com
Producers: Richard Bolger, Noah C. Haeussner
Editing: Colin Campbell
Cinematography: James Mather
Production design: Michel Moynihan
Music: Ryan Potesta
Main cast: Dean-Charles Chapman, Finn Cole, Anya Taylor-Joy, Ferdia Walsh-Peelo, Travis Fimmel.