Andrea Riseborough stars in Stacey Gregg's supernatural-themed debut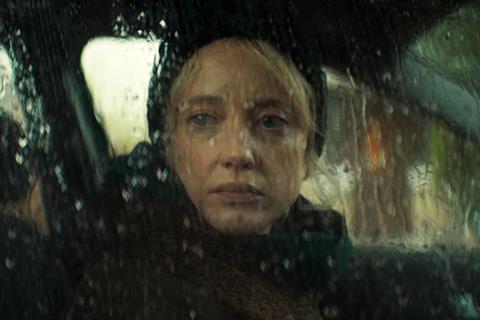 Dir/scr. Stacey Gregg. UK. 2021. 84 mins
There's an instant connection between bereaved mother Laura (Andrea Riseborough) and Megan (Niamh Dornan), the 10 year-old daughter of the new neighbours in the house next door. But it's a connection which is shadowed by Laura's still-raw grief and, increasingly, the hint of a supernatural link between Megan and Laura's dead child, Josie. This atmospheric first feature builds a gas-lighting sense of uncertainty which has us questioning everything, not least the sanity of the increasingly brittle Laura. But it rather fumbles the third act reveal, juggling chunks of exposition and a question mark over the motivation of at least one of the characters.
An uncomfortable sense of the inexplicable
Writer and director Stacey Gregg has extensive experience as a television screenwriter, but brings a striking and cinematic visual sense to her feature directing debut, which imbues the innocuous suburban backdrop with something tacit and troubling. It's this, together with the presence of reliably excellent Riseborough in the cast, which will be the key selling point for a film which should find further festival berths following its SXSW world premiere.
Her daughter may have died several years before, but the family home contrives to keep the memory fresh in Laura's mind. The film opens on Laura tackling the build up of autumn leaves and finding a discarded plastic windmill. She stares at it for a weighted moment before noticing the new family – a mother, father and Megan – who are hauling their possessions into the house next door. From an upstairs window her husband Brendan (Jonjo O'Neill) looks on, his expression clouded by a hint of trouble to come. Laura's son Tadhg (Lewis McAskie), meanwhile, makes no secret of his discomfort when Laura offers Megan a lift home from school. The full force of his glowering adolescent inarticulacy is deployed, accompanied by lots of stomping out of rooms. Laura, however, is beguiled by the little girl next door and not fully registering her son's stormy mood swings.
The film's widescreen cinematography is an asset. A lovely shot framed in a triptych of dressing table mirrors carves Laura off from her husband; another moment sees her adrift in the room which should have been her daughter's bedroom. The spaces within this very ordinary family home take on a loaded significance. As Brendan's mother is fond of trotting out as a comforting platitude, Josie is still here. Particularly if, like Laura, you scour every moment, every inch of the world for signs of her. But it's not just the hope of discovering traces of Josie which convinces her that Megan might be her daughter reincarnated. Megan is given to making disconcerting statements which hint at memories belonging to Josie. Dornan's self-possessed performance is mature beyond her years and adds to the uncomfortable sense of the inexplicable.
It's a pity, then that for all the brooding set up and the swirling mists of mystery (Northern Ireland's dank weather is put to evocative use), the picture is underserved by its final act. A screenplay which could have benefited from another pass undermines the credibility of what comes before, and, despite a formidable intensity from Riseborough throughout, leachs tension along with plausibility.
Production Companies: Rooks Nest Entertainment, BBC Film, Pia Pressure
International Sales: Bankside Films films@bankside-films.com
Producers: Julia Godzinkaya, Sophie Vickers
Editing: Brian Philip Davis, Nick Emerson
Cinematography: Chloë Thomson
Production Design: Patrick Creighton
Music: Adam Janota Bzowski
Cast: Andrea Riseborough, Jonjo O'Neill, Niamh Dornan, Eileen O'Higgins, Martin McCann, Lewis McAskie