Glenn Close and Amy Adams play it to the hilt in Ron Howard's adaptation of JD Vance's memoirs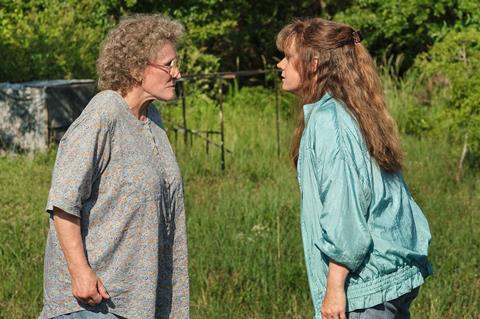 Dir. Ron Howard. US. 2020. 116mins.
JD Vance's memoir 'Hillbilly Elegy', the story of his dirt-poor rustbowl upbringing and how he overcame it to attend Yale Law School, hit a touchstone during Donald Trump's first election campaign in 2016. Look no further, said pundits, to understand the angry, historically-poor white subclass which sent Trump to the White House. Adapting it for the screen, Ron Howard dispenses with any such nuance to deliver an raucous redneck potboiler with Amy Adams and Glenn Close going full frizzy-haired hillbilly as JD's heroin-addict single mother and his grandmother Mamaw, respectively.
A high-spec, high-wattage drama which is both entirely suitable for, and should play well on, the streaming service which supported it - if nothing more.
With a score from Hans Zimmer, this Imagine Entertainment feature has top-drawer credits across the board: from Close and Adams to Brian Grazer, Howard and Karen Lunder as producers and Netflix on board for global distribution. There's a gap between this very Hollywood adaptation, though, and the sharp teeth that cut a Winter's Bone out of the Ozarks. Come for the performances, with Adams and Close clawing at the screen; stay for the drama as JD (Gabriel Basso) tries to get his mother out of street fights in Middletown, Ohio and into detox while trying to assimilate himself into Yale society. Be cautioned, though, that Howard and screenwriter Vanessa Taylor's approach is worlds away from the weight that distinguished, for example, last year's excellent Dark Waters, set in the same state st around the same time.
Howard starts his story in a Jackson, Kentucky of 1997 with a narration which can't help but recall John-Boy and his travails – if only Walton's Mountain had stretched to two Oscar-nominated actresses. Vance's family moved from rural Kentucky to a deprived Ohio steeltown long before he was born, yet their roots run deep in hill country. Poor in both places, they're cut further adrift in Middleton. Family is the over-riding theme of the piece, but this is a clan which is prone to internal and external sabotage. The main audience takeaway here will be the two main performances by Adams and Close, with the latter all but unrecognisable under permed hair and huge spectacles. Stooped and chain-smoking, Close could be nominated for awards for this supporting role: can she finally secure the Oscar after seven attempts? Not that Amy Adams is ceding her any screentime: as JD's mother Bev, she bristles and hisses and fritzes her way through the part.
The actors aren't always working on solid ground when it comes to the film's foundations, though. Hillbilly Elegy is framed largely in flashback as JD (Basso), studying at Yale with his clever girlfriend Usha (Freida Pinto), receives a telephone call informing him that his mother Bev has overdosed on heroin. This news comes in the middle of a fancy dinner party which is part of the interview process for an internship at a sophisticated law firm, but JD is such a barefoot bumpkin, he doesn't know how to use the cutlery. Back he goes, by now a military veteran with service in Afghanistan, to Middleton and his sister (Hayley Bennett), who married young and is trying to balance her own family's needs with her mother's problems.
They're not new, it transpires. Hillbilly Elegy never really addresses head-on the issue of whether Bev is mentally ill, on drugs, destroyed by her background, or a combination of all of the above. Her issues lead her to hit her children and threaten, on one terrifying occasion, to kill a young JD (the excellent Owen Asztalos) by crashing the car they are travelling in. Certainly, Adams plays her as insane at times. Mamaw has her own crazy streak, though: this is a family which is so desperate that Bev will demand her son's urine to pass a drugs test at the hospital where she works as a nurse – and Mamaw will agree to it.
What isn't clear throughout is how the pieces connect to form a general picture of America's overlooked white working class: these performances are so full-on and furious that they occlude any wider understanding. As Bev parades a string of ill-advised relationships and an impulsive marriage past her unhappy young son, it will fall to Mamaw to find a way to help him through, and Howard and his team opt to emphasise the familiar: a young hero who must break free to find his path forward. End-credit footage of the real-life Vance clan lends the picture a poignancy it hasn't altogether earned from a story which is more impressive than what has actually ended up onscreen - especially given the knowledge that the places the film depicts are now even further ravaged by the opoid pandemic.
Moving between locations in Georgia and Middletown, Ohio, Hillbilly Elegy more than passes muster on a technical level: a high-spec, high-wattage drama which is both entirely suitable for, and should play well on, the streaming service which supported it, if nothing more.
Production company: Imagine Entertainment
International distribution: Netflix
Producers: Brian Grazer, Ron Howard, Karen Lunder
Screenplay: Vanessa Taylor, from the book by J. D. Vance
Cinematography: Maryse Alberti
Editing: James D. Wilcox
Production design: Molly Hughes
Music: Hans Zimmer, David Fleming
Main cast: Amy Adams, Glenn Close, Hayley Bennett, Freida Pinto, Gabriel Basso, Owen Asztalos