Netflix swoops on sophisticated British refugee horror directed by rising star Remi Weekes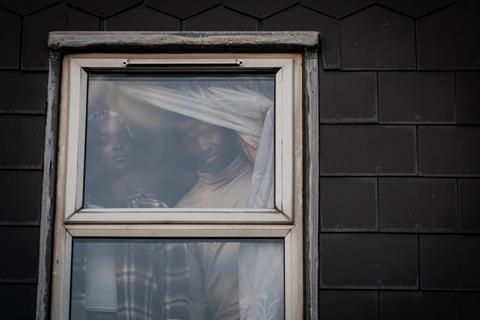 Dir: Remi Weekes. UK. 2020. 93mins
Terror laced with social commentary, His House is a chilling haunted-house horror movie with more on its mind than ghosts and jump scares. Making his feature debut, writer-director Remi Weekes tells the story of an impoverished African couple who escape to England, only to learn that the past has caught up with them in the most unsettling of ways. Featuring excellent, emotional performances from Sope Dirisu and Wunmi Mosaku, the film has much to say about grief, guilt, assimilation and the on-going refugee crisis. And on top of all that, it's also a nifty nerve-jangler.
Weekes surprises us with his ingenuity and the depth of his themes
Premiering in Sundance's Midnight section, His House will be distributed by Netflix, providing the film with an instant global audience. The film may not have big names — although former Doctor Who star Matt Smith does have a small supporting role — but its familiar premise, paired with the timeliness of its message, may prove potent for curious viewers.
When we meet Bol (Dirisu) and Rial (Mosaku), they're in a moment of extreme peril — they've just fled war-torn Sudan and journeyed by boat to reach Europe. Having barely survived the ordeal, the married couple are granted temporary sanctuary by the government in a small English town and assigned a rundown house to live in — but because of their refugee status, they are not allowed to vacate the home, no matter what. After everything they've endured, that doesn't sound so difficult, but soon strange voices and weird figures begin to make themselves known in the house.
Early on, His House appears destined to be a solid but somewhat obvious horror narrative — the spectral presences are meant to be a manifestation of the characters' harrowing plight as refugees — but Weekes surprises us with his ingenuity and the depth of his themes. Bol and Rial are happy to be alive after their odyssey, but they're also mourning a daughter who drowned along the way. Horror aficionados can anticipate what that means — surely the little girl's death is connected to the ghosts plaguing their home? — but here as well Weekes uses genre conventions to trick us into making certain assumptions, and then goes another direction with his story.
Dirisu fits a familiar horror type as the proud, stoic husband who is determined that this move to England will be a fresh start for himself and his wife. The actor gives Bol's arc a palpable poignancy: not only does Bol want to pretend that he's untroubled by his daughter's death, he hungers to be accepted by English society, even buying new clothes in the hopes of blending in. His House is chiefly about the home's paranormal activity, but Weekes suggests that other horrors await this man — namely, that he's trying to erase his identity so that he can forget the past.
As Bol's wife, Mosaku provides the film with crack deadpan comedic timing, while at the same time exhibiting as much melancholy and world-weariness as her co-star. It is Rial who has a theory about what's going on in the home, and the surety of her explanation convinces the audience that, no matter how potentially preposterous, it must be the right answer. In addition, Rial cannily dismisses Bol's bravado, quickly making him aware that he can't, in fact, protect her from the growing dangers around them.
His House has its share of de rigueur scare sequences — the angry spirits predictably come out at night, and they have a habit of popping up right behind Bol when he's least expecting it — but as plot twists and new information come to light, Weekes turns up the intensity. Suddenly, the haunting isn't arbitrary but, rather, a menacing force that connects to the couple's time in Sudan and their escape to Europe. His House is too sophisticated to be a simple (but heartfelt) lament about the trauma and bigotry that refugees face. Instead, Weekes has crafted a horror movie about being preyed upon — but also one about the lengths individuals will go to in order to change their fortune. This ghost story is sufficiently frightening, but it's more accurate to say that His House leaves the viewer unnerved — because of the living, not the dead.
Production companies: New Regency, Vertigo Entertainment, Starchild Pictures
Worldwide distribution: Netflix
Producers: Edward King, Martin Gentles, Roy Lee, Aidan Elliott, Arnon Milchan
Screenplay: Remi Weekes, story by Felicity Evans & Toby Venables
Production design: Jacqueline Abrahams
Editing: Julia Bloch
Cinematography: Jo Willems
Music: Roque Banos
Main cast: Sope Dirisu, Wunmi Mosaku, Matt Smith