Jeremy Saulnier's latest sees a young boy disappear in the Alaska wilderness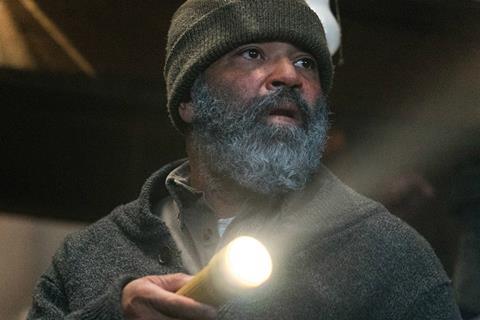 Dir: Jeremy Saulnier. US. 2018. 125mins
Anger, violence and surrealism pervade Hold The Dark, the engrossing new thriller from Blue Ruin director Jeremy Saulnier. Starting with a missing boy and a search for the wolves that may have devoured him, this adaptation of William Giraldi's novel soon expands its scope before unleashing a series of compelling twists. It may take a while to acclimate to the film's off-kilter rhythms and strange happenings — not unlike the film's protagonist, an outsider entering the forbidding Alaskan wilderness — but Saulnier has crafted his most mature effort to date, mixing his love for pulp fiction with a sombre examination of the inexplicable evil all around us.
A thriller that reverberates with the feral bleakness of the characters' surroundings
Premiering in Toronto before streaming on Netflix September 28, Hold The Dark will appeal to Saulnier's fans, although his latest is his most star-studded, boasting an ensemble that includes Jeffrey Wright, Alexander Skarsgård and Riley Keough. Those who appreciate indie regional thrillers such as One False Move, Shotgun Stories and Wind River may also want to take note.
Wright plays Russell, a retired wolf expert enlisted by Medora (Keough), who lives in the tiny Alaskan village of Keelut, to track down her abducted son, who she's convinced was snatched by the local wolf population. Russell fails to locate the child, but soon he becomes aware of a vague oddness about Medora and the community, which leads to a terrifying discovery just as her soldier husband Vernon (Skarsgård) returns from Iraq.
Blue Ruin was a sharply observed, low-budget revenge thriller that was critical of its characters' penchant for violence. After following it up with the midnight-movie pleasures of Green Room, Saulnier has returned to the terrain of Blue Ruin, once again touching on revenge and the moral ugliness that seethes underneath seemingly placid communities. In addition, Hold The Dark shines a light on the tensions between Alaska's indigenous people and those who have encroached on their land, marginalizing them in the process.
Clearly, Saulnier is broadening his ambitions, niftily executing each of the surprises in Macon Blair's screenplay while focusing on a collection of rugged, reserved individuals amidst an unforgiving environment of bitter cold, dark skies and desolate, wide open spaces. Aided by cinematographer Magnus Nordenhof Jønck, Saulnier has given us a thriller that reverberates with the feral bleakness of the characters' surroundings.
That said, Hold The Dark's studied grimness and mystical asides can be an acquired taste. Saulnier encourages his fine cast to adopt a slightly mannered, world-weary tone that's meant to echo the storyline's surreal, fatalistic temperament. But the strategy ends up being effective, essentially preparing the viewer for the film's increasingly violent and bizarre direction. Saulnier weaves a potent-enough spell that we accept the outlandishness; a testament to the movie's confident handling of gritty, blood-soaked subject matter.
It's also a testament to his ensemble, which is led by Wright as a naturalist who discovers he's entered a realm in which he has no expertise. Like most of Hold The Dark's characters, Russell nurses secrets and regrets, but the film deftly weaves his backstory into his present predicament. James Badge Dale is superb as an honest cop trying to do his best, facing off with Julian Black Antelope's Cheeon, Vernon's good friend who despises the white men who have overtaken his Alaskan homeland. A sequence between them leads to a bravura shootout that, like Saulnier's best work, combines thrilling technical skill with a sombre weighing of the human toll that such violence unleashes.
As for Skarsgård, he gives Vernon a mournful centre, which provides his deadly outbursts an extra sting — they're not the act of a cartoon madman but, rather, the anguish of a grieving father.
Production companies: Netflix, VisionChaos, Addictive Pictures, filmscience
Worldwide distribution: Netflix
Producers: Russell Ackerman, John Schoenfelder, Eva Maria Daniels, Neil Kopp, Anish Savjani
Screenplay: Macon Blair, based on the book by William Giraldi
Production design: Ryan Warren Smith
Editing: Julia Bloch
Cinematography: Magnus Nordenhof Jønck
Music: Brooke Blair and Will Blair
Main cast: Jeffrey Wright, Alexander Skarsgård, James Badge Dale, Riley Keough, Julian Black Antelope