Stefan Forbes' absorbing documentary explores a landmark crime in Brooklyn 1973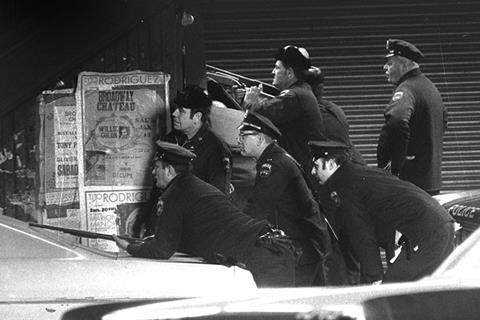 Dir/scr: Stefan Forbes. USA. 2021, 94mins
Hindsight is a wonderful thing in Hold Your Fire, Stefan Forbes' meticulously assembled documentary which revisits a landmark crime in the Brooklyn of 1973. History is brought alive in the multiple, sometimes conflicting, testimonies of those caught in the crossfire. As tense as any thriller from that period, the involving human stories and lasting impact of the events makes for a gripping film with theatrical potential.
Forbes captures what happened and why it mattered through a forensic accumulation of detail and testimony
Hold Your Fire has all the ingredients of a Sidney Lumet film – a botched robbery, a murdered policeman, a media scrum and the lengthening hours of a hostage situation that seemed unlikely to end well. The grain and texture of news footage from the siege and atmospheric black and white photographs of the crime scene invite the comparison.
Forbes captures what happened and why it mattered through a forensic accumulation of detail and testimony. He pieces together events through extensive interviews with the surviving robbers, front line cops, hostages and the owner of the store that was robbed. Every individual has their own distinctive perspective. Forbes allows their words to stand, but edits to create a Rashomon-style narrative that challenges assertions and reveals deep-rooted prejudices.
The one thing everyone can agree on is that on a cold January night in 1973, four young Muslim men entered Al and John's sporting goods store in Brooklyn and attempted to steal a cache of guns. They were spotted and the cops were called. After that, nothing is quite certain. Gung-ho police officers believed they were confronting black revolutionaries. The big difference about the ensuing two day hostage situation is that the police were encouraged towards negotiation rather than confrontation. In a section of the film labelled 'Learn From Mistakes', Forbes provides context through reminders of the Attica riots in 1971, the Dog Day bank robbery (the inspiration for Lumet's Dog Day Afternoon(1975) and the deaths at the Munich Olympics of 1972. It is clear that something had to give in the police approach.
There are some star performers among the witnesses, including robbery leader Shu'aib Abdur Raheem who recounts who the quartet really were and what they wanted. He worked for the transit authority; Salih Abdullah was a television repairman; Mussidiq was a carpenter; Dawud Rahman was a college student. They were ordinary, frightened young men trying to get hold of weapons to protect their families.The remarkable Harvey Schlossberg was then a traffic cop with a PHd in psychology. His advocacy of calm negotiation and defusing tension ran counter to a NYPD more drawn to macho, guns blazing, wild west scenarios. And store owner Jerry Riccio is completely captivating with his recall of the conflicting emotions of his situation, his sympathy for the robbers and his resourceful response to the crisis.
What really strikes home are the devastating consequences of the siege; the innocent lives scarred, the brutal retribution, the deep emotions felt here by those learning for the first time the subsequent life of a fellow hostage or the fate of a young man who made a foolish mistake. There is a sense of hope in what changed; what Schlossberg achieved in his career and how Raheem embraced a new life as a trauma support consultant. What makes Hold Your Fire so timely and disturbing is also how much remains the same.
Production companies: InterPositive Media, LLC
International sales: Submarine info@submarine.com
Producers: Fab 5 Freddy, Tia Wou, Stefan Forbes, Amir Soltani
Cinematography: Stefan Forbes
Editing: Stefan Forbes
Music: Jonathan Sanford