A spate of murders in the holy city of Mashhad is at the heart of Ali Abbasi's arresting Iranian noir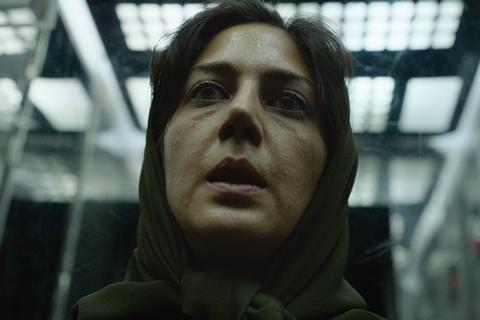 Dir/scr: Ali Abbasi. Denmark/Germany/Sweden/France. 2022. 117 mins
Holy Spider throws a dark, dark web. Set in the holy city of Mashhad in Iran – the production shot in Jordan – this is a bleakly intense film which tangles sexual politics and religion with a serial killer of prostitutes. Audiences of tough crime drama – those who flocked to Denis Villeneuve's Prisoners, perhaps — will find themselves ensnared. A late-stage run into religious politics twists the knife and turns it into something even uglier, if that's possible, but Iran-born, Denmark-based Ali Abbasi has switched tack completely from his critically-acclaimed Border, and the result is undeniably arresting.
A crime thriller which shows how far fundamentalist morality can be twisted
It's a tough watch. The 'Holy Spider' killer – who did exist – strangles drug-addled street-walkers with their own headscarves, and Abbasi's camera (via Nadim Carlsen) likes to watch him do it. There's no mystery here as to who he is, just perhaps why the audience is asked to watch him commit his crimes so many times; although that will be answered at the mirror-image end. The dramatic device of sending a young female reporter into Mashhad and following her through the case doesn't always work logically or dramatically, but it certainly hammers home Abbasi's need to repeatedly demonstrate the misogyny at work in the Holy centre of his native country at all times throughout this 117-minute film.
Holy Spider starts out with a bold statement of intent: smoking a cigarette, a woman defiantly stares at herself, bruised and half naked, in the broken mirror of an impoverished home, kisses her child goodbye, and heads out onto the streets of Mashhad looking for trade. (It just takes a lock of hair escaping from a headscarf and a vivid lipstick to advertise your wares in this most religious of cities). The camera follows her through the orange streetlights as she hungrily tracks down a hit of opium, gets on a motorbike with a trick, and is savagely murdered. The camera pans up from her dumping ground, the Mashhad; the second-largest holy city in the world, with 20 million visitors annually to its Imam Reza shrine unveils itself in all its twinkling wonder for mankind (for women, not so much).
Abbasi then introduces the character of journalist Areezo Rahimi (Zar Amir Ebrahimi, winner of the Best Actress prize at Cannes), arriving from Tehran by bus to investigate what has now mounted to ten murders, with the police either ignoring evidence or too lazy to try to find someone who they may secretly believe is doing them a favour by cleaning up the streets of 'dirty whores' (a holy killer, perhaps). Ms Rahimi is initially denied her hotel room as a woman travelling alone and warned to wear her chador. She joins forces with a local reporter, convinced there's a conspiracy at work. (Between them, they are granted an incredible amount of access, and appear in all the right places at the right times.)
Ms Rahimi, with a personal history which has been twisted into a stain on her reputation (she denounced her boss for sexual molestation and was fired from her job as a result), is sensitive to how a toxic combination of morality, religion and inherent misogyny is being twisted to allow the murderer to roam free. Is it a conspiracy, or just convenient? She takes matters into her own hands. Meanwhile, we see the Spider – Saeed (Mehdi Bajestani) – an ordinary family man and a war veteran with two years at the front. (This story is loosely based on a real-life series of murders between 2000 and 2001, more than a decade after the Iran-Iraq war ended.) He's declared his own personal mission to clean up the streets; the number of victims will climb to 16 before anything happens.
So far, so noir. Just when the audience is waiting for the parcel to be wrapped up and delivered, though, and Ms Rahimi gets closer to her target, Abbasi spins it off to spend more time with Saeed's family as he awaits a judgement; he feels he has no crime to answer, even though he has murdered so many women with his bare hands. His family, including wife Fatima (a nicely-judged performance from Forouzan Jamshidnejad) is in his thrall.
Abbasi has made an Iranian noir which, even though it dares to poke around the spiritual capital of Iran with its largest mosque in the world, isn't an assault on the Iranian government per se, but a crime thriller which shows how far fundamentalist morality can be twisted and how banal the face of evil really is. Technically, it's a very sophisticated piece. The recreations in Jordan are full of atmosphere and it throbs with the darkness of life in a place which is so elevated, even when the humanity it attracts — and the hardcore drugs coming through from Afghanistan – is so base.
There's a very nice visual play here with the juxtaposition of women and men — filmed from below and on top – bringing the very physical reality of sexism to the fore. It wouldn't work quite so well, however, were it not for Iranian stage actor Mehdi Bajestani in the lead, giving a subtle and effective performance as the boringly banal face of self-justifying evil.
Production companies: Profile Pictures, One Two Films
International sales: Wild Bunch International, ediederix@wbinter.eu
Producers: Sol Bondy, Jacob Jarek
Screenplay: Ali Abbasi, Afshin Kamran Bahrami
Production design: Lina Nordqvist
Cinematography: Nadim Carlsen
Editing: Hayedeh Safiyari, Olivia Neergaard-Holm
Music: Martin Dirkov
Main cast: Mehdi Bajestani, Zar Amir Ebrahimi, Arash Ashtiani, Forouzan Jamshidnejad, Mesbah Taleb, Alice Rahimi