Dir: Fien Troch. Belgium, 2016. 103 mins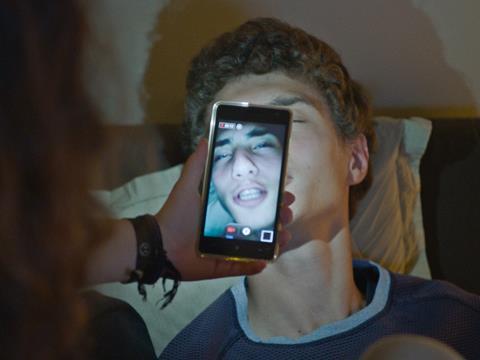 The fourth feature from writer/director Fien Troch (Kid, Unspoken etc) initially feels like an excursion into territory all too familiar from the films of Larry Clark and Gus Van Sant or the novels of Lionel Shriver and Herman Koch. Home focuses on a group of surly teenagers who appear indifferent to school, resentful of their elders and constantly in search of a fresh sensation to alleviate the boredom of their existences. It quickly develops into something more complex and compelling as it explores the vast difference in values and attitudes between teenagers who disregard the consequences of their actions and bewildered parents filled with good intentions.
Troch handles this complex material with assurance and secures convincing performances from her entire cast
An excellent ensemble cast adds to the power of a uncompromising, thought-provoking work that should attract extensive festival exposure and theatrical sales.
Troch and co-writer/editor Nico Leunen almost seem to encourage the viewer into a false sense of superiority to the teenage characters. The opening sequences show them as defiant of authority, permanently glued to their mobile phones and briefly lulled from their torpor by the lure of prime weed from Baghdad or the prospect of sex. It is a disheartening portrait of a generation which baffles and exasperates its teachers.
Home is based on true events and finds its focus in Kevin (Sebastian Van Dun) who has just been released from a juvenile detention centre. His chance of rehabilitation is built upon an apprenticeship as a plumber working for his uncle Willem (Robbie Cleiren) and living with him, his aunt Sonja (Karlijn Sileghem) and his cousin Sammy (Loic Batog).
Kevin seems painfully shy and softly-spoken but has an inner rage that frequently threatens to boil over into further acts of violence. His mere presence brings tension to the household as does his friendship with John (Mistral Guidotti), a teenager struggling with the unbearable demands of his manipulative, controlling mother.
Shot in Academy ratio with a sprinkling of improvised mobile phone footage throughout, Home suggests something freewheeling and impressionistic but the dramatic impact is precisely judged and expertly controlled. Every scene and encounter draws us further into the story, from a wedding in which Kevin is provoked into throwing a punch to a shocking confrontation between John and his mother. Everything serves to explain and explore both sides of the parent/teenager divide.
As we come to understand some of the pressures on Kevin, Sammy and John, they become much more sympathetic, rounded figures. The parents start to seem like clueless creatures from another world who apparently have no memories of their own adolescence and no means of finding common ground. They are told "it's had to understand for someone your age". We even begin to suspect the attention that kindly Sonja pays to the handsome young devil now living under her roof. "What is it you want from me?" demands Kevin as he stands beside her in a manner that is too close for comfort.
Home is extremely successful in shifting the balance of our sympathies and allowing us to develop a deeper sense of the characters; how parents shape the minds of the next generation and the way teenagers are driven to feel detached from the world around them. Sonja is prepared to lie if it will protect Sammy's bright future and it is classmate Lina (Lena Suijkerbuijk) who challenges why he did nothing when faced with horrific events. Even the volatile Kevin is shown to have a softer side in a moment of affection with the younger brother he has been prevented from seeing. Everyone has their flaws and their definition of right and wrong.
Troch handles this complex material with assurance and secures convincing performances from her entire cast with stand-out work from Sebastian Van Dun who invites comparisons with James Dean or the young Sean Penn as the deceptively self-effacing Kevin.
Production companies: Prime Time, Versus Productions
International sales: Doc & Film International sales@docandfilm.com
Producer: Antonino Lombardo
Screenplay: Fien Troch, Nico Leunen
Cinematography: Frank Van Den Eeden
Editor: Nico Leunen
Music: Johnny Jewel
Main cast: Sebastian Van Dun, Mistral Guidotti, Loic Batog, Lena Suijkerbuijk, Karlijn Sileghem