Dir/prod: Semih Kaplanoglu. Turkey-Germany. 2010. 103mins.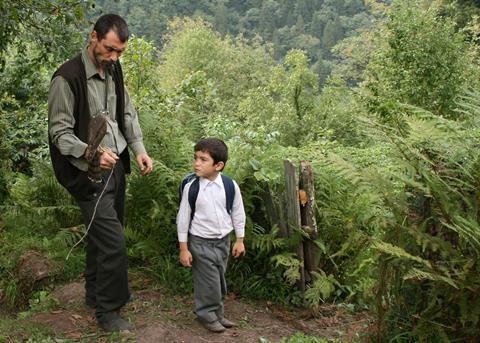 The third part of Turkish director Semih Kaplanoglu's reverse-order trilogy, Honey depicts his partly autobiographical hero Yusuf as a withdrawn, stuttering child growing up in a remote part of rural Turkey.
Like the previous two installments, Egg and Milk, Honey is very beautiful and very studied, with a sometimes oppressive sense of directorial control. At the same time, however, film's protagonist – who looks to be aged six or seven – is the most affecting of the three Yusufs we've seen so far and his story is the least subject to the symbolic baggage that weighed down parts one and two. The result is a measured, slow-moving film that invites its audience in with one arm and keeps it at a safe distance with the other.
We see a lot of the young protagonist, Yusuf, and we want to know more about his point of view, but the director seems to be standing in front of the screen
Egg and Milk were festival darlings, but achieved scant theatrical distribution. Honey might have more of a chance on the far reaches of the art house circuit, helped by a strong performance from child actor Altas. Now that the trilogy is complete, there is scope for DVD box sets and back-to-back screenings, though perhaps not at the local multiplex.
Honey's opening shot is almost a parody of arthouse cinema as a long still frame of trees in a forest eventually reveals a man in the far distance who leads his mule towards the camera until they are framed in a mid-shot. At the same time, the pace and especially the heightened soundscape of forest sounds, birdsong and creaking branches, does start to engage the viewer in the film's version of a timeless elsewhere.
The man is Yakup (Besikcioglu), Yusuf's father, and he is a gatherer of wild honey, a risky trade which involves climbing up ropes into the tops of trees where the hives are.
It takes us a while to piece together Yusuf's world: first, the audience discovers with a little surprise that the action is set in October 2009; that Yusuf can read and speak just fine when he's addressing his father, but is tongue-tied to the point of stuttering paralysis in social situations, such as when asked to read aloud at school.
After 20 minutes, Yusuf's mother (Ozen) appears, but it's not until close to the end that a placing shot allows us to see that the wooden house where Yusuf lives is halfway up a mountain, overlooking the village where he goes to school.
Incident is kept to a minimum: Yusuf accompanies his father on honey gathering expeditions; half in hope, half in despair, he eyes the jar at school where his teacher keeps the ribbons that are awarded to prize pupils; he gets his deskmate into trouble, feels bad about it; goes with his grandmother to a Mi'Raj Holy Night reading from the Koran; and tries to catch the moon reflected in a bucketful of water.
Dialogue is kept to minimum, and there is no music. The photography is controlled and self-consciously aesthetic. But after a while we yearn for a little more spontaneity, especially as the story is partly about a child's discovery of poetry and the poetic against the background of an adult world that at times seems sternly prosaic. We see a lot of Yusuf, and want to know more about his point of view, but the director seems to be standing in front of the screen.
To sign up for Screen's weekly Reviews Newsletter with all the week's new releases, international openings and full festival reviews delivered free to your mailbox every Friday, please click HERE
Production companies
Kaplan Film Production
Heimat Film
International sales
The Match Factory
(49) 221 539 709-0
Screenplay
Semih Kaplanoglu
Orcun Koksal
Cinematography
Baris Ozbicer
Production design
Naz Erayda
Editors
Ayhan Ergursel
Semih Kaplanoglu
S Hande Guneri
Main cast
Bora Altas
Erdal Besikcioglu
Tulin Ozen