Jodie Foster headlines this familiar dystopian crime thriller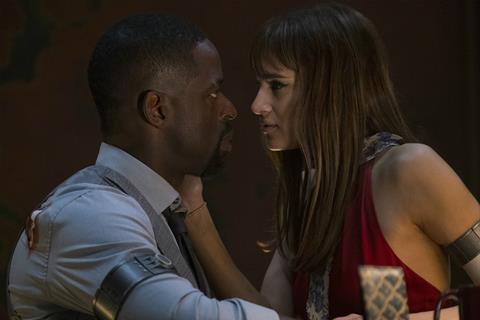 Dir/scr: Drew Pearce. US. 2018. 93mins.
Strained attitude and actorly posturing take up permanent residence in Hotel Artemis. This dank crime thriller boasts a few stray midnight-movie kicks, but the directorial debut of Iron Man 3 co-writer Drew Pearce comprises a lot of graphic-novel atmosphere dressed up in stylish threads and slick lighting. Jodie Foster heads a cast that taps into the story's B-movie trashiness, although there's little new about this look at honour among thieves set in a familiar dystopian future.
…a general more-is-more strategy
Arriving in US theatres on June 8 before heading to the UK on July 20 and sold through Lionsgate, Hotel Artemis could attract adult audiences with its bloody violence and pungent language. An ensemble that includes Sterling K. Brown, Sofia Boutella and Jeff Goldblum should appeal to different demographics, although VOD and streaming may prove its most hospitable residence.
Taking place in 2028 during the most fearsome riot in the history of Los Angeles, the movie stars Foster as The Nurse, a mysterious woman who runs The Artemis, which looks like a hotel from the outside but is, in fact, a top-secret hospital for criminals. Two such hoods, brothers Sherman and Lev (Brown and Brian Tyree Henry), visit the hotel after a bank heist goes wrong, but as she tries to patch them up, they face a grave threat from the imminent arrival of a murderous mobster known as The Wolfking (Goldblum), who is also seriously wounded.
Working with cinematographer Chung Chung-hoon and production designer Ramsey Avery, Pearce sets most of the action within the gorgeously decrepit art-deco hotel, which lends Hotel Artemis an aura of retro cool. There's some fun in discovering the rules of this hotel — The Nurse only accepts paying members, and all of her patients must adhere to her strict code of conduct — and learning how Los Angeles has descended into this chaos. But like many movies set in colourfully bleak futures, Hotel Artemis can't sustain the novelty of its initial world-building.
Pearce populates the hotel with a collection of aggressively quirky underworld characters, none of whom are very memorable. Whether it's Charlie Day's noxious arms dealer or Boutella's slinky, sexy assassin, Hotel Artemis reduces its supporting players to comic-book caricatures who never transcend their one-dimensionality. Even worse, Pearce tends to give them exaggerated accents, facial hair or wardrobes to emphasise how eccentric they are — instead, it only becomes more obvious how much he's overcompensating.
Amidst this parade of despicable desperados, Hotel Artemis introduces a few emotional undercurrents, particularly when a clue to The Nurse's tragic past appears over the course of the film's one-crazy-night narrative. Foster adopts an awkward speaking style and lurching walk/run gait — in addition to those tics, the character is also agoraphobic — but her mannered turn doesn't suggest vulnerability as much as it underlines Hotel Artemis' general more-is-more strategy. As a result, when devastating revelations come to light, they barely register.
Of the starry cast, Brown probably acquits himself best, although any praise needs to be tempered by the fact that he's playing one of the hoariest of crime-movie clichés: the dignified thief who longs to get out of the game. Still, he's a striking figure in his three-piece suit, demonstrating a little sexual chemistry with Boutella, with whom Sherman shares a romantic past. (For her part, Boutella is a generic dangerous beauty who at least is gifted with the film's niftiest fight scene.) And Guardians Of The Galaxy's Dave Bautista conveys gentle-giant sweetness as The Nurse's loyal helpmate Everest. In a movie stuffed with affectations, he's the closest Hotel Artemis comes to approximating a soul.
Production companies: Global Road Entertainment, The Ink Factory, 127 Wall, Marc Platt Productions
International sales: Lionsgate International
Producers: Adam Siegel, Marc Platt, Stephen Cornwell, Simon Cornwell
Production design: Ramsey Avery
Editing: Paul Zucker, Gardner Gould
Cinematography: Chung-Hoon Chung
Music: Cliff Martinez
Main cast: Jodie Foster, Sterling K. Brown, Sofia Boutella, Jeff Goldblum, Brian Tyree Henry, Jenny Slate, Zachary Quinto, Charlie Day, Dave Bautista