Mania Akbari explores the depiction of women on screen through an archive of pre-Revlutionary Iranian cinema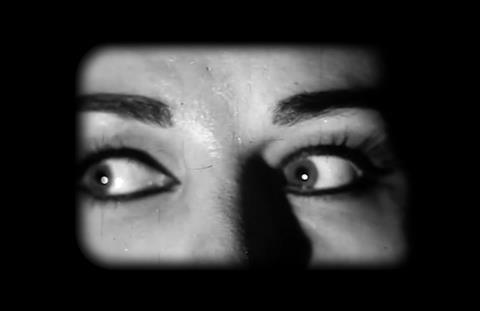 Dir: Mania Akbari. Iran/UK. 2022. 73 mins.
The personal, physical and political interweave via celluloid strips in London-based Iranian writer-director Mania Akbari's How Dare You Have Such a Rubbish Wish? Primarily an idiosyncratic survey of pre-Revolutionary cinema in Akbari's native land, it probes the big-screen presentation of women at a time when the plight of Iranian females is in the global spotlight as never before. Premiering in the edgy Envision competition at IDFA Amsterdam, this intricately complex but accessible essay-film will ride its topicality to plentiful further festival play.
Probes the big-screen presentation of women at a time when the plight of Iranian females is in the global spotlight as never before
Effectively exiled from Iran since 2011, Akbari has established herself as a vital and protean cultural force over the past two decades across multiple artistic disciplines. This is only her second solo directorial outing in ten years, following 2020's Dear Elnaz; she collaborated on epistolary duo Life May Be (2014) and A Moon for My Father (2019) with Mark Cousins and Douglas White respectively.
How Dare You Have Such a Rubbish Wish? shares some similarities with the clip-based cinema anthologies for which Cousins has achieved considerable renown. But whereas Cousins' style is to present his excerpts in pristine clarity, untouched, filling the whole screen, their titles clearly identified via on-screen captions, Akbari adopts a very different tack.
The clips here — which the end-credits intriguingly indicate were actually selected by her co-scriptwriter Ehsan Khoshbakht — are shown in the middle of the screen with blurred edges surrounded by a margin of black, mostly with a noticeable degradation of image suggesting they have been taken from TV transfers. With only two brief and startling exceptions they are rendered in monochrome, regardless of their origin as black-and-white or colour. The effect is to homogenise the disparate and eclectic movies, merging them in a kind of standardised array.
The titles of the films sampled are only listed at the very end: 60 works in total, dating from the silent era right up until just before Islamic Revolution of 1979. Among them is one from an early work by a world-renowned auteur who was posthumously accused by his sometime collaborator Akbari of plagiarism (shortly after his death in 2016) and rape (in June this year).
Akbari does not touch upon these controversial, headline-making matters in her voiceover. She speaks with measured calm, but her indignant anger is evident throughout as she castigates Iranian cinema in general (addressed as a male individual) for the "distorted gaze" through which it depicts women: ""I want to reclaim my body," she begins. "I'm not making a film. I'm gazing into your gaze."
But while the excerpts — nearly all from very commercial, crudely-directed movies which tend towards saucy comedy or torrid telenovela-style melodrama — do objectify females, the women we see are mostly spirited, independent and strikingly beautiful. There are exceptions, such as the masochistic housewife who exclaims "I love men's violence… I want to be beaten up and bloody when he returns home." The men, by contrast, are usually ugly, stupid, lecherous, and/or laughably old-school in their macho posturings.
The clips, ranging from a few seconds to a couple of minutes in length, make up the bulk of How Dare You Have Such a Rubbish Wish? (the title taken from a silent picture in which a woman is mocked for expressing a desire to be a movie actress) — but not all. Akbari films herself semi-naked receiving flowery tattoos on her breasts, emphasising her commitment to control over her body.
More oblique (and perhaps dispensible) are brief shots of dancer Iante Roach essaying ethereal moves in a studio, while fleeting interpolations of contemporary London street-scenes stray even further towards non-sequitur. These non-archival moments are shot in an oddly pale, hazily washed-out manner by four credited cinematographers.
At times it is unclear how the various strands and modes of the film connect with each other, and some passages of the narration elude comprehension: "Toothless cheetahs want to kiss me in my dreams; I've stepped on their tails," Akbari intones. But even if we don't quite follow her every step of the way, the project as a whole is successfully unified by this inspiringly adventurous figure's intelligently poetic and ferociously engaged attitude to life and cinema.
Production company: Cryptofiction
nternational sales: Cryptofiction, info@crypto-fiction.com
Producers: Mania Akbari, Behdad Esfahbod
Screenplay: Mania Akbari, Ehsan Khoshbakht
Cinematography: Mania Akbari, Mahshad Afshar, Karima Jamili, Hosein Shirzad
Editing: Mania Akbari