Elle Fanning and Nicole Kidman star in long-gestating punk meets aliens drama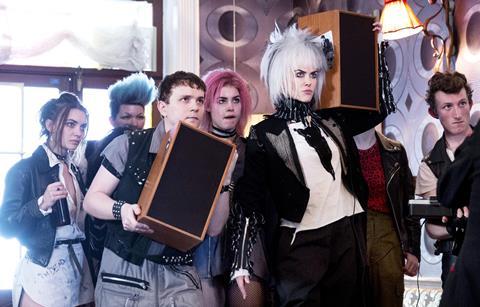 Dir John Cameron Mitchell. UK/US. 2017. 102 mins.
Aliens meet punks and provincial Britain circa 1977 in John Cameron's Mitchell's likeably homemade adaptation of a Neil Gaiman short story, whose slight plot is used as little more than a first-act springboard. It's a film that gets away with a lot - not least a budget that clearly had more holes than a punkette's tights. But mostly, How to Talk flaunts its limitations, self-mockingly engaging its audience by practising the DIY punk aesthetic it preaches.
Nicole Kidman's snarling Cockney character Boadicea looks like a cross between Siouxsie Sioux and Cruella de Ville
Nicole Kidman's cameo as a jaded punk matriarch will be a talking point, but driving the script's engine is the old-fashioned girl-meets-boy chemistry between Elle Fanning's rebellious alien tourist and Alex Sharp's suburban London schoolboy and fanzine writer. The 'old-fashioned' part could also prove to be a hurdle for Girls at Parties, as deep down this is the kind of insecure boy meets girl rom-com there isn't too much of an audience for any more. The truth is that it's probably aimed not so much at its protagonists' peers as their parents, who lived through the punk era and are up for a funny, sentimental, visually striking retread of those Sex Pistols years infused by the sensibility of the man who created Hedwig And The Angry Inch.
An energizing opening sequence played out to The Damned's punk classic New Rose sets the scene: Croydon, 1977, the year of Queen Elizabeth II's Silver Jubilee, when the patriotic street parties of that long hot summer collided with the high-water mark of the first, heroic era of UK punk. Sharp's character Enn is a schoolboy part-time punk (it's all in the hair gel), fanzine editor and illustrator living with his blowsy single mum in semi-detached suburbia. He hangs out with best mates Vic (A.J. Lewis), a budding Billy Idol, and chubby John (Ethan Lawrence).
Kidman's snarling Cockney character Boadicea looks like a cross between Siouxsie Sioux and Cruella de Ville. She's part of that older Malcolm McClaren and Vivienne Westwood generation that bought into punk, and arguably sold it out; having worked for Westwood, she's now rather improbably holed up in Croydon promoting punk bands and creating mutoid sculptures out of scrap in an abandoned industrial space. It's while they're searching for an after-party open to Boadicea's scary but cool inner clique that the three boys stumble into a big old semi-derelict house where another kind of hoedown is going on.
It would be unfair to state too much here, but the premise, elaborated gradually through what follows in a series of nicely-paced reveals, is that the boys have unwittingly stumbled on a houseful of human-seeming aliens – 'parent teachers' and their teen progeny, who have been brought to earth on a kind of educational trip.
One of these is Fanning's Zan – a rebellious innocent who sparks romantically with Enn and is granted permission by the council of elders to go on a 48-hour field trip in London commuterland. Her secret purpose is to find out more about this punk thing that Enn has been enthusing about. Passing Zan off as American – which counts as alien in 1970s Croydon – is one of several sly digs at insular Britannia, but there's plenty of affection, and nostalgia on offer here too, for a simpler time of vinyl, treehouse dens and uncomplicated kids-versus-the-system teen rebellion.
If there's a dose of deja-vu in the punk club scenes – which meld Johnny Rotten and the Rocky Horror Picture Show – that's not the case once we enter the alien house, where costume designer Sandy Powell clearly had enormous fun recasting these humanoids – each of whom belong to a different colour-coded 'Colony' – as latex-clad figures that mix S&M fetish culture with 1980s performance art. She's ably abetted here by Helen Scott's suburban-sci-fi production design and a kooky musical soundtrack created by Nico Muhly and Jamie Stewart, which taps into Krautrock.
Without the script's deft control of the tale of rebellion and romance at the film's heart, these would be no more than enjoyable sideshows. By rights, How To Talk To Girls at Parties shouldn't work, as it feels at times like a film made by a talented student collective who overheard a 'punk vs aliens' elevator pitch. But work it does: it's all a bit mad, but ultimately rather moving.
Production companies: A See-Saw Films, Little Punk production
International sales: HanWay Films, info@hanwayfilms.com
Producers: Howard Gertler, Iain Canning, John Cameron Mitchell, Emile Sherman
Executive producers: Neil Gaiman, Winnie Lau, Michael J. Werner
Screenplay: John Cameron Mitchell, Philippa Goslet
Cinematography: Frank DeMarco
Production design: Helen Scott
Editor: Brian A. Kates
Music: Nico Muhly, Jamie Stewart
Main cast: Elle Fanning, Alex Sharp, Nicole Kidman, Matt Lucas, Ruth Wilson, AJ Lewis, Ethan Lawrence, Edward Petherbridge