Berlin Generation winner set in a Texas border town is a sparky, authentic documentary about immigrant life in a divided America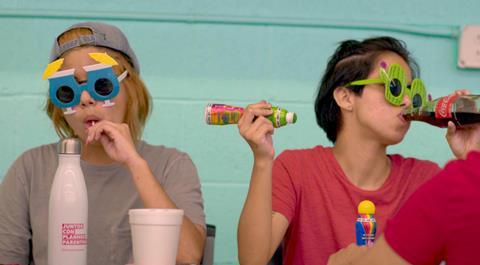 Dirs: Silvia Del Carmen Castaños, Estefanía 'Beba' Contreras. USA. 2023. 78mins
The city of Laredo, in southern Texas, is a place which feels permanently in flux. Situated on the border with Mexico, it is both bridge and blockade, a temporary home for thousands trying to pass through to a better life. Among them are 21-year-old Estefanía 'Beba' Contreras and 18-year-old Silvia Del Carmen Castaños, immigrants who turned the camera on themselves during the summer of 2019 — a time when they were figuring out how to cast off the shackles of their situation and realise their sweeping ambitions. The result is a vibrant, infectious and surprisingly hopeful portrait of a divided America, fuelled not by idealism but dogged determination.
The mood is mostly upbeat, energetic, optimistic.
Supported by the Sundance Institute Documentary Film Program, Hummingbirds is a collaborative project which began when producers Jillian Schlesinger and Miguel Drake-McLaughlin sought out Silvia after seeing a Laredo high school film club short; Silvia then introduced them to Beba. The resulting film's Grand Prix win in Berlin's Generation 14plus strand augurs well for warm reception from wider audiences, and is immediately followed with the opening slot of True/False film festival in the US.
Voices don't come much more authentic than besties Silvia (they/him) and Beba (she/her) who, when the film starts, are lying side by side and gazing up at the stars; a knowing nod to their own "alien" status. Behind them, an American flag flutters proudly in the evening breeze. This contrasting of far horizons with the constrictions of their daily lives is the thematic backbone of the film. The friends video planes in the sky and discuss future plans, all while Sylvia – who was born in the US to undocumented parents – worries about her family and Beba remains in a constant state of limbo while she waits to hear about her citizenship application. Such juxtapositions play not as cinematic conceits, however, but as the realities of life in this transient town.
As our guides, Silvia and Beba prove to be sparky, self-confident and unafraid to grab life where and when they can. Wearing a procession of fabulous punky t-shirts — Night Of The Living Dead, Thrasher Magazine — they spend their time breaking into abandoned buildings, singing at the tops of their voices, crafting home-made tattoos, ironically playing bingo (although the hope of a big win is real). The mood is mostly upbeat, energetic, optimistic. As such dynamic young people, they would seem have the whole world at their feet.
But this pair are linked not just by the depth of their friendship, but by shared memories of illegal border crossings, deportations, the enduring fear of losing a parent to arrest. They understand that America is their best hope but nevertheless miss Mexico, which they can clearly see across the narrow river. Their beloved tamales and churros just don't taste the same on American soil. Regularly switching between Spanish and English — an easy fluidity of identity which is also reflected in their non-traditional views of gender and sexuality — they are honest and eloquent about these often-conflicting emotions.
Silvia and Beba have also both suffered the pain and trauma of abortion, a process already difficult in the right-wing state of Texas and made virtually impossible by an immigrant status. Yet they work to improve their community and frequently advocate for better rights; a nighttime raid to deface a local anti-abortion sign is a particularly joyful exercise in defiance.
Editors Isidore Bethel and Jillian Schlesinger — working amidst a collaborative of predominantly female, non-binary and queer young filmmakers — are careful not to make this an overtly political work. Having filmed the pair every day over two months, the sprawling results have been curated into a fast-paced mix-tape of moments, in which dancing in a club is given the same emphasis as a talk on abortion rights. Personalities are allowed to shine as bright as the issues, making the film all the more immediate and powerful as a result.
Production companies: Extra Terrestrial Films
International sales: Extra Terrestrial Films hummingbirdspelicula@gmail.com
Producers: Jillian Schlesinger, Miguel Drake-McLaughlin, Leslie Benavides, Ana Rodriguez-Falco, Diane Ng, Rivkah Beth Medow
Cinematography: Miguel Drake-McLaughlin, Diane Ng
Editing: Isidore Bethel, Jillian Schlesinger
Music: Estefania 'Beba' Contreras, Elijah Cruz, Brendan Hoy