Film set in a small Mediterranean village during the busy summer season shares the Jury Prize at IFFR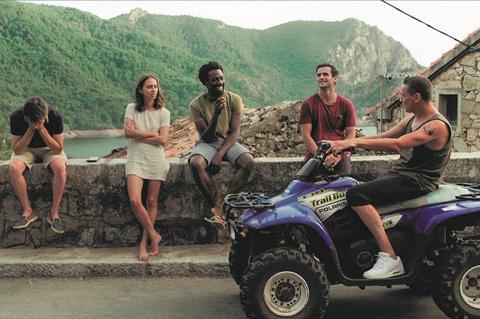 Dir. Pascal Tagnati. France, 2021. 124 minutes
France's Mediterranean island gets an all-too-rare spell in the cinematic spotlight via writer-director-editor Pascal Tagnati's I Comete: A Corsican Summer, a sprawling, pseudo-novelistic debut which landed one of two Special Jury Awards at Rotterdam. The achingly scenic, sun-kissed surroundings of Tolla, a village in Corsica's rugged south-west, is the setting for Tagnati's ambitious debut, which suffers from the longueurs that often occur when first-timers also take on editing duties. The isolation endured across the world over the past 12 months may, however, make the prospect of spending two hours here somewhat enticing.
There is not quite enough here to justify the expansive running-time
Tagnati sets his action in the busy days of August, when Tolla's year-round population numbering only a couple of hundred swells considerably thanks to adventurous holidaymakers and natives returning from further afield for their summer break. There can have been few folk in the area during filming who don't appear in some form or other: the screenplay's improv-heavy dialogue, which combines French and the more Italian-sounding Corsican language, is credited to Tagnani and 'la communaute'
The director's stylistic approach is a very familiar one, rigorous and formally austere: Javier Ruiz Gomez's camera is fixed in place for the vast bulk of the running-time, observing events via middle- and long-shots with the refreshing exception of close-up hand-held shots towards the final minutes. This is thematically justified by the security surveillance cameras installed around the village under orders of the absent Mayor (who, like the cameras, is oft-discussed but never actually seen). Unfolding via a series of mini-vignettes generally of quite short duration, I Comete: A Corsican Summer keeps its myriad characters at a certain distance; these are "comets" whose orbits only glancingly intersect. We're a world away from the mushily sensual lazy-summer Mediterranean-France evocations of, say, Abdellatif Kechiche.
First among the large ensemble's equals here in terms of screen-time is Franje (Jean-Christophe Folly), an easy-going fellow of African ancestry adopted by a local family; performance-wise the show is stolen by stage-veteran Roselyne de Nobili as his aged, ailing grandmother Lucienne. A former school-teacher, Lucienne is Tolla's worldly-wise intellectual.
In one of the longest and most stimulating sequences, Lucienne ruefully analyses matters of political and philosophical importance through the geographical prisms of Tolla and Corsica, while Franje massages her aged limbs. Non-professional middle-aged newcomer Éric Patris de Breuil also makes an impact as ursine, widowed sheep-farmer Auguste, whose personal and professional travails significantly add to the picture's relatively meagre proportions of plot.
But there is still not quite enough here to justify the expansive running-time, nor to fulfil Tagnati's palpable ambitions to discourse on human nature via this crowded microcosm. His text is particularly preoccupied with issues of freedom and confinement, frequently seeking visual corollaries to underline and dramatise this thorny dichotomy. Previously responsible for shorts Bugarach (2013) and The Fan (2017), Tagnati is rather better known in France as an actor. He takes a prominent supporting role here as hot-tempered villager Theo, with variable results: a bedroom scene in which he unconvincingly breaks down in tears is just the kind of thing another editor might have quickly dispatched to the cutting-room floor.
And while highly experienced cinematographer Ruiz Gomez delivers competent, professional work, the picture is — beyond its spectacular natural backdrops — actually rather ordinary to look at. Indeed, it's one of the ironies of digital video that the current trend for super-clean images lack the sheer sensual impact of DV in the days when it was a cutting-edge filmmaking vogue. In terms of immersive evocations of Corsica, for example, there's nothing here that even approaches the lo-fi magic Benedict Neuenfels conjured for Dominik Graf's A Map Of The Heart, all the way back in 2002.
Production companies: 5 á 7 Films, Lotta Films
International sales: BFF, sales@bffsales.eu
Producers: Martin Bertier, Helen Olive, Delphine Leoni
Screenplay: Pascal Tagnati
Editing: Pascal Tagnati
Cinematography: Javier Ruiz Gomez
Main cast: Jean-Christophe Folly, Roselyne de Nobil