Documentary about unrepentant IRA terrorist Dolours Price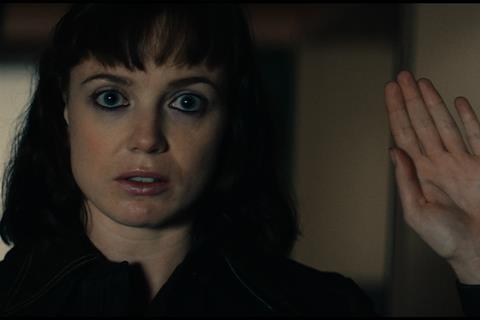 Dir. Maurice Sweeney. Ireland. 2017. 82mins
Without a doubt, I, Dolours is a flawed documentary. It's short on context, long on unconvincing re-enactments; an added crime when you consider the real woman at its core. The late Dolours Price, the committed, unrepentant, complicated IRA terrorist who bombed London's Old Bailey in 1973, makes this film a disturbing and often bristling experience. It wasn't ever necessary to pad her interviews out. Dolours is quite enough by herself, and there's plenty of historical footage of her without resorting to poorly-staged recreations (the publicity photograph which accompanies this review is that of the actress who plays her).
There's a lack of editorial rigor, and the hammy re-enactments are a symptom of that looseness
Released, like many concurrent documentaries, on the 20th anniversary of the signing of the Good Friday Agreement, I, Dolours will be of greatest interest at home in Ireland and the UK on terrestrial or streaming TV services. It will also form an important part of archives on "the troubles".
Director Maurice Sweeney does not provide the provenance of the recorded interviews that he uses in I, Dolours. She spoke with journalist, author and producer of this film Ed Moloney as part of what is now known as "the Boston tapes", a confessional oral history project at Boston University, and they became subject to a bitter court battle. The interviews were granted on strict conditions of a posthumous release, although the contents were largely known prior to her death. Then again, the tapes used here may have been extra footage that Moloney shot.
So I, Dolours has hurdles: there's a lack of editorial rigor, and the hammy re-enactments are a symptom of that looseness (matched by a B-movie score). Yet somewhere in there is a fascinating, elusive, tough, terrifying and bitter woman who blew up the Old Bailey in 1973, went on hunger strike and was force-fed, drove many IRA "informants" including mother-of-10 Jean McConville to their deaths, and raged against the Good Friday agreement ("a failure of my life's purpose"). She was married to the actor Stephen Rea, and had a family with him.
Price is unremittingly open in this footage, and names Gerry Adams as the "officer commanding" in Belfast who sent her to the Old Bailey with bombs and instructed her to drive "informants" across the border to Dundalk in the Republic of Ireland to be killed there, their families never to know what became of them (something she strongly disagreed with: she wanted to leave the bodies on the streets of Belfast to "put the fear of God" into people). Adams, incidentally, has staunchly denied even being a member of the IRA.
Dolours and her sister Marian, who also went on hunger strike, are figures of mystery in Ireland. At the time she was most robustly active in the IRA, members of the organisation were forbidden from appearing on screen. She came from a staunch Republican family, the third generation of women to be imprisoned in "the struggle" (her father was one of the founding fathers of the modern IRA and spent most of her childhood interned; her aunt lost both hands and eyes in an explosion). She always saw herself as a soldier, and ultimately a soldier betrayed by its leadership.
While Price in later years suffered from alcohol abuse and snorexia which took hold when she weas force-fed for around 180-days of a 208-day hunger strike, there is no sense of hesitation in the footage on show here. It's quite easy to see the moral code under which she operated; the absolute resolution with which she carried out her tasks – to unite Ireland by whatever means necessary. She only falters once, when she recalls driving an old family friend to his death. "He was a gentle, gentle man," she says. It's the only time when the viewer can visibly see the wages of her life on the frontline, as the rest, for Dolours, was strictly business.
International sales: Kew Media Group london@kewmedia.com
Producers: Nuala Cunningham, Ed Moloney
Cinematography: Kate McCullough
Editor: Mick Mahon
Music: Giles Packham