Melissa Leo, Josh Hartnett headline a Oklahoma backwoods-set crime thriller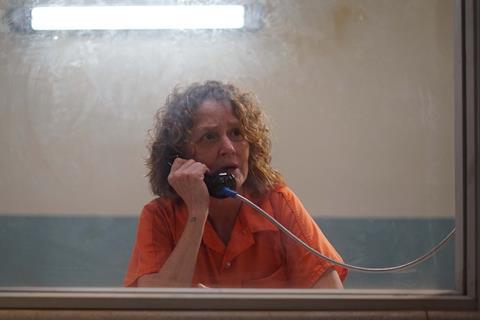 Dir/scr: John Swab. US. 2021. 111 minutes
Writer-director John Swab continues his quest to put his midwestern home town of Tulsa on the cinematic map with Ida Red, a brooding, occasionally bloody crime-thriller with noir and western undertones that is chiefly notable for a strong ensemble cast. World-premiering in the audience-friendly Piazza Grande section of Locarno, this is a low/medium-budget American independent film of deliberately old-fashioned stripe.
Swab's strong suit lies in the selection and handling of his performers
Aimed at a relatively mature audience which may now prefer to download or stream such entertainments, Swab's competently handled but essentially low-key third solo feature could be a tricky theatrical sell for US distributor Universal. But down the line it may conceivably generate a little awards-season heat for Oscar-winner Melissa Leo, who makes the most of her supporting role as the eponymous Ida, longtime criminal "queenpin" of backwater Oklahoma.
Sentenced to a long stretch behind bars after a heist went catastrophically wrong and left her a widow, perpetually scheming, flame-haired sixtysomething Ida learns she has only months to live. She is determined to expire in the free air of liberty, a desire ardently shared by her family — headed in her absence by nephew Dallas (Frank Grillo) and her son Wyatt (Josh Hartnett), who make their living holding up trucks on remote highways.
Moving fluently between numerous plot-strands and characters, Swab gradually zeroes in on the individual who unexpectedly emerges as next-generation standard-bearer for the clan's nefarious traditions: precocious 15-year-old high-schooler Darla (Sofia Hublitz). Raised in straight-arrow by fashion by Wyatt's sister Jeannie (Deborah Ann Woll) — whose husband Bodie (George Carroll) is a cop, no less — Darla initially manifests her kin's rebellious ways via minor high-school infractions. Romantic travails and family-related revelations see her steadily escalate into more felonious terrain.
The development of Darla from semi-marginal figure to quasi-protagonist is the most susprising element of Swab's screenplay; he is otherwise fairly content to recycle familiar tropes of the rural-crime sub-genre, most successfully essayed over the past decade by William Friedkin's Killer Joe (2011) and David Mackenzie's Hell Or High Water (2016). Swab's debt to earlier antecedent At Close Range (1986) is meanwhile signalled by his needle-drop deployment of a Madonna hit from the same era, 'Crazy For You', (James Foley's original pivoting heavily upon 'Live To Tell'.)
There is a certain pleasure in seeing a fairly new voice essay such familiar turf with steady professionalism, even if Swab at this stage has yet to develop much of a distinctive personal style. The occasional bygone-era elaborate wipe between scenes is perhaps his only significant flourish; too often Swab relies upon the busy score by David Sardy when he needs to amp up the mood.
The writer-director is still something of a relative neophyte, however, having co-directed and co-written Let Me Make You A Martyr (2016) with Corey Asraf, before moving on alone to Run With The Hunted (2019) and Body Brokers, which surfaced only this February and also featured several faces from Ida Red including Leo and Grillo. Swab's fourth solo effort Candy Land is already in post-production.
Each of these downbeat dramas is set in and/or around Tulsa, previously best known movie-wise as the backdrop for Francis Ford Coppola's Rumble Fish (1983). Swab's ambition of creating and sustaining film-production in the area is a commendable one (the same names keep cropping up on both sides of the camera across all his works), even if this latest enterprise fails to evoke the region in any palpably atmospheric way. Most of the action in Ida Red — mainly set around 2010, and named after the traditional folk song popularised in the 1930s by Bob Wills and his Texas Playboys which formed the basis for Chuck Berry's smash 'Maybellene' — could be unfolding in almost any rural or semi-rural area of the United States.
Swab's strong suit, conversely, lies in the selection and handling of his performers. Deborah Ann Woll (as the Walker family's one 'white sheep',) Ben Hall (enjoyably channelling John Carradine as an untrustworthy parole-board officer) and Bruce Davis (as a loquacious Black churchman with sinful inclinations) stand out among several better-known names. The latter include millennial pinup Hartnett, continuing his surprise comeback after a much less taxing role in Guy Ritchie's Wrath Of Man. Occasionally a thespian himself (including briefly here), Swab is evidently an actors' director with whom performers both established and inexperienced feel comfortable — a trait that bodes well for his future career in Tulsa and/or beyond.
Production company: Roxwell Films
International sales: Roxwell Films, info@roxwell.net
Producers: Jeremy Rosen, Robert Ogden Barnum, John Swab
Production design: Katy Martin
Editing: John David Allen
Cinematography: Matt Clegg
Music: David Sardy
Main cast: Josh Hartnett, Frank Grillo, Melissa Leo, Sofia Hublitz, Deborah Ann Woll, George Carroll, William Forsythe, Mark Boone Junior, Beau Knapp