Gael Garcia Bernal headlines a film which is 'expressionistic to the point of incoherence'
Dir. Joan Chemla. France. 2017. 86 mins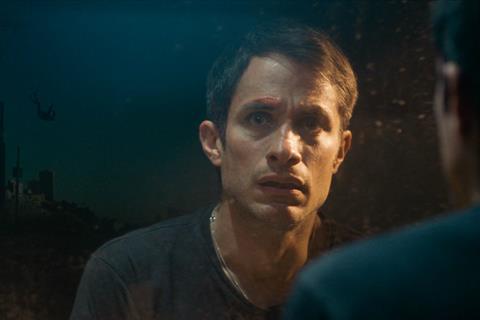 A Romany man, exiled from his community after the death of his close friend, finds himself subsisting in a sleazy rooming house, pulling off low-level scams to survive. Then the arrival of damaged young woman in the hotel offers him hope for a future he had given upon. Loosely based on the novel Boarding House by Cuban writer Guillermo Rosales, this first feature by Joan Chemla starts strongly but soon adopts an approach which is expressionistic to the point of incoherence.
He finds himself in a kind of purgatory – the kind which is nearly impossible to leave
Despite the impressive talent involved – Gael Garcia Bernal and Marine Vacth star; a lush score is provided by Oscar-winning composer Gabriel Yared – this is too opaque in its plotting and languid in its pacing to register as much more than a festival title.
A promising opening sequence at a gypsy wedding gives a glimpse of the life of Daniel (Gael Garcia Bernal) before the tragedy that cut him adrift from his people and from his own life. It's the marriage of his close friend Costel, played by the striking Argentinian actor Nahuel Pérez Biscayart, most recently seen in BPM (Beats Per Minute). Sinuous tracking shots stalk party guests as they dance, flirt and drink. On the outside, looking in, is Daniel. At the peak of the riotous celebration, somebody lets of a fire extinguisher. Chemla makes use of the powdery white screen to cut to Daniel some time later, his face carved with sorrow, as he waits at a train station.
He is haunted by flashbacks to the accident which claimed the life of Costel, just a day after his wedding. Daniel is not culpable, but simply by being present at the time, he is held responsible by their mutual family and friends, particularly Costel's dangerously unpredictable rat-faced older brother Lucho.
He finds himself in a kind of purgatory – the kind which is nearly impossible to leave. The Metropole Hotel is populated by deadbeats and eccentrics, who are given to gnomic proclamations and photogenically antisocial behaviour. Daniel, rechristened 'Mafia' by the hotel's seedy, possibly psychotic receptionist, spends a lot of time drifting around the flyblown, urine-soaked corridors of the hotel, looking gaunt and melancholy. When he leaves the building, it is usually to steal the savings of vulnerable old people.
Then one day – too late in the film to be fleshed out as a satisfying character – a beautiful woman arrives at the hotel. She is Francine (Marine Vacth). We later learn that she is a psychiatric patient, recently released from hospital. Daniel recognises a fellow damaged soul, and, while the Blue Danube plays out on the soundtrack, they embark on a romance. But their dreams of escape are curtailed by the hotel management who, in one of the film's more unlikely plot devices, is paid by the hospital to look after Francine.
Surreal imagery – a hotel corridor filled with dead fish for example – suggests that Daniel is just as mentally unstable as Francine. An ominous rumble on the score and numerous pointed shots of Daniel's hand clenched around a screwdriver mean that the final, violent conclusion comes as no surprise.
Production company: Nord-Ouest Films
International Sales: MK2 intsales@MK2.com
Producers: Pierre Guyard
Screenplay: Joan Chemla, Santiago Amigorena
Cinematographer: André Chemetoff
Editor: Béatrice Herminie
Production design: Alain Frentzel
Music: Gabriel Yared
Starring: Gael García Bernal, Marine Vacth, Nahuel Pérez Biscayart, Karim Leklou