Hong Sangsoo's second film this year goes to the essence of his film-making style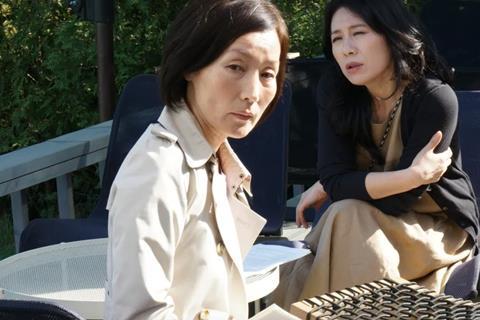 Dir/scr: Hong Sangsoo. South Korea. 2021. 85 mins.
A French critic once wrote that "the films of Hong Sangsoo are both very simple and very complicated". That's certainly true of the latest addition to what has now become a 26-film oeuvre. But there has been a steady evolution. Even more so than his last film, Introduction - which screened at Berlin in Feburary - In Front Of Your Face feels as it the director is testing the limits of how far he can pare a story back while retaining an intricate series of echoes, hints and suggestions.
Viewers need reminding of the lambent beauty of our everyday world that Hong delivers here
The pared-back version of that pared-back story would be this: In Front Of Your Face is a film about 24 hours in the life of Sangok (Lee Hyeyoung), a former actress who has returned to Seoul from her home in the US to visit her sister. But the nothing much that unfurls over the following eighty or so minutes feels like everything. Audiences bruised by the pandemic clearly need the escapism of F9 and other tentpoles; but at a time of fragility, they also need reminding of the lambent beauty of our everyday world that Hong delivers here.
Hong likes to give roles to actors and actresses who are not obvious arthouse casting choices. Lee, the radiant centre of this small, exquisite chamber piece, emerged as a singer in the early 1990s, built a career as one of Korea's most famous TV actresses from 1995 on, then around ten years later launched a successful fashion brand. She has not acted much at all for the past decade.
Sangok's day is punctuated by her own voice-over monologues – dropped in not with the abandon of a Malick but as short, gem-like fragments. We guess early on, from these words and other portents including the way she massages her stomach, why her senses have suddenly become so permeable, though its only later that Sangok puts this into words. Meanwhile, she goes for breakfast with her sister Jeongok (Cho Yunhee) in a local café, smokes a furtive cigarette under a bridge by a stream whose water ripples over a crushed music stand, receives a present from her gauche nephew, visits a house she lived in as a child that has now become an intimate designer clothes shop, and goes to a deferred lunch meeting with Jaewon, a film director played by Hong regular Kwon Haehyo, where they eat (but mostly drink) around a table that looks like a chessboard.
Jaewon is obsessed with certain scenes Sangok starred in back in the day – one in particular where he remembers her "sitting on a bench, taking in all the desolation of winter". We can see her half-flattered, half striving to remember the shoot. When she tells him her secret, he cries, then goes out for a cigarette. Later, when it's suddenly pouring with rain and feels, strangely, like another day in another town, and he has asked her to be in a short film that he's clearly invented right there, right then, she says in a tone that's more wondering than accusatory: "You want to sleep with me, don't you?".
They end up sharing a cigarette in the pouring rain, viewed from behind at the end of a narrow alleyway. And that's it. Life goes on… with viewers left hungry for the next chapter.
Production companies: Jeonwonsa Film Co
International sales: Finecut, cineinfo@finecut.co.kr
Producer: Hong Sangsoo
Editing: Hong Sangsoo
Cinematography: Hong Sangsoo
Music: Hong Sangsoo
Main cast: Lee Hyeyoung, Cho Yunhee, Kwon Haehyo, Shin Seokho, Kim Saebyeok, Ha Seungguk, Seo Younghwa, Lee Eunmi, Kang Yiseo, Kim Siha