Ulrich Köhler follows up 'Sleeping Sickness' with a survivalist story centred around one man's struggle to stay alive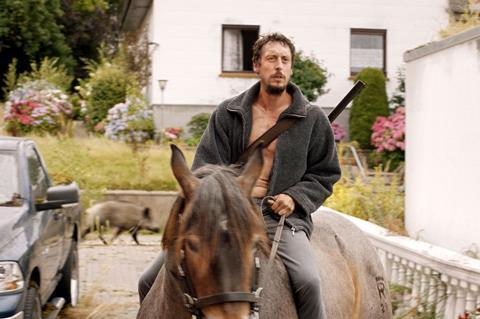 Dir. Ulrich Köhler. Germany. 2018. 120 mins
The night clubbing, free spirited lifestyle of feckless man-child Armin (Hans Löw) is starting to look a little undignified. He hits on girls whose mothers he knew a whole party generation previously; he can barely scrape together the rent on his fetid armpit of a bedsit. But then one day as he blinks through his hangover, Armin realises that everything has changed. And to survive, he must too. Overnight, the rest of humanity has disappeared.
Rises to the challenge of its high concept admirably
In terms of execution, Ulrich Köhler's character study rises to the challenge of its high concept admirably. Although there are moments when the film flags, there is something rather gripping about watching a man who at the start of the film could barely work out whether his video camera was turned on trying to figure out how to wrangle his own ad hoc hydroelectric plant. Still, Armin seems to get less interesting as a character rather than more as his quest for survival takes priority. Ultimately you wonder whether, dramatically speaking, it was worth wiping out a planet full of people just so that one useless bloke could finally get his act together.
Following his previous picture Sleeping Sickness, which won the Silver Bear at Berlinale in 2012, this latest film from Köhler is likely to be of interest to festival programmers and distributors alike. The film will draw comparisons with Julian Pölsler's similarly mysterious survival film, The Wall. Two factors might prevent In My Room from generating equivalent interest: the lack of real peril, and the lack of a performance of the calibre of that of The Wall's Martina Gedeck.
The film is divided into three distinct acts, each of which lasts approximately forty minutes. The first, before the event which leaves Armin on his own, focuses on his disatisfying life. A liability at work, Armin looks set to be out of a job in the near future. Meanwhile, the protracted death of his grandmother is forcing him to make uneasy eye-contact with his own mortality.
The second section of the film explores the immediate aftermath of the catastrophic event – no explanation for it is offered – and sees Armin adjust his coping strategy from necking bottles of wine until he passes out to more constructive means. It's here that the impressive production design really comes into play. Mopeds lay discarded, strewn across the road; an empty boat drifts sideways down a river. Cars, suddenly without drivers, have ploughed off the roads.
Armin sets himself up in a smallholding – it is suggested that he has a link with the place he chooses – and, with a goat, a horse and chickens for company, attempts self-sufficiency. Sound design is equally strong. Immediately post 'event', the eerie silence is broken only by the barking of anxious, abandoned dogs. Later, the sounds of nature take over – the hum of insect life fills the spaces left by the absence of mechanical noise. There is a transformation, too, in Armin. He's leaner, fitter certainly. But as time passes, there's a new confidence in the way he moves.
The third section, perhaps inevitably, reveals that Armin is not entirely alone in the world. A young woman, Kirsi (Elena Radonicich), drives her camper van into his neighbourhood and, for a while at least, they shack up together. It's a slightly strained relationship, hampered by awkwardly delivered English dialogue. And just when our engagement with the story should building, it starts to feel curiously inert. It comes to something when it is easier to believe in the apocalyptic event which wiped out most of the human race than it is to believe in a relationship between the two people left alive.
Production companies: Pandora Film Production
International sales: The Match Factory, info@match-factory.de
Producers: Christoph Friedel, Claudia Steffen
Screenplay: Ulrich Köhler
Production design: Jochen Dehn, Silke Fischer
Editing: Laura Lauzemis
Cinematography: Patrick Orth
Main cast: Hans Löw, Elena Radonicich, Michael Wittenborn, Ruth Bickelhaupt, Emma Bading, Katharina Linder, Felix Knopp, Kathrin Resetarits