'Covid crisis' cinema from the students of Trinity College Dublin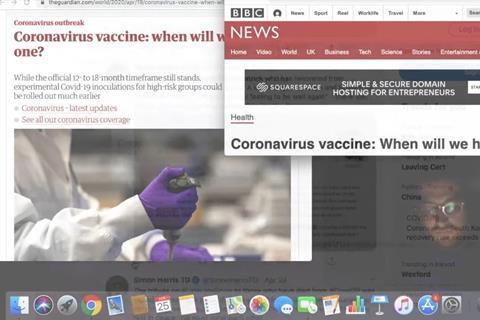 Dirs. Students from Trinity College Dublin. Republic of Ireland. 2021. 72 mins.
Quality, in conventional terms, may not necessarily be the point when dealing with the new forms of cinema spawned by Covid-19. When the history of lockdown-era film is written, what will perhaps claim most attention is a sub-genre that is closer to oral history than to standard documentary. In it, what counts is not so much artistic excellence as candour, perceptiveness and speed of response – and often, courage and ingenuity under restricted conditions. Whatever the criteria invoked, Dublin-premiering portmanteau documentary Is There Out Anybody Out There? - subtitled 'Young Voices From Inside a Pandemic' and created by an international group of some 60 students from Trinity College Dublin - will stand at the very least as an honourable, adventurous and engaging contribution to this form of crisis cinema.
An energetic and highly engaged work
The specific back story to the film is the closing of Trinity College as a lockdown measure in March 2020, with students being told to vacate their accommodation. Some managed to return to their homes, all around the world (14 different countries are represented here); some students rejoined their families, others got together with friends, but many spent lockdown in total or partial isolation. It comes as no surprise to see a lot of bedroom interiors here.
We see many familiar forms of communication too, just about any platform you're likely to see today on a laptop or phone screen – Skype, WhatsApp, TikTok and inevitably Zoom. Many of these, together with images culled from TV news and assorted internet sources, are cleverly patched together in the energetic mosaic sequence that begins the film, punctuated by the start-up chord of a MacBook. This also introduces a unifying device that runs throughout: close-ups of a young man in his room, anxiously scanning dispatches from peers around the world.
Some contributors seem to have a relatively easy time of 2020: some are seen lounging contentedly at family homes, or with pets, or finding solace in groups in the countryside. Others have it harder: one woman talks about her experience of catching the virus, while a young man from Puerto Rico realises that he is the only person left living on his corridor. Some contributors maintain contact despite being scattered around the globe: a group of Chinese students exchange news from their respective locations in Dublin, London, New York, Italy and China.
There are upbeat perspectives, one woman expressing her hope that the experience of lockdown could actually be beneficial for the world – "we may change for the better" – while one student's brother, who has autism spectrum disorder, cheerfully admits that that for him, home schooling is "living the dream". More sombre notes are sounded by a section of reportage on the state of things in San Francisco, and by a group of contributors in Peru contemplating the crisis in their country's healthcare system and the grim prospects for those at the lower end of the social ladder.
While lockdown has forced some professional film-makers to reinvent their practice, and their relationship to a highly collective art form, the work on show here is only sometimes about formal ambition (exceptions include clever screens-within-screens video mixing and a sequence that applies splintered sound to Emmanuel Macron's virus declaration "We are at war"). But mostly, we are offered a panorama of diary-style dispatches, some affectingly confessional. However, anyone hoping to scan the film for evidence of what a generation is currently thinking and feeling might be disappointed, because the contributors' backgrounds and concerns are so diverse that there is relatively little that they obviously appear to have in common culturally or politically (it's also surprising that 2020's other major story, the Black Lives Matter explosion, barely features as a theme).
However, this is an energetic and highly engaged work, elegantly assembled as a whole by editor Andy Wilson – although all the makers of these essentially self-contained pieces shot and edited their own sections. It's a sobering film overall, but as you'd hope from a young perspective, not without optimism: even the young woman seen throughout talking to camera, who seems to have had as bleakly challenging a year as anyone, offers an upbeat note at the end, suggesting a simple, pragmatic tip for grabbing a moment of happiness. And if all else fails, as someone points out, there are always rescue dog videos.
Production company: Come As You Arts Eire
International sales: MACGREGJ@tcd.ie
Producer: Justin McGregor
Editor: Andy Wilson