Filmmaker Ella Glendining embarks on a search for others who share her rare disability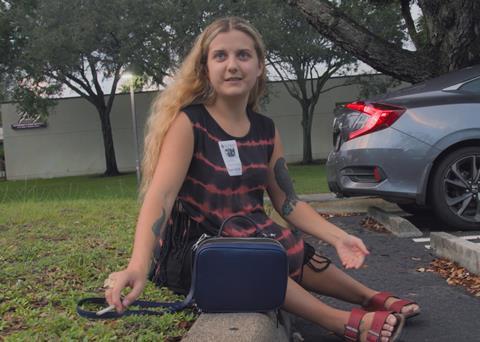 Dir: Ella Glendining. UK. 2023. 87mins
The title is the question posed by director Ella Glendining as she embarks on this highly personal film that gathers wider resonance as it goes along. Born with no hip joints and very short thigh bones, Glendining's disability is, as she herself notes, visually obvious and very rare. This rarity is what prompts her to begin to look for others with the same condition, a search that leads Ella on a personal journey of self-discovery that also scrutinises the ableism – discrimination in favour of those without disabilities – she and others experience in both obvious and less overt ways.
Glendining isn't scared to ask questions in her film, not just of those around her but also of herself
Glendining's positive attitude, willingness to share her hopes and fears, and her forthright but accessible articulation of many of the ableist attitudes of society should ensure her documentary gets a lot more festival play after its world premiere in Sundance's World Documentary Competition. It should also prove attractive to streaming services further along the line.
Glendining – a Screen Star of Tomorrow in 2020 and currently working on her debut fiction feature, historical drama Curiosities Of Fools – here mixes video diaries with contemporary and archive footage, plus home video of herself as a child. The end result may not be as finely polished as some documentaries but it is robustly edited together by Rachel Roberts, who helps Glendining's emotional honesty and immediacy sing out. A lilting score from Erland Cooper adds a further upbeat note.
The home video shows Glendining having fun as a child with her parents, but the position of "not giving it much thought" radically changed after she started school. "That feeling of being the only one in the room, it's all I've ever known," she says. Her attempts to meet others on the internet who share the same condition become stymied not just by the advent of Covid-19, but also by the fact that she unexpectedly falls pregnant. This latter development becomes a secondary focus of the film, as she prepares for what she hopes will be a natural childbirth but which also throws up personal challenges and revelations.
Glendining isn't scared to ask questions in her film, not just of those around her but also of herself. We see her talking to close friend Naomi, whose "invisible disability" (as Naomi puts it) of autism also informs discussion of societal attitudes. Among the issues tackled is a skewering of the wrong-headed notion that wheelchairs are somehow a confining rather than freeing object for those who use them, while Glendining also questions the ways that the insidious ableist attitudes of society can lead disabled people to be unecessarily judgemental about themselves. Glendining also pointedly notes her own resistance to those who suggested she should include more of her partner Scott in the film, on the grounds that she doesn't want him to become the "non-disabled hero" of the piece.
Among the archive footage is Granada Television's 1972 special World In Action: A Day In The Life of Kevin Donnellan, who was born disabled because of the drug Thalidomide and who has gone on to expose the low expectations expressed about him in that film for the ill-informed prejudices they were. But as Glendining continues her research and discovers a forum where parents of children born like her are debating the pros and cons of extensive surgery, it's evident that there is still a great deal of pressure to strive for what society would consider "normal".
As she travels to the US to meet those with similar conditions and the surgeon Dr Paley, who has operated on thousands of youngsters, Glendining allows the complexity of these choices to be laid out. While her own opinion is clear, this is not a clear-cut issue but one of concerns around consent and parents weighing up the potential benefits of this sort of major surgery against the impact on childhood What also comes across as she meets others with similar disabilities is the importance of role models, particularly for children, and of a shared sense of solidarity.
Like 2020 Sundance breakout Crip Camp, Glendining's film is a well argued and moving reminder that we still live in a world where too many see disability as something that needs to be 'fixed' rather than more willingly accommodated.
Production companies: Hot Property Films Ltd
International sales: Autlook, salma@autolookfilms.com
Producers: Janine Marmot
Cinematography: Annemarie Lean-Vercoe
Editing: Rachel Roberts
Music: Erland Cooper