Good boys populate Wes Anderson's stop-motion drama which opens the 2018 Berlin Film Festival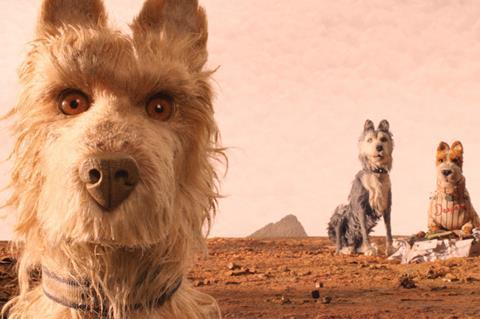 Dir. Wes Anderson. US/Germany. 2018. 101 mins.
Five abandoned dogs and a 12 year-old boy roam a toxic wasteland in the Japanese archipelago 20 years in the future looking for a lost pet: like all Wes Anderson's films, Isle Of Dogs is wholly unusual while still being immediately identifiable as a Wes Anderson film. So lush with gorgeous detail it's like a piece of highly-textured haute couture, there's also a sharp social message behind the elaborate seams: the dogs are starving, filthy, diseased and quarantined, and only the orphan boy remembers who man's best friend really is.
When the dogs cheekily break the fourth wall continuously to arch an eyebrow at the camera, few in the audience will be able to resist.
With the exquisite sets practically sitting up and begging to be seen again, Isle Of Dogs is the American director's second stop-motion animation after Fantastic Mr Fox, and a rarefied experience which, without the strength of Roald Dahl behind the title, may need a stronger marketing push – although the canine stars do have a loud collective bark. (Isle Of Dogs premiered in Berlin on the first day of the Chinese Year of the Dog.) In ways reminiscent of Okja in that it straddles the line between child and adult fare uneasily at times, Isle Of Dogs surpasses even Grand Budapest Hotel's lavish attention to detail and elaborate dioramas, shot over two years in London's Three Mills Studios. Anderson's legion of fans will be sated.
Written by Anderson, Roman Coppola, Jason Schwartzman, and Anderson's friend Kunichi Nomura (who also provides the voice of Mayor Kobayashi of Megasaki City), the film gives us Japan in the near future, when Dog Flu and Snout Fever threaten to cross over to the human species – an uncomfortable reminder of swine flu. Mayor Kobayashi, whose clan nurses an inter-generational loathing of canines, dispatches all hounds to the garbage-infested Trash Island where they must fend for themselves and face certain death. But the mayor's 12 year-old adopted ward Atari, a latter-day Astro Boy, flies to Trash Island to rescue his beloved guard-dog, Spots (voiced by Liev Schreiber).
Atari (Koyu Rankin) quickly encounters a band of Wes Anderson stalwarts: Edward Norton, playing the self-appointed leader of the pack Rex; Jeff Goldblum, as the incorrigible gossip Duke; Bill Murray as Boss, a former baseball team mascot; and Bob Balaban voicing King, who used to be a spokeshound for 'Doggy Chop'. Joining them are Scarlett Johansson as one-time show-dog Nutmeg and Harvey Keitel, voicing the aboriginal Gondo. Tilda Swinton shows up as Oracle, who can understand the TV. But the real hero is Chief (Bryan Cranston), a stray dog who bites.
The film is bursting with colour out of its elaborate miniatures, audacious choices which demand to be admired (bright purple volcanos, vibrant reds, cherry blossoms, leached-out sequences which pay tribute to Japanese cinema's majestic past). Isle Of Dogs is also filled with music throughout, even if it's only whistling (regular collaborator Alexandre Desplat is not easily identifiable in a robustly Japanese score). Anderson squeezes more shots per second than most traditional stop-motion work, which at times gives the puppets a slightly blurry, out-of-this-world feel (the hair on the dogs, always a challenge for animators, is exquisitely rendered).
The spirit of Kurosawa lives on here (there's even a decaying statue of Toshiro Mifune on Trash Island), while Ozu is referenced in the sheer precision of the framing. Atari is pure anime, while sequences from kabuki theatre enhance the other-worldliness of the setting, which is delightfully contrasted with some very American dry wit.
Isle Of Dogs pushes the viewer (the narrative hops backwards and forwards randomly; some sequences aren't translated, although Frances McDormand has fun playing an overly-empathetic interpreter). But Anderson's trademark tongue-in-cheek humour and deadpan quips are there to ease the way, which seem more fluid coming from the mouths of puppets than his live-action fare. Either way, when the dogs cheekily break the fourth wall to arch an eyebrow at the camera, there will be few viewers who can resist.
Production companies: Indian Paintbrush, Fox Searchlight, American Empirical
Worldwide distribution: Fox Searchlight
Producers: Wes Anderson, Scott Rudin, Steven Rales, Jeremy Dawson
Executive producers: Christopher Fisser, Henning Molfenter
Screenplay: Wes Anderson, from a story by Wes Anderson, Roman Coppola, Jason Schwartzman, and Kunichi Nomura
Cinematography: Tristan Oliver
Production design: Adam Stockhausen, Paul Harrod
Editors: Ralph Foster, Edward Bursch
Animation director: Mark Waring
Music: Alexandre Desplat
Voice cast: Bryan Cranston, Koyu Rankin, Edward Norton, Bob Balaban, Bill Murray, Jeff Goldblum, Kunichi Nomura, Akira Takayama, Greta Gerwig, Frances McDormand, Akira Ito, Scarlett Johansson, Harvey Keitel, F. Murray Abraham, Yoko Ono, Tilda Swinton, Ken Watanabe, Mari Natsuki, Fisher Stevens, Nijiro Murakami, Liev Schreiber, Courtney B. Vance