Ethan Coen's solo debut presents a warts and all snapshot of a temperamental star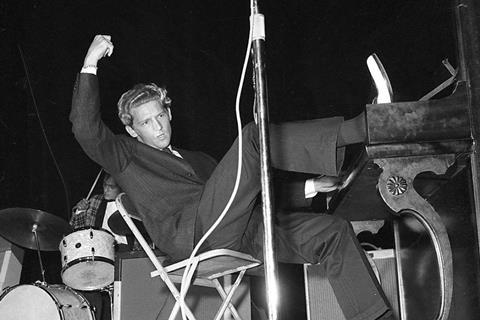 Dir: Ethan Coen. US. 2021. 74 mins
The archival documentary Jerry Lee Lewis: Trouble In Mind presents its subject as an enigma and a force of nature, a rock 'n' roller whose passion and demons fuelled his volcanic music. For his first solo directing project, Ethan Coen draws from existing interviews and performance footage to create a portrait that is far from definitive, and yet the film's snapshot quality manages to amplify what is so mythic about the 86-year-old legend — and also what remains so vexing. Still, Coen reserves judgement, the collected materials serving as a testament to Lewis' unapologetic resilience.
Trouble In Mind plays like a rumination or a mystery, as if Lewis is a riddle that might be solved.
Screening in Cannes, Trouble In Mind is being handled by A24, and certainly rock and country fans will be interested in the piano-playing dynamo, who was previously portrayed by Dennis Quaid in the 1989 biopic Great Balls Of Fire! Curiosity may also be piqued because of Coen who, with his brother Joel, has been a festival mainstay for decades.
The documentary lets Lewis speak for himself, selecting filmed interviews he has given at different stages of his career to form Trouble In Mind's spine. These segments are combined with often lengthy performance clips as we see Lewis at varying ages doing fiery renditions of "Whole Lotta Shakin' Goin' On", "Great Balls Of Fire" and other hits.
Coen isn't after a straightforward biography, although he does provide basic facts about Lewis and his rise to stardom. Instead, Trouble In Mind plays like a rumination or a mystery, as if Lewis is a riddle that might be solved. Central to that mystery is his controversial marriage to his 13-year-old cousin Myra when he was in his 20s — a decision that angered many fans and derailed his career. But Lewis comes across as unrepentant, saying that he didn't much care what others thought. The documentary suggests that this was Lewis' attitude about most things, simply barrelling forward and never worrying about the consequences.
At 74 minutes, Trouble In Mind tends to touch on topics rather than explore them in any great detail, and indeed Coen seems to be compiling a cross-section of his subject's most noteworthy aspects — his many marriages, his medical issues, his temperamental manner, his fascination with faith — without letting any single element dominate the proceedings. Because there is very little editorialising — we hear briefly from an ex-wife — Lewis is presented warts and all, his reluctance to be introspective keeping him at a bit of a remove.
The performance clips, especially during his epochal 1950s period, remain revelatory, Lewis' combination of boogie and rock 'n' roll utterly exhilarating. These early live recordings reveal what a sexy, combustible presence he was — with his penchant for kicking the stool away while banging away on the keys a symbol of this new music's rebellion and danger. Coen wisely allows these clips to play almost in their entirety so that we get swept up in Lewis' wiry power. The viewer understands what a force Lewis was, with subsequent interviews hinting at his tenacity and ambition — even when competing with his cousin, country star Mickey Gilley, who incidentally died earlier this month.
Trouble In Mind closes with recent video of Lewis, far frailer than the hellcat we saw in his youth, although the documentary points out that he has outlived most of his contemporaries — not to mention a few of his ex-wives and children. Coen's film may not be especially probing, but by capturing Lewis' energy and contradictions — his thirst for spiritual transcendence but his weakness for sins of the flesh — he sketches out in broad strokes why the artist nicknamed The Killer continues to transfix and confound.
Production companies: Live Nation Productions, Jagged Films, Shangri-La Entertainment, Inaudible Films
International sales: A24, sales@a24films.com
Producers: Steve Bing, Mick Jagger, Victoria Pearman, Peter Afterman, T Bone Burnett
Editing: Tricia Anne Cooke