An ageing jockey is forced to acknowledge some truths in Clint Bentley's modest debut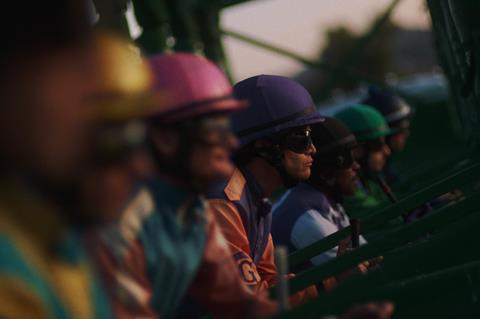 Dir: Clint Bentley. US. 2021. 95mins.
A melancholy character piece about a man who senses his run is nearly over, Jockey rides Clifton Collins Jr.'s gentle central performance to modest glory. This familiar but touching sports drama brings us into the world of small-time horse-racing, focusing on an ageing jockey grappling with both Father Time and the surprising revelation that he may be a father after a young rider (Moises Arias) claims to be his son. Making his feature debut, director Clint Bentley stays true to his worn-down characters, imbuing the picture with a graceful weariness that avoids big emotional set pieces for quiet reflections and bitter wisdom.
A film that honours the rugged ordinariness of its characters
Jockey screens as part of Sundance online's US Dramatic Competition, where it will receive comparisons to The Rider — like Chloe Zhao's award-winner, Bentley's film includes plenty of nonprofessionals in supporting roles. Recent indie dramas from Lean On Pete to Dream Horse have proven their appeal to horse aficionados, and Jockey should cater to the same crowd.
Collins plays Jackson, a veteran jockey who works out of a racetrack in Phoenix, doing his best to hide the fact that the years of aches and pains are starting to slow him down. (He's broken his back several times, and recently he's been dealing with a neurological issue that causes his hand to shake involuntarily.) But things start looking up once he's paired with a promising new horse that Ruth (Molly Parker), a trainer and his longtime friend, thinks could be a champion. At the same time, though, Jackson is thrown by the arrival of a new jockey, Gabriel (Arias), who insists that the older man is his father.
Bentley, who co-wrote the script, grew up around racetracks — his dad was a jockey — and the location shooting only adds to the film's sense of realism. Adolpho Veloso's widescreen lensing captures the beauty of the American Southwest's open skies and gorgeous sunsets, but the picturesque surroundings are juxtaposed with the characters' challenging work. The jockeys we meet are far from the celebrities we encounter in other sports. Rather, they suffer debilitating injuries — and sometimes risk their lives — while guiding their horses to the finish line, all so the owners can earn the riches and fame. Collins blends in nicely with the film's actual jockeys, who exude a blue-collar attitude that suggests they've chosen this profession because they love it, not because there's a great living in it.
So what happens when a jockey gets too old and beaten up? That's the reality facing Jackson, and it's a credit to Collins and Bentley that they don't romanticise his slow acceptance that the end is nigh. Granted, the introduction of a potential son gives the story a maudlin streak that never fully escapes cliche. (Jackson is initially convinced that Gabriel's mother— his ex-girlfriend — couldn't have gotten pregnant by him, although he later begins to wonder if this kid might represent a world outside of the racetrack.) But for the most part, Jockey strips away such sentimentality, offering a muted, honest assessment of this gruelling vocation.
Collins' unfussy performance presents Jackson as a loner not given to impassioned speeches or probing introspection. There's a dignity to the soft-spoken character, even if his limited life experience and meagre prospects don't give viewers much hope for his future. Arias ably communicates the uncertainty of a rookie jockey who's learning the ropes but also trying to connect with a man who is not necessarily keen on being a father. But Parker is the standout as Ruth, who clearly has nursed a crush on Jackson for a while. She and Collins deftly negotiate their characters' easygoing flirtation, which occasionally risks veering toward something more serious, before either Jackson or Ruth quickly pulls the reins on a possible romance.
Not much happens in Jockey — and when the plot does kick in, it's fairly easy to guess where it's going — but the performances' lived-in quality helps mitigate the thin story's predictability. Collins never tries to convince us that Jackson is preternaturally gifted or, frankly, anything special — which is in keeping with a film that honours the rugged ordinariness of its characters. Jockey's title is meant to be unassuming, and its noble anonymity fits Jackson, who has only known the calling that he may soon have to give up.
Production companies: Marfa Peach Company, Contrast Films
International sales: ICM
Producers: Clint Bentley, Greg Kwedar, Nancy Schafer
Screenplay: Clint Bentley & Greg Kwedar
Production design: Gui Marini
Editing: Parker Laramie
Cinematography: Adolpho Veloso
Music: Bryce Dessner & Aaron Dessner
Main cast: Clifton Collins Jr., Molly Parker, Moises Arias