Taika Waititi directs this gentle satire about a boy in 1940s Germany whose imaginary friend is Adolf Hitler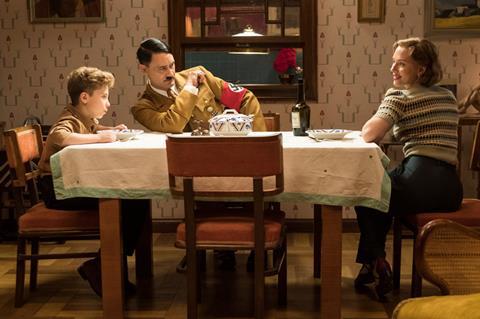 Dir: Taika Waititi. US. 2019. 108mins
Part Nazi satire, part cockeyed children's fable, Jojo Rabbit doesn't lack for ambition or sincerity of purpose — which only makes it more disappointing that the film proves to be so meagre. Telling the story of a Nazi Youth in the waning days of World War II whose imaginary best friend is Adolf Hitler, writer-director-star Taika Waititi boldly tries to merge his gift for wry absurdism with a sentimental humanism that seeks to address our perilous political moment. But rather than being bracing or dangerous, this comedy ends up feeling a little too safe, a little too scattered, and a little too inconsequential. Although set during one of history's darkest periods, it seems afraid to stare into that void.
This satire's good intentions are insufficient in the face of real-world issues
Opening in the US on October 18 — a UK release is scheduled for early next year — this Fox Searchlight offering will benefit from A-list names such as Scarlett Johansson and Sam Rockwell, not to mention endless comparisons to Life Is Beautiful, which was also a comedy that took place in the shadow of the Holocaust. Waititi's visibility has risen since directing Thor: Ragnarok, but Jojo Rabbit seems destined to be an art-house player unless it can garner some awards consideration.
Jojo (Roman Griffin Davis) lives with his mother Rosie (Johansson) in 1940s Germany, enamoured of Hitler and excited to become a Nazi. In fact, Jojo has imaginary conversations with the Fuhrer (Waititi), who's like a playmate to the otherwise lovable 10-year-old. But once the boy realises that Elsa (Thomasin McKenzie), a teenage Jew, is hiding in the walls of his home, he must decide whether to turn her in.
Those familiar with Waititi's work could accurately describe Jojo Rabbit (based on the Christine Leunens book Caging Skies) as a mixture of the deadpan silliness of What We Do In The Shadows (which he co-directed) and the family-friendly delight of Hunt For The Wilderpeople. Of course, the horror of the Third Reich hangs over this satire, and Waititi (who wrote the screenplay) tries to mock the ridiculousness of the Nazis by giving us buffoonish characters (such as Rockwell's incompetent Captain Klenzendorf) who are hate-filled morons. Unfortunately, these targets aren't very well-drawn — they're toothless monsters that fail to convey the regime's true evil.
Waititi has better luck playing an imaginary Hitler who's painfully insecure and a bit dopey. To be sure, his Fuhrer is just a variation on his roles in What We Do In The Shadows and Ragnarok — he's very good at depicting fools — but there's a decent amount of humour in the performance. Not enough, however: The novelty of a goofy Hitler expires long before the character stops making occasional appearances in the movie.
What's strongest in Jojo Rabbit is the growing relationship between Jojo and Elsa, as he goes from despising her to becoming her friend. It's a predictable narrative arc, but the two young actors have a palpable warmth. McKenzie, superb in Leave No Trace, ably plays a scared young woman who, nonetheless, possesses a wit and steel that undercut what could be terribly saccharine about their interactions.
Much of the film's first half goes for laughs, but Waititi doesn't seem fully confident with this volatile material, and so the humour rarely lands. (The movie's best comedic sequence involves Stephen Merchant's studious Gestapo agent, who gets a real kick out of being despicable.) Later on, the film aims for more emotional terrain, doling out some shocking twists and sappy moments.
Without calling attention to the fact, the narrative is clearly commenting on our times, as fascism and alt-right groups gain prominence across the globe. But this satire's good intentions are insufficient in the face of those real-world issues — the comedy feels neither liberating nor inspiring. Like Life Is Beautiful before it, Jojo Rabbit ultimately argues that love can conquer hate. It's a nice thought, but not entirely convincing — let alone very funny.
Production companies: Defender, Piki Films
Worldwide distribution: Disney
Producers: Carthew Neal, Taika Waititi, Chelsea Winstanley
Screenplay: Taika Waititi, based on the book Caging Skies by Christine Leunens
Production design: Ra Vincent
Editing: Tom Eagles
Cinematography: Mihai Malaimare Jr.
Music: Michael Giacchino
Main cast: Roman Griffin Davis, Thomasin McKenzie, Taika Waititi, Rebel Wilson, Stephen Merchant, Alfie Allen, Sam Rockwell, Scarlett Johansson