Paddy Considine follows up 2011's 'Tyrannosaur' with this story of a boxer who is felled in the ring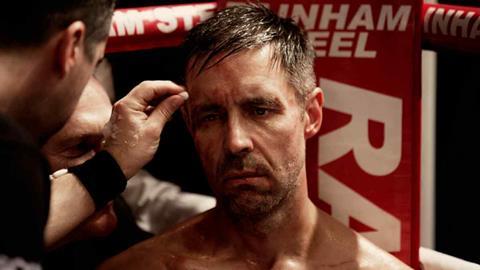 Dir/scr: Paddy Considine. UK. 2017. 92mins
With this story of a champion boxer trying to rebuild his life after serious head injury, actor-turned-filmmaker Paddy Considine returns to the territory of rage and redemption previously explored in his 2011 directorial debut Tyrannosaur. While Journeyman follows a more traditional narrative of overcoming adversity, Considine's strong central performance gives the film an emotional resonance.
While Journeyman is more a performance piece than fully rounded drama, it works in the context of this particular story
Following its London Film Festival premiere, StudioCanal will release Journeyman in the UK in February 2018, where it could repeat the modest success of Tyrannosaur; particularly as a UK awards campaign will help generate interest. Similarities to other recent boxing films, including 2016 Miles Teller vehicle Bleed For This and fellow UK picture Jawbone (2017) could, however, limit an already niche audience, and a lack of star power may hinder overseas prospects.
A lifelong boxing fan, writer/director Considine takes the lead of pugilist Matty Burton, who we meet in training to defend his world championship title; an award he won by default, when his previous opponent withdrew due to injury. Opening scenes paint a portrait of contentment; a focused and hard-working sportsman, Matty is also dedicated to his loving wife Emma (Jodie Whittaker) and baby daughter.
A pre-match press conference hints at the drama to come. Matty is determined to prove himself not only worthy of the title he holds, but also remain relevant as he approaches retirement. His opponent Andre Bryte (Anthony Welsh), who goes by the rather on-the-nose nickname of The Future, taunts him with smack talk that will echo throughout the film. "I'm going to take your head off," he snarls. "This is a life-changer for you."
He's right. Head injuries sustained in the bout are severe enough to require brain surgery, and reduce Matty's cognitive function to a childlike level. As he attempts to rebuild his life — to recognise his daughter, remember how to use the bathroom — Emma is initially a solid support. What Matty hasn't lost, however, is his pride; unable to give voice to his frustrations, he lashes out in increasingly violent ways that push his marriage to breaking point.
While Journeyman is more a performance piece than fully rounded drama, it works in the context of this particular story. Everything else is stripped away in the face of Matty's injury, which overwhelms the man he once was and consumes the life he used to have.
Considine has clearly put a large amount of preparation into his performance. Matty's transformation from elite sportsman to broken man is seen not just in the obviously physical — the slurred speech, the shuffled walk, the rhythmic hand movements — but also the inner workings of the character. His moments of aggression are unexpected, shocking and well-handled.
Elsewhere, Whittaker brings dramatic dimension to a part that never really pushes her beyond the traditional role of supportive wife. There's certainly much more to be said about Emma's own struggle with Matty's illness (and, indeed, with the guilt Andre feels about the situation, hinted at in a brief conversation between the two), but this is Matty's film and is devoted to him in its entirety.
Evocative camerawork from Laurie Rose captures the new physical and psychological limits to which Matty has to adjust; immediately after the accident he is confined to his home, the clean lines and neutral decor becoming coldly institutional rather than homely. Recurring visual motifs track Matty's journey of recovery; everyday routines such shaving and making cups of tea become yardsticks of independence, of a life reclaimed inch by gruelling inch.
Production companies: Inflammable Films, Film4, Screen Yorkshire, BFI in association with the Wellcome Trust and StudioCanal
International sales: Cornerstone Films office@cornerstonefilm.com
Producer: Diarmid Scrimshaw
Executive producers: Lizzie Francke, Rose Garnett, David Kosse, Hugo Heppell, Meroe Candy, Danny Perkins
Cinematographer: Laurie Rose
Editor: Pia di Ciaula
Production design: Simon Rogers
Music: Harry Escott
Main cast: Paddy Considine, Jodie Whittaker, Anthony Welsh, Tony Pitts, Paul Popplewell