Outdated ideas of gender and duty come under fire in the first Pakistani film to play at Cannes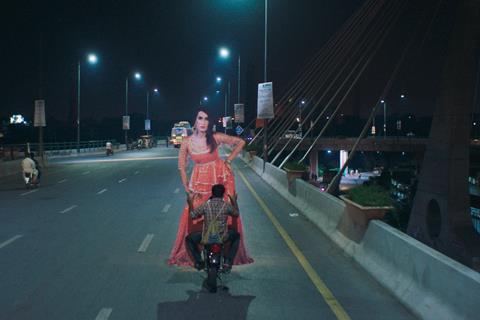 Dir/scr: Saim Sadiq. Pakistan. 2022. 127 mins
Transgression becomes a means of liberation in Joyland, writer-director Saim Sadiq's assured first feature which explores the tensions within a Pakistani family enslaved by old-fashioned notions of gender and duty. Sadiq's screenplay navigates a complex web of secrets and lies, pressures and prejudices to create a soulful human drama intent on challenging narrow minds. Said to be the first Pakistani film to play at Cannes, Joyland should make an emotional connection with audiences on the Croisette and far beyond.
Joyland depicts a society in which appearances are everything and few dare to be true to themselves
Sadiq's debut feature revisits elements of his short film Darling (2019) which also starred transgender actor Alina Khan and won the Horizons award at Venice. Joyland places Ali Junejo's Haider at the centre of the story. Described as someone "who doesn't even pee without his father's permission", the handsome Haider's unthinking actions inadvertently challenge traditional ideas of what a man should be. His beautician wife Mumtaz (Rasti Farooq) works whilst he is content to be a house husband. He prepares meals, he cleans and happily plays childminder to his three nieces. His older brother Kaleem (Sohail Sameer) and his wife Nucchi (Sarwat Gilani) are expecting another child and there is a universal hope that it will be a boy to carry on the family name.
When Haider has the chance of a job, it changes his personal circumstances but also has an impact on family life. If Haider is to work, then someone must help Nucchi to cook for nine people and look after her now four children. The obvious candidate is Mumtaz who is expected to leave her job. Haider's friend has secured him an audition as a backing dancer in an erotic theatre. He isn't exactly in the Magic Mike league, but his shy manner and decency attract the attention of trans performer Biba (Khan). He is hired but tells his family that the job is that of a theatre manager.
Set in Lahore, Joyland depicts a society in which appearances are everything and few dare to be true to themselves. Sadiq has created a story where it seems essential to shield families from reality and where neighbours cannot suspect what is really going on. The growing affection between Haider and Biba is credible and tenderly handled. Quiet moments between them often happen in the night-time shadows or the burnished blood-red glow of backstage lighting.
Sadiq's film is infused with a sense of compassion for his family of characters. There are no real villains here beyond a society that imposes rigid expectations on individuals and genders. The relationship between Haider and Mumtaz is marked by affection and respect. They seem like the best of friends stuck in a marriage that isn't what either of them truly wants. There is a sympathy for Mumtaz as a woman unable to pursue her dreams or her true desires. Even Haider's father Appa (Salmaan Peerzada) fears the judgment of others when weary neighbour Mrs Fayyaz (Sania Saeed) innocently spends the night to look after him.
Biba's constant battle against the ignorance and insults of others allied to Haider's growing understanding of who he is and what he might want allows Sadiq to weave elements of social comment into a story that unfolds in gatherings and confrontations from a birthday party to a funeral, a dance club triumph and trips to the amusement park Joyland.
Sadiq also gives his handsomely crafted tale room to breathe. There are moments of grace amidst the bustle of family life including lyrical scenes as Haider glides through the night on a scooter carrying a giant cardboard promotional image of Biba or when Mumtaz and Nucchi leave their cares behind for a fairground ride together at Joyland.
Liberation carries a hefty price in Joyland, especially (and inevitably) for the women, but Sadiq's engaging, thought-provoking film is fully aware of the sacrifices made and the struggles that still lie ahead.
Production companies: all caps, Khoosat Films
International sales: Film Constellation, info@filmconstellation.com
Producers: Apoorva Guru Charan, Sarmad Sultan Khoosat, Lauren Mann, Kathryn M. Moseley, Oliver Ridge, April Shih, Katharina Otto-Bernstein
Cinematography: Joe Saade
Editing: Jasmin Tenucci, Saim Sadiq
Production design: Kanwal Khoosat
Music: Abdullah Siddiqui
Main cast: Ali Junejo, Rasti Farooq, Alina Khan, Sarwat Gilani, Sohail Sameer, Salman Peerzada, Sania Saeed