Man and wife come to blows in this live action take on the classic puppet show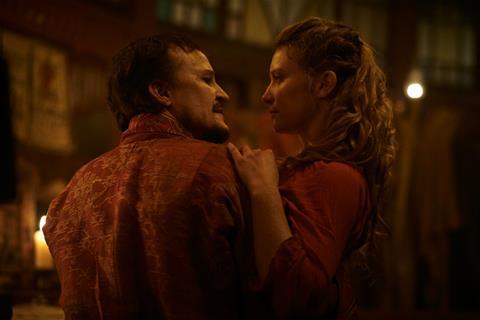 Dir. Mirrah Foulkes. Australia. 2019. 105 mins
This live action reinterpretation of the traditional puppet show is a grand guignol romp through a society gripped by a fever of superstitions. Mia Wasikowska stars as Judy who, along with Punch (Damon Herriman), her boozy reprobate of a husband, ekes out a living with a puppet show in the lawless town of Seaside. There's a savage, sometimes surreal wit to this anarchic tale of violence and revenge; it's an eye catching first feature from actress Mirrah Foulkes, and an intriguingly eccentric addition to an already offbeat CV for Wasikowska.
A twisted fairytale with a maliciously grim heart, this film could become a cult item theatrically
A combination of gleefully grotesque characters and a vividly imagined backdrop lends the film a highly distinctive tone; there is perhaps a touch of Python or medieval Mad Max in this feminist payback plot which also evokes the heightened violence of Coralie Fargeat's Revenge. But mostly, Judy & Punch defies easy categorisation. And it is this one off status, together with the primal pleasures of Judy's retribution, which should make this a festival success – it's tailor-made for midnight slots. A twisted fairytale with a maliciously grim heart, this film could become a cult item theatrically.
The lurid extremes of the traditional Punch and Judy plot are faithfully replicated here – expect dog-based sausage shenanigans and crocodiles; infanticide and spousal abuse. And it's a testament to Foulkes' confidence as a director and to the world she has created that this outlandish story sits as comfortably as it does in film.
The town of Seaside (which is nowhere near the sea) is a mean spirited place, where, as Judy explains to Punch, folk are 'niggardly' with their money. Punch instinctively taps into the wants and needs of of a place in which people bid each other a festive 'Happy stoning day' whenever there is a fresh batch of witches to be executed. The puppet show becomes increasingly "punchy and smashy", to gratify the ferocious mob mentality of the baying audience. Tom Budge is terrific in the supporting role of Mr Frankly, a townsman of some status who barely conceals his panting bloodlust when there's a sniff of a public lynching.
To a score which sounds part Brechtian cabaret, part brawl, Punch breaks his solemn vow to Judy to stay off the liquor and stay away from the temptations of McDrinkies. When one particularly enthusiastic binge leaves him without a baby and with a wife left for dead in a shallow grave, Punch tries to place the blame on his elderly servants. The town's enthusiasm for a public execution drowns out the concerns of the mild-mannered officer of the law. Judy is rescued by a wandering band of outcasts who have fled the town to avoid persecution. And it is with the support of these self-described 'heretics' that she plots her revenge.
Production design and costume shines, both in the dissolute and degraded village, and in the inventive nomad community. And Foulkes embraces the visceral details of survival – Judy's emphatic skinning and decapitation of a rabbit is an eye-opening moment. A concluding message about embracing differences feels a little rote. More appropriate to the tone of the film is Judy's stylishly gory retribution, which puts an end to Punch's puppeting career once and for all.
Production companies: VICE Studios, Blue-Tongue Films, Pariah Productions
International sales: Cornerstone office@cornerstonefilm.com
Producers: Michele Bennett, Nash Edgerton, Danny Gabai
Screenplay: Mirrah Foulkes
Production design: Josephine Ford
Editing: Dany Cooper
Cinematography: Stefan Duscio
Music: François Tétaz
Main cast: Mia Wasikowska, Damon Herriman, Tom Budge, Benedict Hardie, Lucy Velik, Terry Norris