Three men trapped in a cave by a storm reflect on their past misdemeanours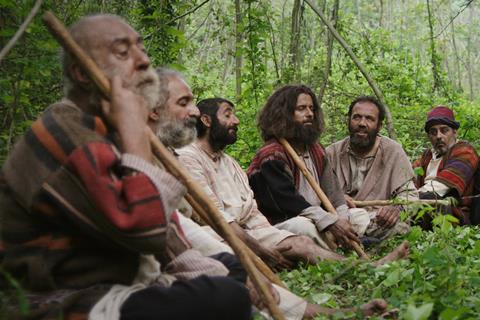 Dir:/scr: Semir Aslanyurek. Turkey-Jor. 2018. 111mins
There are echoes of One Thousand And One Nights and The Canterbury Tales in Kaos, as writer/director Semir Aslanyurek explores the stories of three men whose lives are marked by death, betrayal and dishonour. The attractive locations in Jordan and the simple sincerity of the storytelling are the main virtues of an uneven, modestly engaging film that could secure some festival interest.
Aslanyurek makes effective use of his locations in Jordan
As a storm rumbles, three men take shelter in a mountain cave. A subsequent earthquake causes a landslide, leaving the men trapped and obliged to reflect on their crimes and misdemeanours. That is the basic set-up for a trio of tales that have recurring themes but are not directly connected.
The young Suleiman (Erdal Sari) has taken the law into his own hands to avenge the death of his grand-father at the hands of the villainous Hasan Agha (Ali Erdogan). Sheikh Abdullah (Orhan Aydin) has abandoned his blind followers to their fate as he takes shelter from marauding bandits. Both stories have their moments. Aslanyurek builds tension as Agha waits to see if his barber has the courage to slit his throat, and there is almost a Pythonesque humour watching the bickering blind men left to their own devices in the forest. But the stories tend to fizzle out without achieving any compelling dramatic arc or conclusion.
The third tale is the strongest as we meet Fadime (Canan Erguder), a devoted wife who has waited 26 years for her husband to return from war. Some consider her loyalty a sign of madness. One night, she gives sanctuary to lonely traveller Saffet (Bulent Emin Yarar). The tender, understated playing of the two actors creates an emotional connection to the intimacy that blossoms between them. Saffet is a rare sympathetic figure in Fadime's life, plying her with alcohol and inviting her to share confidences. The twist in this tale means that Saffet is now the third man trapped in the cave.
Aslanyurek makes effective use of his locations in Jordan, with cinematographer Yusuf Aslanyurek highlighting the bright light of the desert and the lush green of the shaded forest. The performances are variable: Erdogan is overly theatrical in his villainy, but Erguder brings out the vulnerability and longing of Fadime, and makes her the most interesting character in the film.
Production company: Adonis Film
Sales contact Adonis Film, info@adonisfilm.com
Producers Yusuf Aslanyurek, Tamer Cicek
Production design: Yusuf Inan Gunes
Editing Ramazan Yuksel
Cinematography: Yusuf Aslanyurek
Music Cevahir Cokbilir
Main cast Bulent Emin Yarar, Orhan Aydin, Erdal Sari, Canan Erguder, Ali Erdoga