The latest from veteran filmmaker Anurag Kashyap is the murky tale of police corruption in lockdown-era Mumbai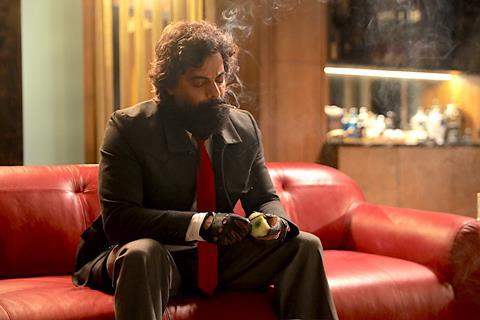 Dir/scr: Anurag Kashyap. India. 2023. 142mins
Anurag Kashyap, in his 27th film, can find nothing that's good in Mumbai during lockdown; especially not in its deeply corrupt police force. If Jean-Pierre Melville or John Woo had forgotten to put a heart into their hitmen, the result might be Kennedy (Rahul Bhat), a supposedly dead ex-cop who acts as a murderous enforcer for the evil authorities – and then some. He likes killing.
Seems more like a thinly-conceived, quick-shoot Covid-19 footnote to the director's prolific career
As dark as Kennedy's heart — the film shot in Mumbai at night – Kashyap's pulpily violent thriller is long on style (Kennedy wears a Vin Diesel-alike face mask) and not short enough elsewhere. The characters are all archetypes who overstay their welcome as Kennedy runs out of people to kill. He's the type of villain who throws decent people out of wheelchairs and over the balcony, yet Kashyap can't make up his mind whether he is an anti-hero or a psychopath. Genre and local audiences will be satisfied, but wider play may be restricted to the diaspora circuit after a midnight slot at Cannes — the mood is similar, but there's far less in here than Nicolas Winding Rein's divisive Only God Forgives. Kennedy has the air of something executed quickly in lockdown.
Kashyap borrows a mood from Tarantino, himself the great magpie, to establish a pulpy, nihilistic style. As Kennedy, Rahul Bhat drops his voice several octaves to growl minimal dialogue as if it was coming from the grave. After a pre-title murder carried out to a soaring classical score performed by the Vienna Philharmonic – a crib from Woo, only missing pigeons – the film tracks down five days to a promised 'big night'.
Voiceover narration at the outset lets us know that Mumbai cop Uday Shetty's death has been faked. He now lives a solitary life as Kennedy, killing people for Police Commissioner Khan (Mohit Takalka), and also working as an Uber-style driver which helps him carry out assignments. It is lockdown, and the clubs and bars are running at 30 percent capacity, restricting the potential for police graft. They turn instead to vaccine crime, and there are several layers of big bosses. Kennedy obsessively searches for his nemesis Saleem, and Commandant Khan strings him along, hit by hit. He has left behind a wife and child with his old life, and watches them on surveillance cameras.
After Kennedy completes the opening hit for Khan, he is spotted in an elevator by the sunglasses-wearing femme fatale Charlie (Sunny Leone), over from Vancouver. It's a rattling performance from Leone, given to throwing back her head and laughing maniacally – although this isn't a film where the female characters were ever going to be nuanced.
Kennedy, meanwhile, wears a mask at times which looks like the lower part of Vin Diesel's face — good for the film's artwork, if nothing else. His suits are natty amid a colour palette which ranges from plum-coloured dark hotel rooms to the neon streets of the city as he roams around flexing his guns (both upper arms and weaponry). There are also flashbacks, and the film starts where it ends, but it's all murder and sweat at its core. If anyone can be killed, bystander or main character, from a misanthropic cast of villains, then any meaning eventually dissipates, style or no style. The latter wins out, especially given the cause for his violent vendetta against a man called Saleem turns out to be flimsy.
Kennedy's thematic darkness is matched by an inky city-at-night-shoot, carried out during the city's varying stages of lockdown. Kashyap has his following, and an international art-house reputation which still lingers from Gangs of Wasseypour. His output, though, can be inconsistent, and Kennedy seems more like a thinly-conceived, quick-shoot Covid-19 footnote to the director's prolific career.
Production companies: Zee Films, Good Bad Films
International sales: Zee Films, bhumika.tewari@zee.com
Producers: Ranjan Singh, Kabir Ahuja
Cinematography: Sylvester Fonseca
Production design: Kazvin Dangor
Editing: Tanya Chhabria, Deepak Kattar
Music (supervisor): Ashish Narula
Main cast: Rahul Bhat, Sunny Leone, Mohit Takalkar, Bhilash Thapliyal