A desperate young father enters a boxing match in an attempt to win the cash prize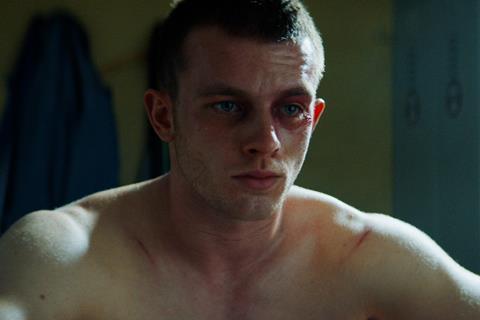 Dir/scr. Barbara Ott. Germany. 2020. 104mins
Kids Run follows a desperate young German father determined to repay a debt and retain access to his children by winning an amateur boxing match, serving up a flurry of social drama woes in the process. Dealing with insecure employment, volatile tempers and an absence of support for those on society's margins, Barbara Ott's feature debut is painted in visual and thematic shares of grey. Yet, thanks to a wiry, weighty performance from Jannis Niewohner, the opening film ot this year's Berlinale Perspektive Deutsches Kino still packs a hefty-enough punch.
In what seems on paper to be a by-the-numbers scrappy underdog role, Niewohner is the film's physically expressive heavyweight.
In what seems on paper to be a by-the-numbers scrappy underdog role, Niewohner is the film's physically expressive heavyweight. He plays a hardened ex-fighter forced to retire after a particularly brutal beating while trying to juggle the needs of his three children by two different women. It's a completely different role to his Timeless fantasy series (Ruby Red, Sapphire Blue and Emerald Green), a fact that won't be lost on local audiences, and his performance should still strike a chord with festival programmers and their viewers abroad.
Sporting both external and internal scars from life's blows, Niewohner's Andi is first seen with his fists raised and face splattered with blood while taking a belting in the ring. Outside it, with primary school-aged Nikki (Eline Doenst) and Ronny (Giuseppe Bonvissuto), plus infant Fiou (Sophia Demer), he is still being knocked around in various ways. He will be kicked out of his mould-infested apartment if he fails to pay four months overdue rent, his construction job boss refuses to increase his wages and nothing runs smoothly with his exes. Isabel (Carol Schuler) barely seems to care, while Sonja (Lena Tronina), Fiou's mum and the woman Andi still loves, has moved on with new boyfriend Viktor (Oleg Tikhomirov).
After a grim, gritty stint of dashing around town — his usual routine of juggling school drop-offs, child handovers, and trying to scrounge cash — Andi convinces Sonja to lend him the funds to pay off his landlord. But she takes it from Viktor's stash without asking and, when he finds out, he wants it back. Although warned that it is a bad idea, Andi sees a local boxing tournament offering a €5000 prize as his only option. Driving his return to the ring is Sonja's ultimatum: repay in two weeks or he can no longer see their baby, let alone dream of rekindling their relationship.
Kids Run sees writer/director Ott again exploring the realities of parenthood in tough circumstances; territory previously visited in her multiple award-winning 2013 short Sunny. The predictable setbacks sent Andi's way can threaten to feel laboured— blow after blow, as in the ring — but, a needless scene with a kitten aside, the film rarely overtly attempts to tug at the heartstrings.
In examining the impact of Andi's constant turbulence on his children, Kids Run favours showing rather than telling, aided by pivotal performances from young Doenst and Bonvissuto. Nikki and Ronny's unconditional love for their father adds a sliver of hope to a film that otherwise wavers between bleak and melancholy, aided by the jerky, naturalistic cinematography and blunt cuts of returning Sunny duo Falko Lachmund and Gregory Schuchmann.
Production company: Flare Film
Sales: The Yellow Affair, contact@yellowaffair.com
Producers: Gabriele Simon, Martin Heisler
Cinematography: Falko Lachmund
Editing: Gregory Schuchmann
Production Design: Christiane Krumwiede
Music: Paradox Paradise, John Gurtler, Lars Voges, Jan Miserre
Main cast: Jannis Niewohner, Lena Tronina, Eline Doenst, Giuseppe Bonvissuto, Carol Schuler, Oleg Tikhomirov, Sascha Geršak, Oliver Konietzny