Sarajevo under siege and Irish stadium rockers U2 form an unexpected alliance in Nenad Cicin-Sain's polished doc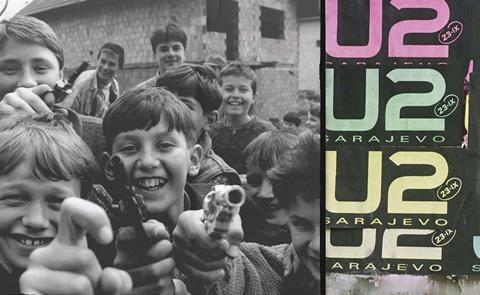 Dir. Nenad Cicin-Sain. US/Ireland, 2022. 103 mins.
U2 is an Irish stadium rock band whose type of political activism has decidedly gone out of fashion. Sarajevo is now celebrating 27 years since the lifting of a gruelling –and, in retrospect, unbelievable –1,425-day siege in which almost 14,000 people died. At one point, when the world seemed to have abandoned the city, the two entities connected in an unlikely alliance which was later capped by a giant rock concert on a pitch which days before had served as a graveyard. Blending archive footage with (a prestigious list of) talking heads and flashbacks, this polished yet unexpectedly affecting documentary by Nenad Cicin-Sain traces how that came to pass.
Kiss The Future is as smooth and slick a machine as any of the group's giant stadium shows of the time
Ultimately wounded by its over-selling coda, Kiss The Future is more of a portrait of the war itself than the self-aggrandising doc the synopsis seems to threaten (it's produced by Ben Affleck and Matt Damon). Viewers will be well able to connect the dots through to Ukraine and current world geopolitics without Cicin-Sain doing it for them but, up until then, the blend of the city's spirit of resistance and a rock star who genuinely wants to help is an intriguing match. Suddenly, that time seems both more innocent, and more deadly.
Kiss The Future also shines a light on the shady denizens that war attracts: the underground clubs of Sarajevo; the 'maverick' NGO called Serious Road Trip and its peculiar staff who filed down Sniper's Alley into the city to 'help the children' (something that doesn't really wear well with age). Amongst their well-meaning ranks is Bill S Carter, a lost soul and sometime photographer/videographer who wanted to bring the love to Sarajevo and ended up connecting with U2's lead singer Bono, He has written a book about his experiences, on which Kiss The Future is based – with the full co-operation of U2, three of whose members speak here (shot in an artfully-grungy Ireland). They open their archives as well, bringing us back to a nostalgic MTV age and their ZOO TV tour.
It's a strange and dangerous world, Sarajevo under siege, but Cicin-Sain connects these foreign visitors quite securely with local artists and musicians who have their own memories of the time and their own footage, turning Kiss The Future into a moving memory of their generation and not just the musings of ageing musicians with messianic tendencies. As captured, the connection between U2 and Sarajevo is so small, so genuine, that the hardest of hearts will melt. Certainly, Bono, from footage, is genuinely interested, wanting to reach out, almost naive in his belief that he can play in Sarajevo. If it took a strange band of misfits to get him there, well, as the documentary says – this is war.
To start with, Kiss The Future is as smooth and slick a machine as any of the group's giant stadium shows of the time. Gorgeous aerial shots of Sarajavo help smooth the historical scene-setting, kept very simple indeed. Former US president Bill Clinton, a key player at the time who, like the rest of the west, stood on the sidelines for far too long, gives his take. Celebrated journalist Christiane Amanpour recalls her first war and the frustrations of trying to get politicians to act. The US ambassador to Bosnia chips in. None of this is new.
At 14 minutes, the strains of U2's 'Sunday Bloody Sunday' accompany stitched-in scenes of death and destruction in Northern Ireland, positing a connection between the band and the city (although U2 hails from Dublin, and the music isn't contemporaneous). Bear with it. Soon, Cicin-Sarin is hearing from local musicians, artists and journalists, adding in their home video and experiences and news footage of the time. And by the time Bono comes back into the film, it's all a lot more organic, a lot more real, as the connection with Sarajevo is forged on stage in Italy, when U2 hosts live links to the city during their shows (also resulting in the song, 'Miss Sarajevo').
Kiss The Future is a professionally-mounted, suitable-for-streaming doc which tracks a story in a way that is never anything less than packaged for easy consumption. Howard Bernstein's score is as earnest as Bono himself. ("Courage is grace under pressure," the Bono of today intones.) In the proccess, though, the film-makers stumble across some startling truths. While the film bluntly suggests that the world of 30 years ago is repeating today, what it actually shows is a pre-Twitter time that has long gone. It's just as well the world has rallied to Ukraine, because it's hard to imagine which rock band would armour up today to try; but at the same time, such a brutal siege could surely only have lasted so long without the krieg light of social media. Kiss The Future puts a marker on the start of that new age.
Production companies: Fifth Season, Pearl Street Films, In Cahoots Productions
International sales: Fifth Season WME
Producers: Matt Damon, Ben Affleck. Sarah Anthony
Screenplay: Bill S Carter
Cinematography: Bradley Stonesifer
Editing: Eric Burton
Music: Howard Bernstein