A trashy murder-mystery set in Paris porn circles of the 1970s calls to mind De Palma's signature flourishes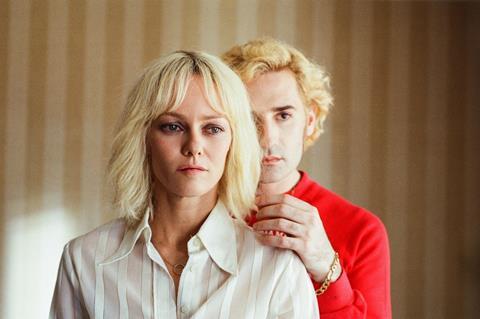 Dir: Yann Gonzalez. France/Mexico/Switzerland. 2018. 100mins.
A film drunk on its own trashy, lurid aesthetic, Knife + Heart (Un Couteau Dans Le Coeur) has style to burn but not as much sense. Director Yann Gonzalez (You And The Night) crafts a murder mystery which is equal parts melodrama and camp, with a dash of exploitation thrown in as well, and while one shouldn't expect realism or restraint for a movie set in Paris' low-rent porn world of the late 1970s, the proceedings get progressively loopier and more unsatisfying with each reel.
A moody whodunit with a dream logic that can frustrate anyone looking for a more straightforward crime story
Making the move from Critics' Week to the Official Competition, Gonzalez could see festival play and international distribution for Knife + Heart, which stars Vanessa Paradis. The movie's nodding references to garish thriller filmmakers such as Brian De Palma should attract cinephiles, although mainstream crowds could be scared off.
Paradis is Anne, a producer of gay porn who works in Paris in 1979, nursing a broken heart because her editor Lois (Kate Moran) has ended their romantic relationship. But soon, Anne realises she has graver problems: an unidentified serial killer seems to be stalking her company of actors, murdering them one by one in graphic fashion.
Gonzalez, cinematographer Simon Beaufils and composer M83 (fronted by Gonzalez's brother Anthony) conspire to make a moody whodunit with a dream logic that can frustrate anyone looking for a more straightforward crime story. In Knife + Heart, the investigation is given equal heft as Anne's romantic woes and her company's attempt to make their latest porn, although eventually these disparate strands will (somewhat) come together.
The film's immutable take-it-or-leave-it ludicrousness has its bracing kicks, especially when Gonzalez stages the masked killer's vividly violent attacks. (His weapon of choice is a dildo with a switchblade at the end.) Knife + Heart pays homage to disreputable genre films of old, not just mocking porn's cheap production values but also the grimy pleasures of B-movie horror. Whether it's Anne's hip wardrobe or the flamboyantly revealed plot twists, Knife + Heart grins through its gruesome murders, revelling in the power of cinema's pure escapism.
At some point, though, that style needs to add up to something, and Gonzalez comes up short, resolving the mystery inelegantly and failing to make Anne's existential crisis absorbing. One suspects the filmmaker spent more time worrying about how to construct his retro split-screen suspense sequences — a clear shout-out to De Palma — than he did in developing the human beings in those frames.
For her part, Paradis tries to flaunt Anne's external confidence, contrasting it with the internal wreck she has become. (Anne is a hard drinker, and there are indications that she may be imbalanced.) Unfortunately, Anne's increasingly erratic behaviour mostly just comes across as silly. Moran is appropriately enigmatic — Lois is a distant beauty whose heart Anne cannot claim — while Khaled Alouach (as a recently recruited porn actor) conveys a youthful prettiness that hints at perhaps something darker underneath. But no matter how much glee Gonzalez derives from placing his players in his gorgeously decorated house of mirrors, the solipsism of his make-believe allows little life to flourish.
Production companies: CG Cinéma, Piano, Garidi Films, ARTE France Cinéma, RTS Radio Télévision Suisse, Le Fresnoy
International sales: Kinology, festivals@kinology.eu
Producer: Charles Gillibert
Screenplay: Yann Gonzalez and Cristiano Mangione
Production design: Sidney Dubois
Editing: Raphael Lefevre
Cinematography: Simon Beaufils
Music: M83
Main cast: Vanessa Paradis, Nicolas Maury, Kate Moran, Jonathan Genet, Khaled Alouach