Isabelle Huppert plays a real-life union leader who endured a horrifying attack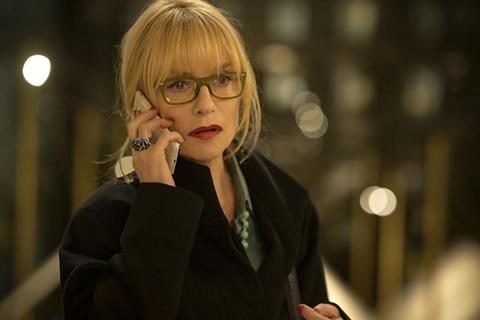 Dir: Jean-Paul Salome. France. 2022. 121mins
If you have a strong enough story and a lead actress as good as Isabelle Huppert, why complicate things? That appears to be the guiding principle of this plodding but inexorable Gallic melange of whistleblower drama and procedural noir, with its indulgent two-hour running time. Based on 'La Syndicaliste' ('The Union Official'), a book by investigative journalist Caroline Michel-Aguirre, it centres on the true-life case of a union organiser in the French nuclear industry who was attacked in her home while investigating her bosses' shady deals, then accused of faking her own rape.
What power it has derives from the knowledge that this shocking story actually happened.
Shot through with references to scandals, business deals, CEOs and ministers from the Francois Hollande years (2012-17), this is a film that will resonate on home ground with nuances that viewers elsewhere may struggle to tune into. That said, collusive male-dominated cabals are not exclusive to France. La Syndicaliste's core story – the sidelining and victimization of a strong, principled woman – will not get lost in translation, and Isabelle Huppert's global arthouse cache should help to guide the film into a handful of other international territories. It will likely skew to an older demographic, one that will settle into the comfortable armchair of its old-school script and solid craft-based production values.
Huppert plays smart, feisty, union rep Maureen Kearney… and here there's a wrinkle that's never ironed out. If that name doesn't sound too French, it's because it's not. The true-life survivor of this shocking miscarriage of justice was an Irishwoman who had moved to France in her late twenties. Presumably Salome and co-writer Fadette Drouard didn't want to complicate things by making the protagonist anything less than 100% French – especially as Huppert's Maureen is portrayed as a woman who is an able navigator of Parisian political and financial cliques and salons.
She's perhaps not everyone's idea of a union leader: a power-dresser with perfectly-coiffed blonde hair, she has a seat on the board of Areva, the French-based nuclear multinational whose workers she represents, and a direct line to ministers and even the president's office. Only at home, with cuddly musician hubby Gilles (Gregory Gadebois), does she kick back a little – but it's telling that even here, she likes to relax over a game of poker.
Early on, the script establishes some of lines of fracture. When Maureen's savvy female boss Anne Lauvergeon (Marina Fois) is ousted in a political coup, she's replaced by irascible misogynist Luc Oursel (Yvan Attal). A mole at France's EDF nuclear agency reveals to the union rep that shady deals are underway involving Chinese partners that will inevitably involve major job cuts. Maureen goes into overdrive to counter the threat, and in doing so makes some powerful enemies.
Eventually, an hour in, a film which is parcelled out into datelined chapters reaches its pivotal point – and becomes something new in the process. After what appears to be a brutal attack on Maureen, ministerial meetings, industrial espionage and boardroom intrigue fade away, to be replaced by detective work and legal counsel. Uniting both halves of the story is male bias. In part one, Maureen was sidelined by her new boss because she was too good at playing a traditional man's role. In part two, she becomes an object of suspicion because she doesn't play a traditional women's role well enough: that of the victim.
As we watch La Syndicaliste, it's impossible not to bring to mind Paul Verhoeven's Elle – another drama in which Huppert plays a rape victim who is deemed to be far too self-composed after the fact. But the two films have very little in common. With its single-minded march through the facts, its utterly classical framings, dominated by mid-shots and long-shots where the camera indulges once too often in that old TV drama trick of floating slowly towards its subjects, La Syndicaliste plays no games with the audience. What power it has derives from the knowledge that this shocking story actually happened. When that's the case, it's maybe good to have it served straight.
Production company: Le Bureau
International sales: The Bureau Sales, sales@thebureausales.com
Producer: Bertrand Faivre
Screenplay: Jean-Paul Salome, Fadette Drouard, from the book by Caroline Michel-Aguirre
Production design: Francoise Dupertuis
Editing: Valerie Deseine, Ain Varet
Cinematography: Julien Hirsch
Music: Bruno Coulais
Cast: Isabelle Huppert, Gregory Gadebois, Francois-Xavier Demaison, Pierre Deladonchamps, Alexandra Maria Lara, Gilles Cohen, Marina Fois, Yvan Attal