Robin Wright directs and stars in a story of grief and acceptance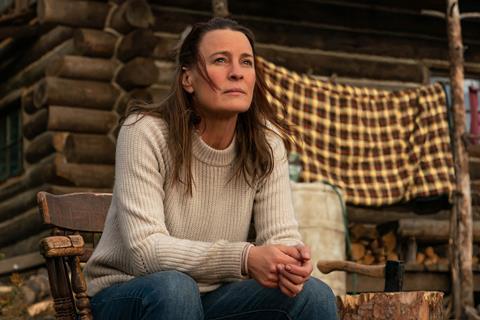 Dir. Robin Wright. US. 2020. 89 mins.
We don't see much of Robin Wright on the big screen, and when we do, it's never enough. The actor takes matters into her own hands with Land, her directorial debut screening at Sundance in which she also stars. Land is a highly intimate film, an ambitious, close-up essay about one woman's pulverising grief as she retreats perilously from society to a cabin in Wyoming's Northwestern Range (Canada subbed for the Absaroka mountains).
An ode to life, as well as to the land.
Land is a simple story, told without voiceover and with much emotion, expressed in Wright's face and the landscape movingly captured by DoP Bobby Bukowski. There are Eat Pray Love elements to it, without a doubt, as Wright's taciturn character Edee is forced to lean upon a local hunter for practical and spiritual support. And, for a film which is expressly rooted in the Land, it could benefit from a little more grounding in its early stages. But Wright's moving performance and some genuine heart-felt and -breaking moments amid all this natural majesty make Land a journey worth taking.
Set up for US distribution through Focus Features, Land will inevitably be compared with Nomadland, and in its own way, it's a more audience-friendly, digestible version of Chloe Zhao's tour de force, one in which the protagonist decides to "notice more" and the land and its local inhabitants rise up to protect her against the harsh realities of life in a leaky cabin in the Rocky Mountains. Ultimately, Nomadland is a fact-based film; Land is pure fiction, and many will relate to Wright's way of working through issues of loss and grief. Land premieres at Sundance in the same way as last year's Falling, the directorial debut of actor Viggo Mortensen. That found its way globally through the pandemic-blighted festival circuit through to awards, and there is no reason why Land shouldn't travel the same path, even though the changed calendar means it's in awards consideration right now, not next year.
Edee is numb with unspecified grief, as seen through a counselling session and a flashback to a conversation with her sister (Kim Dickens) in which suicide is mentioned. Next, she is shown loading a trailer with supplies, purchasing a mountain cabin sight-unseen, and throwing her mobile phone into the bin. On arrival at the lodge, which is as remote as she can find and not much more than a dilapidated timber shack with an outhouse, she sends her car off with the driver who guided her there. The idea she might survive here alone through winter is immediately inconceivable to the audience, and perhaps to Edee as well. Cans of tuna clearly won't see her through. Does she want nature to make the ultimate decision over life and death for her?
Edee can't chop logs or shoot a gun, and her fishing skills leave much to be desired, and that's before a grizzly bear comes calling. It's hard for the audience to swallow this set-up as anything but fevered fantasy, a feeling which is enhanced by her visions of what seems to be her husband and son. But when she succumbs to the weather and is discovered by local hunter Miguel (Demian Bichir), Land finds a more secure foothold in this story of two deeply wounded individuals who form the most tentative of bonds.
Land revels in its natural setting, providing the most picturesque backdrops at every possible opportunity. It's a film in which the primary aim is to capture emotion, a natural goal for an actor. Wright's decision to eschew a voiceover, or expository dialogue, is to be lauded. She is happy to risk her character and put her faith in the fact that the end will justify her means; that wounded people don't chat easily about what hurt them, and that patience here is, indeed, a virtue. The result is romantic without necessarily being a romance; an ode to life, as well as to the land.
Production company: Big Beach Films, Nomadic Pictures, Flash Light Films
International sales: HanWay
Producers: Allyn Stewart, Lora Kennedy, Leah Holzer, Peter Saraf
Screenplay: Jesse Chatham, Erin Dignam
Cinematography: Bobby Bukowski
Production design: Trevor Smith
Editing: Anne McCabe, Mikkel E.G. Nielsen
Music: Ben Sollee, Time For Three
Main cast: Robin Wright, Demian Bichir, Kim Dickens, Sarah Dawn Pledge