Mindy Kaling/Emma Thompson comedy has all the makings of a breakout independent feature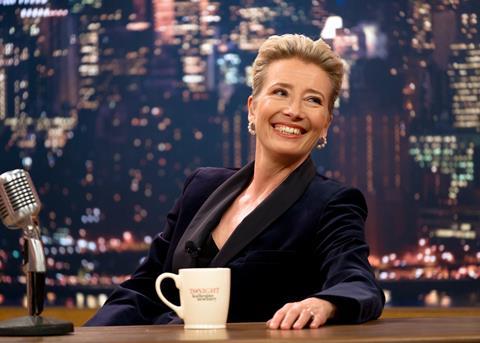 Dir. Nisha Ganatra. U.S. 102 min. 2018.
With impeccable timing, both in its humor and topicality, writer-star Mindy Kaling (The Mindy Project) and director Nisha Ganatra (Transparent) have crafted a polished, accessible, and earnest mainstream comedy about the travails of women in the entertainment industry and the workplace.One of the most high-profile debuts of Sundance's Premiere Section, Late Night has all the makings of a breakout independent feature, and will be quick to score a major distribution deal in Park City. The film should receive broad theatrical play both in the US and internationally, unless Netflix gets a hold of it first.
As a fairly formulaic comedy, Late Night stays fresh and alive through its funny scripting and witty, barbed exchanges
Late Night charts the inter-mingled journeys of two women: Katherine Newbury (Emma Thompson), the reigning ice queen of American late-night television and the only female to ever host her own show, as she fights to stay relevant, and Molly Patel (Kaling), a chemical plant worker and devoted Newbury fan who gets the chance of a lifetime when she's hired to work on the show as a writer (to prove that Newbury "doesn't hate women").
Each woman faces her own seemingly insurmountable challenge. Newbury is a dinosaur within the industry. While she might have won a raft of Emmy awards, she's now 30 years into the job, hates social media, and is characterised by journalists as "Your Least Favorite Aunt." Meanwhile, Patel has zero experience working in TV and is the only woman—or person of colour—in the all-white male writer's room. Will the severe, set-in-her-ways Newbury be able to turn her career around and stay on the air? Will Patel, a naïve newbie, find her voice and be accepted in the cut-throat world of TV comedy? And how will these two very different women impact each other's lives?
The answers to such plot contrivances may be predicable, with familiar character arcs that go from troubled lows to eventual triumphs. But as a fairly formulaic comedy, Late Night stays fresh and alive through its funny scripting and witty, barbed exchanges, which deftly balance humour with incisive cultural commentary. Kaling's script perceptively pokes fun at the endangered life of older women in Hollywood, "diversity hires," gender-based double standards, and the concept of "catharcism" (narcissism meets catharsis—you have to see it to get it). In between, we also get some serious observations; as Newbury's character points out: "It's not fair, but it never is for a woman."
Thompson delivers a memorable performance as the abrasive "cold witch," as someone describes her, perhaps even outdoing Meryl Streep's Miranda Priestly in The Devil Wars Prada as a delightfully wicked woman of power. She is so uncaring and self-absorbed that she doesn't even recall that one of her favorite writers on her own show died years before. And rather than remember the names of her staff writers, she simply calls them by number, i.e. "Do I make myself clear, eight? Towards the end of the film, the character softens, thanks, in part, to her relationship with her ailing husband, played effortlessly by John Lithgow. Their personal conflict feels a little rushed within the film, but it does help round out Newbury and make her more human.
Meanwhile, Kaling is hilarious. As Mindy Patel, she's both an endearing underdog and a fish-out-of-water, charmingly guileless in the pursuit of her goals, but also fragile, and easily brought to tears. In one of the film's many laugh lines, Newbury admits, "your earnestness can be very hard to be around." But it's actually quite the opposite: Kaling's character, like the film itself, is very easy to be around.
Production Company: 30West, Imperative Entertainment
International Sales: FilmNation Entertainment
Producers: Mindy Kaling, Howard Klein, Ben Browning, Jillian Apfelbaum
Executive Producers: Alison Cohen, Milan Popelka, Micah Green, Daniel Steinman
Screenplayr: Mindy Kaling
Production design: Elizabeth Jones
Editing: Eleanor Infante, David Rogers
Cinematography: Matthew Clark
Music: Lesley Barber
Main cast: Emma Thompson, Mindy Kaling, John Lithgow, Paul Walter Hauser, Reid Scott, Amy Ryan