Dir. Anand Tucker. US. 2009. 102 mins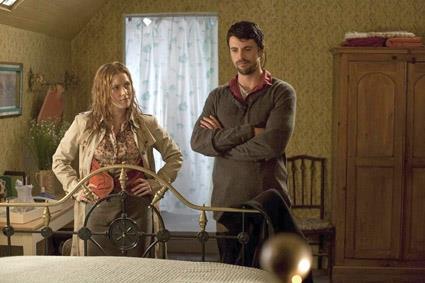 Occasionally perked up by an energetic Amy Adams, Leap Year is a cozily predictable romantic comedy that makes unashamed use of its slightly dodgy Irish setting.
Universal may be able to draw a mid-size pre-Valentine's Day crowd when it opens the Spyglass production, directed by UK-based Anand Tucker (Shopgirl), in North America this week (Jan 8), but international distributors (Universal in some markets, Spyglass and its partners in others) might have a tougher time, even with British co-star Matthew Goode helping to sell tickets in certain territories.
Written by Hollywood script doctors Deborah Kaplan and Harry Elfont , the fish-out-of-water tale recalls several other recent romcoms (PS I Love You and Did You Hear About the Morgans in particular), while cinema buffs will spot a close resemblance to the plot of Powell and Pressburger classic I Know Where I'm Going.
Adams' Boston yuppie Anna, frustrated by the lack of a marriage proposal after four years of dating, decides to follow cardiologist boyfriend Jeremy (Step Brothers' Adam Scott) to a conference in Dublin, there to take advantage of the Irish tradition for women to propose on February 29.
Thanks to a string of convenient travel mishaps, Anna ends up in the Irish sticks, relying on Goode's roguish and cynical bar owner Declan to get her to Dublin on time.
Familiar-seeming scenes involving unsuitable high heels, stubborn cows and confused innkeepers follow - against a backdrop of lovely Irish locations - and as Anna gradually loosens up and Declan lets his guard down, love begins to blossom.
Adams (whose box office mojo is running high after her enjoyable turn in Julie & Julia) works hard to bring the film intermittently to life. Goode (from Watchmen and Brideshead Revisited) is less effective, and his accent adds to the 'Oirish' feel of the setting. Though billed after the three leads, John Lithgow makes only a brief appearance as Anna's Irish-American dad.
To sign up for Screen's weekly Reviews Newsletter with all the week's new releases, international openings and full festival reviews delivered free to your mailbox every Friday, please click HERE
Production companies
Universal Pictures
Spyglass Entertainment
Benderspink
North American distribution
Universal Pictures
International distribution
Universal Pictures/Spyglass Entertainment
Producers
Gary Barber
Roger Birnbaum
Jonathan Glickman
Chris Bender
Jake Weiner
Screenplay
Deborah Kaplan & Harry Elfont
Cinematography
Newton Thomas Sigel
Production design
Mark Geraghty
Editor
Nick Moore
Costume design
Eimer Ni Mhaoldomhnaigh
Music
Randy Edelman
Amy Adams
Matthew Goode
Adam Scott
John Lithgow