Bank robbers and police clash on a deserted island in this edgy, excessive thriller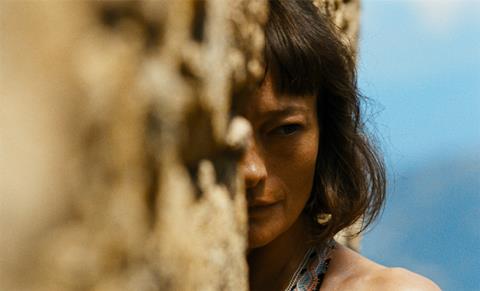 Dirs: Helene Cattet, Bruno Forzani. Belgium-France. 2017. 92 mins
The combination of bullet-ridden corpses, stolen gold bullion and an intensely marketable title means that Let The Corpses Tan is halfway to the bank before it even begins. The film itself isn't quite so commercial, as Belgian duo Helene Cattet and Bruno Forzani follow up Amer (2009) and The Strange Colour Of Your Body's Tears (2013) with another meticulously executed, obsessively stylised exercise in genre worship that quickly becomes overpowering. It still has all the credentials for a cult following but a wider commercial impact seems less likely.
The craftsmanship on display in Let The Corpses Tan is flawless.
The novel Let The Corpses Tan (Laissez Bronzer Les Cadavres) by Jean-Patrick Machete and Jean-Pierre Bastid was first published in 1971, and the film pulls out all the stops to make it look and feel as if it belongs to that era. The poster art, the colour grain and Scope filming all convey the impression of something that comes from the time of the spaghetti western or classic Italian giallo. You almost expect to see Dario Argento or Mario Bavo's name on the credits and for Morricone to have composed the music.
Set over a sweltering July day in the Mediterranean, the plot revolves around Rhino (Stéphane Ferrara) and a ruthless gang who have stolen 250 kilos of gold bullion. Their plan is to hide-out in a ruined island retreat that belongs to jaded, world-weary painter Luce ( Elina Lowensohn), and their presence is a balm to soothe her permanent state of boredom. The plan is complicated, however, by further unexpected arrivals, including two police officers. A running gun battle ensues where bullets rip through clothes and flesh, loyalties constantly shift and only the wiliest are likely to survive.
The craftsmanship on display in Let The Corpses Tan is flawless. The close-ups of grizzled faces are so extreme that you may want to sit in the very back row to avoid feeling oppressed. The editing is rapid fire, and there is a fondness for rotting flesh and the grotesque. The sound design allows you to hear every creak of a leather jacket and sizzle of a pig roasting. The screen is drenched in colour as a cigarette lighter explodes into action, or bullets shoot a dramatic rainbow of colours onto one of Luce's canvases. When someone is shot down we often see ripped clothes, clouds of gold dust or showers of colour rather than flesh and blood wounds.
The edgy vibe is further enhanced by frequently stuttering back a brief moment in time to regard the same sequence from a different viewpoint. It really does have style to burn, a film of almost delirious excess; brief inserts reveal the hedonistic past of Luce, a woman with a fondness for bondage and watersports. "I don't like cops. I don't like society, " she growls.
Does it matter, then, that we don't especially care for anyone? That everyone seems to be pieces in a chess game, moved around a board by the directors? Maybe not. There is an intoxicating aspect of watching a team so in single-minded and in control of their filmmaking technique. After a while, though, it does start to ring hollow.
Production companies: Anonymes Films, Tobina Film
International sales: BAC Films sales@bacfilms.fr
Producers: Eve Commenge, Francois Cognard
Screenplay: Helene Cattet, Bruno Forzani based on the novel by Jean-Patrick Manchette, Jean-Pierre Bastid
Cinematography: Manuel Dacosse
Editor: Bernard Beets
Main Cast: Elina Lowensohn, Stéphane Ferrara, Bernie Bonvoisin