Claire Denis opens Directors' Fortnight with this elegant, mercurial comedy starring Juliette Binoche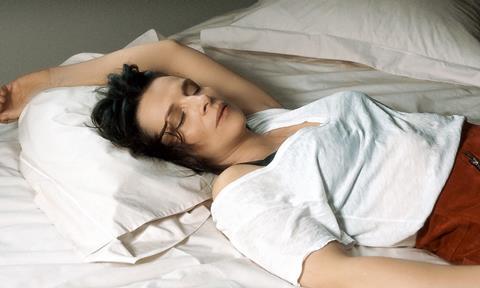 Dir: Claire Denis. France. 2017. 94 mins
French writer-director Claire Denis is an expert at surprising her devoted art-house following, switching between genres and registers while always imposing her own unmistakable identity. Even so, that identity isn't remotely easy to pin down, and is perhaps best described as a sensibility, of a very searching and lucid kind. Sensibility is, in a sense, what Let The Sunshine In (Un Beau Soleil Intérieur)) is largely about – a particular female sensibility belonging to an artist heroine (Juliette Binoche) and alertly responding to questions of desire and identity.
Binoche is at her most relaxed, in a way she isn't always when attempting comedy
Essentially a comedy, of a very elegant and mercurial nature, this disquisition of 'what a woman wants' may strike some viewers as too quintessentially French for belief, being a sometimes prolix exploration of sexuality and social mores, while a fragmented structure will confound anyone hoping to follow the protagonist through the coherent minor key romcom that Denis at times seems to promise. But rather than a chic bagatelle, this proves an acutely intelligent, finely acted and – despite its cerebral edge - emotionally rich piece.
It's a highly engaging departure for one of France's most adventurous cineastes, and with Binoche on radiant and witty form, it could prove to be one of Denis's more commercial propositions to date.
Denis has already explored intimate themes of romantically-charged sex in her 2002 duo piece Friday Night, perhaps the closest comparison in her work. Here she embarks on another collaboration with a noted French novelist – after working with Maria Ndiaye on 2009's White Material, Denis is co-writing with Christine Angot, famous as a leading light of the 'autofiction' movement, especially controversial for the frankness with which she has placed her own emotional life on the printed page.
Originally conceived as an adaptation of critic-theorist Roland Barthes's best-selling work A Lover's Discourse, the film retains traces of Barthes's ideas, notably – says Denis – the concept of 'agony'. But it's something other than agony that disturbs the sleep of heroine Isabelle (Binoche), a recently divorced painter. Sharing care of her (barely-glimpsed) young daughter with ex-husband François (Laurent Grevill), Isabelle explores her newly liberated sexuality with a series of men.
The first, an arrogant banker (Xavier Beauvois), turns out to excite her in direct relation to her thinking of him as a bastard; an actor (Denis regular Nicolas Duvauchelle) gives her sexual satisfaction, but proves too self-absorbed and garrulous to be much of a prospect. Other men hover, notably snobbish art-world friend Fabrice (a very amusing Bruno Podalydès), and there's later a hint that elegant newcomer Marc (Alex Descas, another Denis fixture) might have something special to offer. In the interim, Isabelle is thunderstruck by desire for a simmering stranger (Paul Blain) that she meets on a dancefloor and clicks with to Etta James's rapturous ballad 'At Last'.
The film is less imagistic than Denis's other work, much more verbal – although, amid the dense thickets of dialogue about desire and emotional compatibility, what's often important is less what is said then the rhythm of the language, and what's going on between the actors – as witness a very funny scene in which Isabelle vacillates crazily over asking her gallerist (Josiane Balasko) whether she's been involved with François. Denis's cavalier attitude to language emerges surprisingly in the final scene when end credits suddenly roll over a curious scene in which Isabelle consults a fortune teller (Gérard Depardieu) over her romantic prospects.
Denis, as ever, throws multiple curveballs – among them, a sudden digression in which the Depardieu character is introduced in mid-breakup with a woman played by Valeria Bruni-Tedeschi. Throughout, the acting and the astute characterisation ensure cohesion. Binoche is at her most relaxed, in a way she isn't always when attempting comedy, as Isabelle moves through various emotional registers including sexual intensity (in some very candid bed scenes), nerviness, hesitation and an emotional alertness that, in the film's final image of her, chimes perfectly with the film's title.
Long-time Denis soundtracker Stuart Staples, from the band Tindersticks, provides a subtle and sensuously moody score, mixing minimal guitar and electric piano with a set of elegantly svelte jazz variations and improvisations played by the Julian Siegel Quartet.
Production companies: Curiosa Films, FD Production, Ad Vitam, Versus Production
International sales: Films Distribution, info@filmsdistribution.com
Producer: Olivier Delbosc
Screenplay: Christine Angot, Claire Denis
Cinematography: Agnès Godard
Production designer: Arnaud de Moleron
Editor: Guy Lecorne
Music: Stuart Staples
Main cast: Juliette Binoche, Xavier Beauvois, Philippe Katerine, Josiane Balasko, Nicolas Duvauchelle, Alex Descas, Gérard Depardieu