Palestinian filmmaker Mohamed Jabaly documents his fight to return to Gaza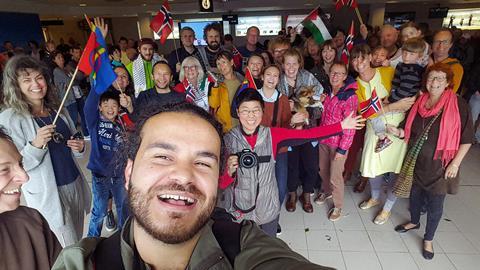 Dir: Mohamed Jabaly. Norway/Palestine. 2023. 90mins
Fittingly, the latest documentary from Palestinian filmmaker Mohamed Jabaly (Ambulance) opens with a beautiful moment; wrapped up in snow gear, with the stunning Norwegian landscape behind him, Jabaly — or "Arctic Mohamed" as he calls himself — laughs as he attempts to ski for the first time. Yet it will transpire that this carefree moment is one of very few.
Timely account of the deeply personal impact of global destabilisation.
With the Egypt-Gaza border crossing unexpectedly closed during his trip to Tromso, in the north west coast of Norway, Jabaly finds himself in a seven-year fight to return home. As he documents every step of his journey, Life Is Beautiful becomes a compelling, often shocking and timely account of the deeply personal impact of global destabilisation.
The film premiered in IDFA's International Competition where it won the Best Director award, something which should help it travel further. Jabaly is honest and accessible as both filmmaker and subject, and festivals and distributors should respond in kind.
Born and raised in Gaza, Jabaly was fascinated by cinema from a young age and, with no film schools available, learnt the craft by shooting movies with his friends. By the age of 21 he was running filmmaking and photography classes for kids; in late 2014 he was invited to attend the Nordic Youth Film Festival by its director Hermann Gruel. Travelling to Tromso, Jabaly was only meant to stay for a month but, with the launch of Israel's 'Operation Protective Edge', the border between Gaza and Egypt closed indefinitely (Jabaly is unable to enter Gaza via any other means).
It is a testament to Jabaly's strength of character and his documentarian's penchant for candidness that he keeps the camera rolling during all that follows. An engaging and erudite narrator of his evolving situation (in which he directly addresses his beloved and much-missed mother), he stays in contact with family over shaky FaceTime connections. Jabaly is in a bittersweet limbo, a fish out of water, sure, but also at a remove from Gaza's dangers. That is also true of the film, which does not highlight the immediate impact of conflict but the ancillary traumas of displacement and loss. This perhaps gives it less political potency than other war zone documentaries, but Jabaly's experiences make a mark nevertheless
Jabaly finds it impossible to find security in Norway, as the country does not recognise Palestine as an independent state — somewhat ironically, Gaza City is twinned with Tromso. When his tourist visa runs out, Jabaly is able to get an artists visa for a year so he can work on footage he shot during the summer of 2014, when he volunteered as an ambulance driver in Gaza. That will eventually become the feature Ambulance, which toured the international festival circuit in 2016 and won several awards. Jabaly has no such freedom of movement, however. Norway refuses to grant an extension to the visa, stating that Jabaly cannot class himself a filmmaker as he did not go to film school; one of several infuriating hypocrisies that fail to see the individual amid the bureaucracy. Yet, with the support of Hermann and other Norwegian friends, Jabaly fights on — he really has no choice.
Working with editors Erland Edenholm and Anne Fabini, Jabaly turns years of handheld footage into a brisk and balanced portrait of a life adrift, showcasing the mix of emotions that come with displacement in a beautiful land. Jabaly misses his home but also celebrates the genuine connections he makes in Norway, a support network that makes his situation all the more bearable. He even decides to attend film school in the country, and is well aware that his experiences are far less brutal than for those stuck at home.
Indeed, Jabaly never claims to be an activist, just an individual wanting to live a normal life on home soil and determined to remain largely positive about making that happen. (The only moment we see him truly break down is when the long-awaited return to Gaza is overshadowed the appalling treatment of border agents.) Through his bravery and honesty, however, Life Is Beautiful becomes a powerful indictment of the fallout from war.
Production company: Stray Dog Productions AS
International sales: First Hand Films, Esther Van Messel esther.van.messel@firsthandfilms.com
Producers: KriStine Skaret, Sarah Winge-Sørensen
Cinematography: Mohamed Jabaly
Editing: Erland Edenholm, Anne Fabini
Music: Gaute Barlindhaug