After the world's women are wiped out by plague, a father must protect his only daughter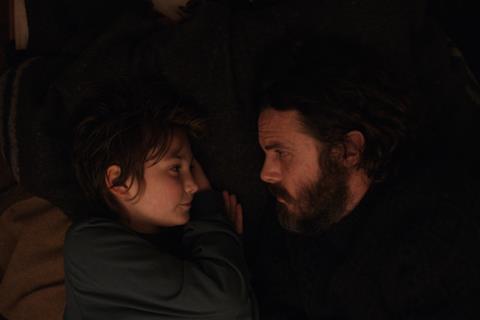 Dir/scr: Casey Affleck. US. 2019. 119mins
In a world where the female population has been wiped out by a plague, one father guards civilisation's only living girl from men who would literally tear her apart. Casey Affleck's ultra-pared-down two-hander taps into the primal fears of parents and women everywhere. A superb performance by Affleck, who constructs a touching and believable rapport with his 11 year-old co-star, grounds his low-key directorial and feature-writing debut.
This is at heart a portrait of a father and his daughter, and what he will do in order to keep her safe
It's an interesting choice for Affleck to cast himself as protector of woman and, by extension, the guardian of their future; Light Of My Life is both intense and undoubtedly sincere. This film will be analysed in many ways in the current climate – and it's notable that it did not premiere in Sundance, but in the Berlinale's sidebar Panorama strand. What is onscreen, however, is a feverish dystopian drama which walks a tightrope of credibility, occasionally wobbles, but – much like its characters – reaches its destination through the power of sheer conviction. Shortcomings aside, mainly concerning length and a tendency towards repetition, Light Of My Life should be warmly welcomed by connoisseurs of unadorned, high-quality cinema.
From the outset, this feels like a companion piece to last year's Leave No Trace (or, thematically at least, John Hillcoat's The Road). That's probably, at least initially, not in its favour: Affleck's film is a slow-burner, opening out cautiously. Our introduction to 'Dad' (Affleck) and Rag (Anna Pniowsky) may be set, like Leave No Trace, in a forest where they are on the run, but Affleck is more interested in establishing the dynamic between the duo than their surroundings at this point. He certainly brings all his talents as an actor and experiences as a father to the film's wonderful opening sequence, in which Dad tells Rag an impromptu, rambling bedtime story.
Dressed to look like a boy, Rag is nearing puberty; she wants to read books and play with toys, but she also wonders about her mother, and what would happen if the "angry men" found her. Mum, played fleetingly by Elisabeth Moss in the briefest of flashbacks, was killed by the "female plague" shortly after Rag was born. The few women who survived face capture, rape and certain death. Girls are being manufactured in a lab in California, and the imperative is to keep Rag safe until, or if, things change. Dad is honest with her, and tries to answer her questions as they flee through this brutal world, avoiding contact with the rest of the human race at all costs lest Rag end up in a "woman's bunker".
Comparisons to The Handmaid's Tale are unavoidable – particularly in shots to graffiti which declares "All Hail The Mothers" – but this is at heart a portrait of a father and his daughter, and what he will do in order to keep her safe. Scenes between the two can be heartbreaking, as she grapples with questions he can't answer and the balance between them starts to shift. Light Of My Life becomes even more elemental as they return to Dad's childhood home, and the snowy vistas of Vancouver Island close in on mankind's petty endeavours.
Affleck's film is proof, if more was needed, of what a talented actor he is: some exchanges between Dad and Pniowsky are lengthy, and other directors might not have let them run so far. While they can give Light Of My Life a sense of actorly indulgence, the core belief in the dynamic might collapse without them. They also bring us on a journey, from the first simple bedtime story to the end. And when Affleck is delivering his lines, with Pniowsky sizing him up (an 11 year-old girl is a tough audience), you never want to miss a word.
Production companies: Black Bear Pictures, Sea Change Media
International sales: Sierra Affinity, info@sierra-affinity.com
Producers: Teddy Schwarzman, Casey Affleck, John Powers Middleton
Cinematography: Adam Arkapaw
Editing: Dody Dorn, Christopher Tellefsen
Production design: Sara K. White
Music: Daniel Hart
Main cast: Anna Pniowsky, Casey Affleck, Tom Bower, Elisabeth Moss, Hrothgar Mathews, Timothy Webber