Dir. Julie Delpy, France, 2015, 99 mins.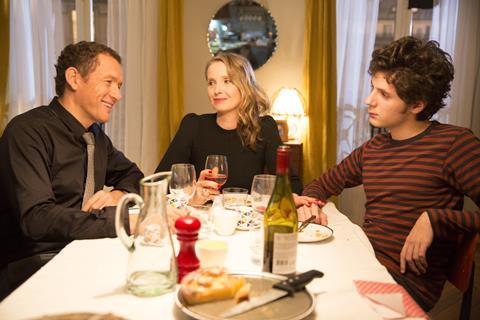 It's hard enough to find love in your 40s when you've been burned many times before — it's damn near impossible when your own teenage son starts conspiring against you. Julie Delpy's latest directorial effort juggles some potentially delicious ideas, but Lolo proves to be an exasperating romantic comedy that flirts with darker terrain it never has the guts or wit to really explore. Despite the sexy, grownup rapport exhibited by Delpy and co-star Dany Boon, this would-be farce quickly implodes once it becomes clear that the film has been constructed so that its main characters remain completely oblivious to the obvious machinations of the woman's clingy child (Vincent Lacoste).
What begins as a nervous romance between two sympathetic, intelligent fortysomethings soon descends into silliness and idiocy.
Screening in Venice and Toronto, Lolo will draw arthouse audiences because of Delpy, one of the stars of the Before trilogy, as well as the director of 2 Days In Paris and 2 Days In New York. In France, where the film releases October 28, she will receive a boost from Boon, the man behind the hit comedy Welcome To The Sticks, but mediocre reviews and a lack of buzz from fall festival season could dampen commercial expectations.
At first, the film seems to be an opposites-attract study of a fashionable Paris art director named Violette (Delpy) and an unsophisticated computer programmer from the sticks named Jean-René (Boon). Once sparks unexpectedly fly between the two, her 19-year-old son Lolo (Lacoste), who still lives at home, becomes convinced Jean-René is just another loser who's not good enough for mum, vowing to break them up.
Lolo shares some surface similarities to the 2010 American indie comedy Cyrus, in which an adult son and his mother's strangely tight bond disturbs her new boyfriend. But Delpy's movie, which she co-wrote with Eugénie Grandval, doesn't delve so much into the creepy/fascinating Oedipal fixation between mother and child, instead setting up Lolo to be a comedy of building hijinks in which Lolo finds more and more ways to sabotage the budding love affair.
Disappointingly, although Lolo is established as a conniving little twit — Lacoste plays him with maximum snottiness and faux-sincerity — none of his plans are particularly clever. He dumps powder into Jean-René's clothes to make him really itchy. He drugs the man's drink at a party so that he behaves ridiculously. But once the schemes get more ambitious and devious, they only succeed because neither Jean-René nor Violette is bright enough to realise that the strange behaviour plaguing Jean-René must be the work of an outside party. What begins as a nervous romance between two sympathetic, intelligent fortysomethings soon descends into silliness and idiocy.
In the previous movies she has directed, Delpy has shown a willingness to shake up the conventions of the romantic comedy, lending the stale genre a brusque candour that can be refreshing. In her early scenes with Boon, the two actors convey all the awkwardness and vulnerability of people old enough to know that puppy love rarely lasts, their wobbly relationship practically a rebuke to syrupy rom-com formula. Violette and Jean-René's playful, sarcastic chemistry feels so lived-in and authentic that it only makes the characters' later descent into stupidity all the more frustrating.
As for Lacoste, he's practically simpering as Lolo, fiendishly enjoying the havoc he's orchestrating behind the scenes. But because the actor doesn't do enough to make the character delectably detestable or unsettlingly obsessed with his mother, he fails to register as much of a villain once Lolo starts inching closer to cheeky Hitchcockian homage in its final sections.
Production companies: The Film, France 2 Cinema, Mars Films, Wild Bunch, Tempête Sous Un Crâne Productions, Manon 5, Cinémage 9, La Banque Postale, Image 8, Apidev 4, France Télévisions, Canal +, Ciné +, D8
International sales: Wild Bunch, ndevide@wildbunch.eu (international); CAA filmsales@caa.com (US)
Producer: Michael Gentile
Screenplay: Julie Delpy, Eugénie Grandval
Cinematography: Thierry Arbogast
Editor: Virginie Bruant
Production design: Emmanuelle Duplay
Music: Mathieu Lamboley
Main cast: Dany Boon, Julie Delpy, Vincent Lacoste, Karin Viard