Thomas Turgoose stars in this debut film about a frustrated young carer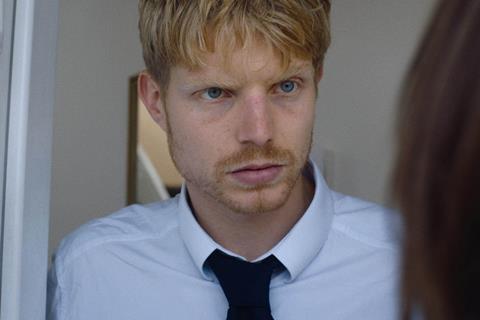 Dir: Rene van Pannevis. UK. 2019. 89 mins
For his first feature, London-based writer/director Rene van Pannevis has fleshed out characters and a scenario he established in his BIFA-winning short film Jacked. And, like the short, the result is more than its plot surrounding car-jacking young scallywags would suggest. Resisting the tired tropes of British crime films involving disaffected youth, van Pannevis offers a poignant character piece about a decent young man in crisis. Looted was developed and produced through the Film London/BBC Films/BFI Microwave scheme and, despite its low-key tone and narrow focus, a quartet of strong performances – notably by This is England powerhouse Thomas Turgoose and possible break-out star Charley Palmer Rothwell – could enhance its chances of UK theatrical play.
All the main performances are excellent
Rothwell is Rob, a 21-year-old in Hartlepool, the economically stricken coastal town in the north-east of England. Unemployed but with a useful criminal skillset, he spends his days with Leo (Turgoose), JP (Anders Hayward) and Leo's Polish girlfriend Kasia (Morgane Polanski), housebreaking and stealing cars, which they sell to local hood Amir. To these youngsters, the thievery is both an easy means to make money and a lark – especially for Leo, the jaunty leader of the pack.
There's no disguising the grief back home, though, where Rob's father Oswald (Tom Fisher) is dying of lung cancer, causing by asbestos poisoning during his years as a merchant seaman. Oswald is bedridden and in need of constant care, which Rob administers. The pair's relationship veers between jokes and dad's pain-stricken tantrums, beneath all of which runs the bleak awareness that, after Oswald's life at sea, father and son barely know each other.
As soon as Rob walks through his front door there's a keen sense that he's barely holding it together. While dutifully washing, feeding, medicating and listening to his father's tiresome maritime stories, Rob copes by also medicating himself. And if the thievery serves as a distraction, that's about to change when Amir offers Leo a far more lucrative job, and Leo implores Rob to be his driver. There's obviously a catch.
The dockside theft and what happens afterwards is conducted with an exciting economy and a blessed absence of the usual melodramatics and over-ripe tragedy; the very real consequences of crime – not least for a carer – are made dramatically manifest.
At the same time, the fact that it doesn't take place until past the film's half-way point is a clear indication that the crime element is not really the key interest of Pannevis and his co-writer Kefi Chadwick. Rather, it serves the character studies – of father and son, and also of Kasia, who proves to be a far more sympathetic character than the gangster's moll she might have been.
All the main performances are excellent. Turgoose gives another display of what a fine, nuanced young actor he is, capturing Leo's easy-going charm and, on the flipside, a manipulator, hothead and quite nasty piece of work when he thinks he's been crossed. Polanski, the daughter of Roman Polanski and Emmanuelle Seigner, shows that, like her mother, she can convey a great deal of empathy and appeal with a micro-gesture. Fisher works wonders with the physical challenges, winning sympathy for a man who has become an often gibbering shadow of himself. And at the film's heart, Rothwell excels as a young man who's struggling to find his own path, and on whose face you can see a world of sadness, loneliness and despair.
Where van Pannevis falls short is his depiction of the milieu around these characters. Other than some mostly picturesque establishing shots, there's little sense of the town and almost no sign of any people in it. If the environment is one of unemployment, impoverishment and little hope, it needs to be more strongly felt. In its place, too much time is spent at Oswald's bedside, which is as difficult a place for viewers to be as it is for the characters.
Production companies: Silk Screen Pictures, Thought Experiment, Film London Microwave
Contact: Looted Films Limited, jessiemangum@me.com
Producers: Jennifer Eriksson, Jessie Mangum
Screenplay: Rene van Pannevis, Kefi Chadwick
Production design: Luke Moran-Morris
Editing: Christian Sandino-Taylor, Dave Silver
Cinematography: Aadel Nodeh-Farahani
Music: Tony Coote, Philip Achille
Main cast: Charley Palmer Rothwell, Thomas Turgoose, Tom Fisher, Morgane Polanski, Anders Hayward