Sylvia Chang's Busan closer details the lives of three generations of Chinese women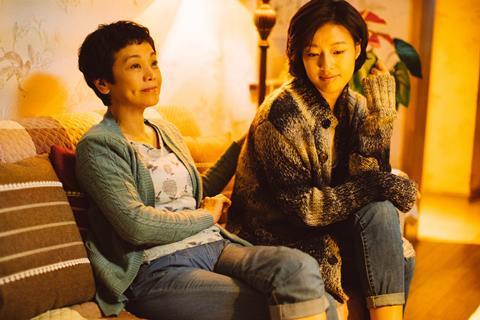 Dir: Sylvia Chang. China/Taiwan. 2017. 120mins
The frustrations of three generations of Chinese women go under the observational microscope of co-writer/director/star Sylvia Chang in Love Education. Taking a burial dispute as the jumping off point for a tale of familial strife, Chang's latest drama considers the meaning of love in a society that has irrecoverably changed in mere decades, creating situations in which contemporary attitudes often find themselves in direct conflict with the still-present past.
Love Education roots its drama in the plainness of a second-tier city in Henan Province and its outskirts
Chang's handling of the scenario lacks the lyrical touch that brought Ang Lee's family-themed features breakthrough success, but Love Education will nonetheless likely strike a chord with mature audiences in Asian territories. Following its Busan debut, where it played as closing film, international festival exposure could be parlayed into a profitable overseas art-house run.
It begins with high school teacher Huiying (Chang) trying to fulfill the filial duty of burying her recently deceased mother alongside her father. This entails a trip to the countryside to exhume her father's body from its current ancestral resting place for relocation to the city, with her driving instructor husband Xiaoping (Tian Zhuangzhuang) and television journalist daughter Weiwei (Lang Yueting) in tow.
Huiying also enlists the assistance of two cousins but the family soon find themselves under attack from a band of villagers led by Nana (Wu Yanshu), the first wife of Huiying's father by arranged marriage. Although they were married for less than a year before he left for the city and a new relationship, Nana remains fiercely defensive of her marital status. She violently tugs at the ears of anyone who gets close to her polygamous husband's grave, or dares suggest that she belatedly accept the fact that she was deserted decades previously.
Such obstruction means that Huiying must prove her mother's martial status, entailing visits to various government offices around the city to collate the necessary paperwork, which has been scattered over the course of multiple relocations and system upgrades. Meanwhile, Weiwei's television station colleagues pounce on her family drama as a piece of juicy gossip for the insatiable masses. This culminates in a televised face-off between Huiying and Nana, the latter of whom proves particularly fascinating to urban viewers because of her unapologetically blunt rural behavior.
Love Education roots its drama in the plainness of a second-tier city in Henan Province and its outskirts, making it less elegant than Chang's previous feature, the Taiwan-set Murmur of the Hearts (2015), despite boasting Mark Lee Ping-bin as cinematographer. It's nicely paced by editor Matthieu Laclau, however, who balances the intertwined busyness with more drawn out character interaction, such as Weiwei's persistent efforts to forge a bond with a wary Nana after being stranded in the village during a torrential downpour.
Unfortunately, the media sub-plot proves to be as invasive to the film's tone as it is to the characters' lives. This lightly satirical swipe at the commoditisation of private relationships through the phenomenon of reality TV crucially lacks the nuance of Chang's take on generational dynamics.
This misjudgment aside, Chang's approach serves to foreground a set of uniformly excellent performances. Chang gives herself the least sympathetic role as the insensitive, sometimes shrewish Huiying, who uses her daughterly duties as a distraction from insecurities prompted by impending retirement,. Yet Chang's subtly layered work makes Huiying's fear of irrelevancy or her exasperation at yet another round of bureaucracy totally relatable.
Lang matches her burgeoning anxiety nicely as seemingly forward-thinking young professional who finds family history reoccurring through her own relationship with a musician, while Fifth Generation director and occasional actor Tian takes a back seat to the bickering but becomes a unifying presence as emotions escalate.
In her efforts to emphasise the necessity of love, as ultimately expressed here in the time-honored forms of forgiveness and understanding, Chang resolves things a little too neatly. Still, there's a genuinely heartfelt quality to Love Education that enables it to largely overcome any late contrivances to put forward its concerns with a welcome sincerity.
Production companies: Beijing Hairun Pictures Company, Dream Creek Productions
International sales: Beijing Hairun Pictures www.hairunmedia.com
Producer: Patricia Cheng
Executive producer: Victoria Hon
Screenplay: Sylvia Chang, You Xiaoying
Cinematography: Mark Lee Ping-bin
Art direction: Lim Chung Man
Editor: Matthieu Laclau
Music: Kay Huang
Website: http://www.hairunpictures.com/en
Main Cast: Sylvia Chang, Lang Yueting, Wu Yanshu, Tian Zhuangzhuang, Song Ning, Geng Le