Claude Schmitz reworks his Covid-cancelled theatre production into a dreamlike drama about the power of performance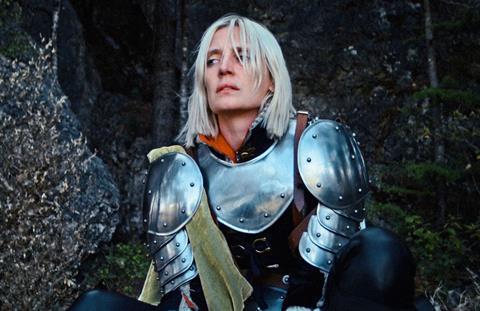 Dir/scr: Claude Schmitz. France. 2021. 82mins
The show must go on in Lucie Loses Her Horse (Lucie Perd Son Cheval). The first feature-length work from writer/director Claude Schmitz has echoes of Jacques Rivette as it explores the slippery boundaries between theatre and film, art and life. The process and responsibility of the performer is a unifying thread through an unpredictable, sometimes unfathomable, blend of philosophical rumination and existential crisis. The GNCR prize at FID Marseille should help sustain a festival run that already includes Brussels and Rotterdam.
A slow, dreamlike descent into a theatrical wonderland, Lucie… is laced with absurdist humour and deadpan drollery
Lucie has its roots in a theatre project called 'Un Royaume' which Schmitz had created for the Théâtre de Liège. Described as a "reverie about the job of being an actress", it was performed in Marseille and Liege before Covid put an end to the production and a planned tour. Schmitz subsequently reworked elements of the theatrical production into this hybrid film.
The meta nature of the project is further underlined by a charming opening sequence in which Lucie (Lucie Debay) is spending time with her mother and daughter before tearing herself away from them for work. Debay's real-life daughter Nao and mother Genevieve play themselves in some tender moments of affectionately observed reality. Lucie is then seen riding through the countryside; her aquiline profile, blonde hair and armour are somewhat reminiscent of Klaus Kinski in Aguirre, Wrath of God. The film's burnished look of windswept golden fields, rolling hills and noble knights also calls to mind Robert Bresson's Lancelot Du Lac.
When Lucie slumbers under a tree, her horse disappears. She subsequently meets two other chainmail-clad women who have also lost their horses. Asked if they are friend or foe, they both reply that they are friendly. The trio travel together, savouring moments of idleness, chatting and discovering common ground.
Schmitz then cuts to a theatre where multi-tasking stagehand Francis (Francis Soetens) has welcomed his friend Olivier (Olivier Zanotti). Francis is working on a production of King Lear and appears to be in charge of everything from lighting to props, costumes and sound mixing. He is also keeping a watchful eye on three actresses (Lucie and her companions) who are in costume and asleep in a corner of the stage. If they awake, he is to contact the director Pierre (Pierre Sartenaer).
As Pierre tries to stage his production of King Lear with four actors and two assistants, the film almost strays into Noises Off territory. Marc (Tibo Vandenborre) has been called in to tackle the title role at the eleventh hour. There are power cuts, an exuberant use of a dry ice machine, a possibility of romance between two of the performers, and a director whose mantra becomes: "The theatre is shit. You just have to be there". The problem for Lucie in the end is finding that ability to be present in the moment, whether creating a character or playing with her daughter. " Don't lose the thread, " is the advice to herself in one internal monologue.
A slow, dreamlike descent into a theatrical wonderland, Lucie… is laced with absurdist humour and deadpan drollery. It is not without its longueurs but there are some moments to treasure. The hulking, lugubrious Soetens is a particular delight and provides most of the amusement.
Its central theme remains the life of the performer. Lucie is constantly tormented by a feeling of guilt at having abandoned her daughter. Life is surely more important than art but then perhaps it is a rich life that informs her art. The question also emerges of what becomes of a performer when there is nowhere to perform, an issue that marks this playful, challenging film as a work born of the Covid pandemic.
Production companies: Le Theatre De Liege, Les Films De L'Autre Cougar, La RTBF
International sales: Les Films De L'Autre Cougar. lautrecougar@gmail.com
Producers: Serge Rangoni, Annabelle Bouzom
Cinematography: Florian Berutti
Editing: Marie Beaune, Jeanne Plassier
Music: Maxime Bodson
Main cast: Lucie Debay, Helene Bressiant, Tibo Vandenborre