Actor John Carroll Lynch makes his directorial debut with 91 year-old Harry Dean Stanton shining in the title role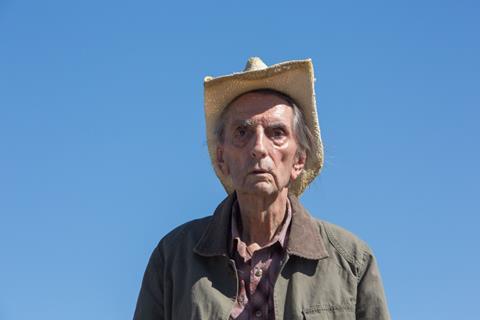 Dir: John Carroll Lynch. US. 2016. 88mins
Playing a solitary 90-year-old both blessed and cursed to be in superb health, celebrated character actor Harry Dean Stanton takes to Lucky with aplomb, conveying lifetimes' worth of memories, regrets and unspoken truths. A meditation on mortality and a love letter to its 91 year-old star, Lucky has a pleasingly laidback atmosphere and some sublime individual moments, but on the whole this quirky, craggy character study frustrates as much as it illuminates, pondering old age with both grace and a surfeit of whimsy.
Stanton unhurriedly fleshes out this regular guy who is coming to terms with the inevitable end.
Never fully able to shave off a mannerist tendency which undercuts the material's muted, plainspoken potency, Lucky will follow up its festival launches with a US release on September 29, where it should attract art-house crowds thanks to Stanton's well-reviewed performance. An ensemble that includes everyone from David Lynch to Ed Begley, Jr. may also lure the curious, and adult audiences who turned out for other stripped-down portraits of aging such as The Hero will be intrigued as well. Magnolia may figure out the ground for an awards bid for Stanton.
The feature directorial debut of fellow character actor John Carroll Lynch stars the veteran as Lucky, who lives in an unnamed small town in the middle of the desert in the American Southwest. Spending his days going to his favourite diner and local watering hole, Lucky suffers a fainting spell, but his doctor (Begley) can't find anything seriously wrong with him — even though he smokes a pack of cigarettes a day.
Logan Sparks and Drago Sumonja's screenplay depicts Lucky's life through casual incidents and gentle repetitions, suggesting an aged man in a state of perpetual limbo. Lucky eschews anything resembling a traditional plot — our loner hero doesn't go on any grand journey to learn valuable life lessons — and so the film's pleasure derives from the small hints into this taciturn character's inner life. It fits Lucky's overall spirit of modest mystery that we discover that Lucky is his nickname, but his real name is never revealed.
Because of the film's episodic nature, it's perhaps unavoidable that some incidents will resonate more deeply than others. Ron Livingston plays a kindly life insurance salesman working with Lucky's eccentric buddy Howard (David Lynch), and after a testy initial exchange — Lucky accuses the young man of exploiting his clients' fears — they have a touching interaction in which the salesman explains the frightening circumstances that inspired him to pursue this line of work. Elsewhere, Lucky meets a retired marine (Tom Skerritt), the two men swapping stories of service in World War II that are so intimate and vulnerable it's as if these strangers have found the only person in the world who understands them.
In these quiet scenes, Lucky examines the small anecdotes and meaningful personal connections that help bring people together — the sorts of scenes that often don't appear in films because they're not overtly dramatic. Lynch displays an ability to let tiny moments breathe, placing faith in his veteran actors to bring the nuances of everyday experience to life.
Unfortunately, Lucky's best moments don't entirely cancel out its more awkward and forced ones. Scenes at the bar — which are populated by broader portrayals from David Lynch, Beth Grant and others — try to exude a loopy, commonplace poetry, but neither the writing nor the execution cuts deep enough. In a film that prizes an effortless depiction of the nagging fears and resignation that come with aging, Lucky often strains for the clever twist or humorous moment in scenes that are too skeletal to support the added weight.
Still, the film goes a long way on the strength of Stanton's unadorned presence, with his melancholy eyes and rail-thin physique. An actor who has appeared in films as varied as Alien, Repo Man and Paris, Texas, he brings his shaggy, off-kilter persona to Lucky, the character calmly ruminating on life's essential elements. Declaring himself alone but not lonely — he never married, and is not aware he has any children — Lucky comes across as a no-nonsense realist convinced that this is the only existence we have. Reunited with old friends — David Lynch has directed him in several projects, and Skerritt was his Alien co-star — Stanton unhurriedly fleshes out this regular guy who is coming to terms with the inevitable end.
Production companies: Superlative Films, The Lagralane Group, Divide/Conquer
US distribution/International sales: Magnolia Pictures, www.magnoliapictures.com
Producers: Danielle Renfrew, Ira Steven Behr, Richard Kahan, Greg Gilreath, Adam Hendricks, John Lang, Logan Sparks, Drago Sumonja
Executive producers: Jason Delane Lee, Bill Harnisch, Ruth Ann Harnisch, Charles Duffy
Screenplay: Logan Sparks & Drago Sumonja
Cinematography: Tim Suhrstedt
Production design: Almitra Corey
Editor: Slobodan Gajic
Music: Elvis Kuehn
Website: www.luckythefilm.com
Main Cast: Harry Dean Stanton, Ron Livingston, Ed Begley, Jr., Tom Skerritt, Barry Shabaka Henley, James Darren, Beth Grant, David Lynch