Natalie Portman stars in a story inspired by the real-life romantic travails of astronaut Lisa Nowak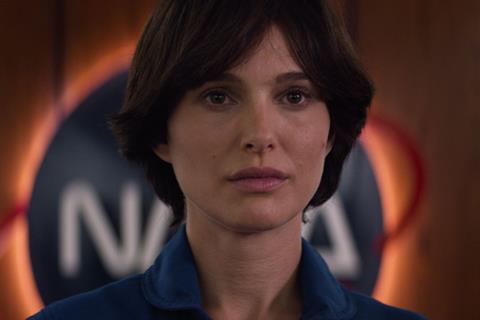 Dir: Noah Hawley. US. 2019. 124mins
Inspired by the tabloid tale of Lisa Nowak, an American astronaut who became obsessed with a fellow astronaut with whom she was having an affair, Lucy In The Sky has ambitious visual flourishes, a bold performance from Natalie Portman and not nearly enough insights into the peculiarities of human behaviour. Making his feature directorial debut, television showrunner Noah Hawley exhibits some of the same inventive touches that are his trademark on programmes like Legion. But for all this movie's stylistic curlicues, it fails to present a convincing psychological portrait of an accomplished, driven woman who suddenly, seemingly inexplicably, throws away her life in pursuit of a fleeting dalliance.
Hawley's cinematic tricks start to feel like the reason why he told this story
Arriving October 4 in the US and December 6 in the UK, this Fox Searchlight film is an intriguing blend of genres — Lucy has the trappings of sci-fi because of the characters' milieu, but it's really more of a quirky character study — which may end up hindering its commercial prospects. Portman's marquee value, alongside Jon Hamm's, will help, but what may be most enticing to viewers is the film's loose association with Nowak's real story, which made headlines in 2007 when she tried kidnapping her lover's new girlfriend.
Portman plays Lucy, a hyper-competitive astronaut who is flying high after coming back to Earth on the completion of her first space mission. But after the exhilaration of being in the cosmos, Lucy finds that life with her square husband Drew (Dan Stevens) is a bit dull — which might explain why she begins flirting with Mark (Hamm), a hunky, cocky astronaut who clearly has designs on her.
Lucy borrows the vague outlines of Nowak's fall from grace — an affair, a confrontation after the relationship goes sour — and seeks to understand how someone so bright could become so unhinged. Hawley's answer is to create a flamboyant visual and aural template that mimics his protagonist's disintegrating mind set, letting us feel her euphoria but also experience her crushing lows once she starts to lose a sense of herself after her space mission concludes. The idea seems to be to humanise this scandal, making this onetime object of ridicule a flesh-and-blood person again.
To achieve this objective, Hawley, who also co-wrote the screenplay, gives us shifting aspect ratios — preferring a boxier format when Lucy is trapped in her mundane everyday life — and vivid, dreamlike flashbacks when she's remembering her time in space. The longer that Lucy goes on, the more the movie seems to detach itself from a realistic depiction of Lucy and her surroundings, plunging us increasingly into her psyche as the affair with Mark fizzles out.
As one might imagine, Lucy hums with ideas and stylistic embellishments — Jeff Russo's grandiose score feels designed for an interstellar epic, even though the story is actually quite intimate — and it's often entertaining to see Hawley's showy take on what is, in essence, a story about an existential crisis. But despite Portman's calibrated portrayal of this uptight, insecure woman — someone who could easily crack if her vision for her life is imperilled — Lucy never really settles on any concrete idea of who Lucy is. More to the point, Hawley's cinematic tricks start to feel like the reason why he told this story — as opposed to a means by which to sympathise with the real astronaut whom Lucy is based on.
Thankfully, some of the supporting players cut through the flashiness. Hamm gives one of his most assured film performances as the strutting, endlessly charismatic Mark, while Legion's Stevens is delightfully nerdy playing Lucy's oblivious, good-guy husband.
But outside of Portman's wilfully difficult performance — even on her best day, Lucy isn't concerned with being "likeable" — Lucy is mostly led by its tech credits. Legion cinematographer Polly Morgan delights the eye with her dramatic lighting and framing — often, the aspect ratio changes during a scene, forcing us to look around the screen as the image shrinks or expands — while editor Regis Kimble (who works on Legion and Hawley's TV adaptation of Fargo) moves back and forth between time periods and subjective states, which suggests Lucy's slow unravelling. Pity, then, that Lucy is so excited to use its main character as a creative springboard that it rarely bothers to consider her as anything more than somebody worth pinning a lot of spectacle on.
Production companies: Pacific Standard, 26 Keys
Worldwide distribution: Disney
Producers: Reese Witherspoon, Bruna Papandrea, Noah Hawley, John Cameron
Screenplay: Brian C. Brown & Elliott DiGuiseppi and Noah Hawley, story by Brian C Brown & Elliott DiGuiseppi
Production design: Stefania Cella
Editing: Regis Kimble
Cinematography: Polly Morgan
Music: Jeff Russo
Main cast: Natalie Portman, Jon Hamm, Zazie Beetz, Dan Stevens, Colman Domingo, Ellen Burstyn